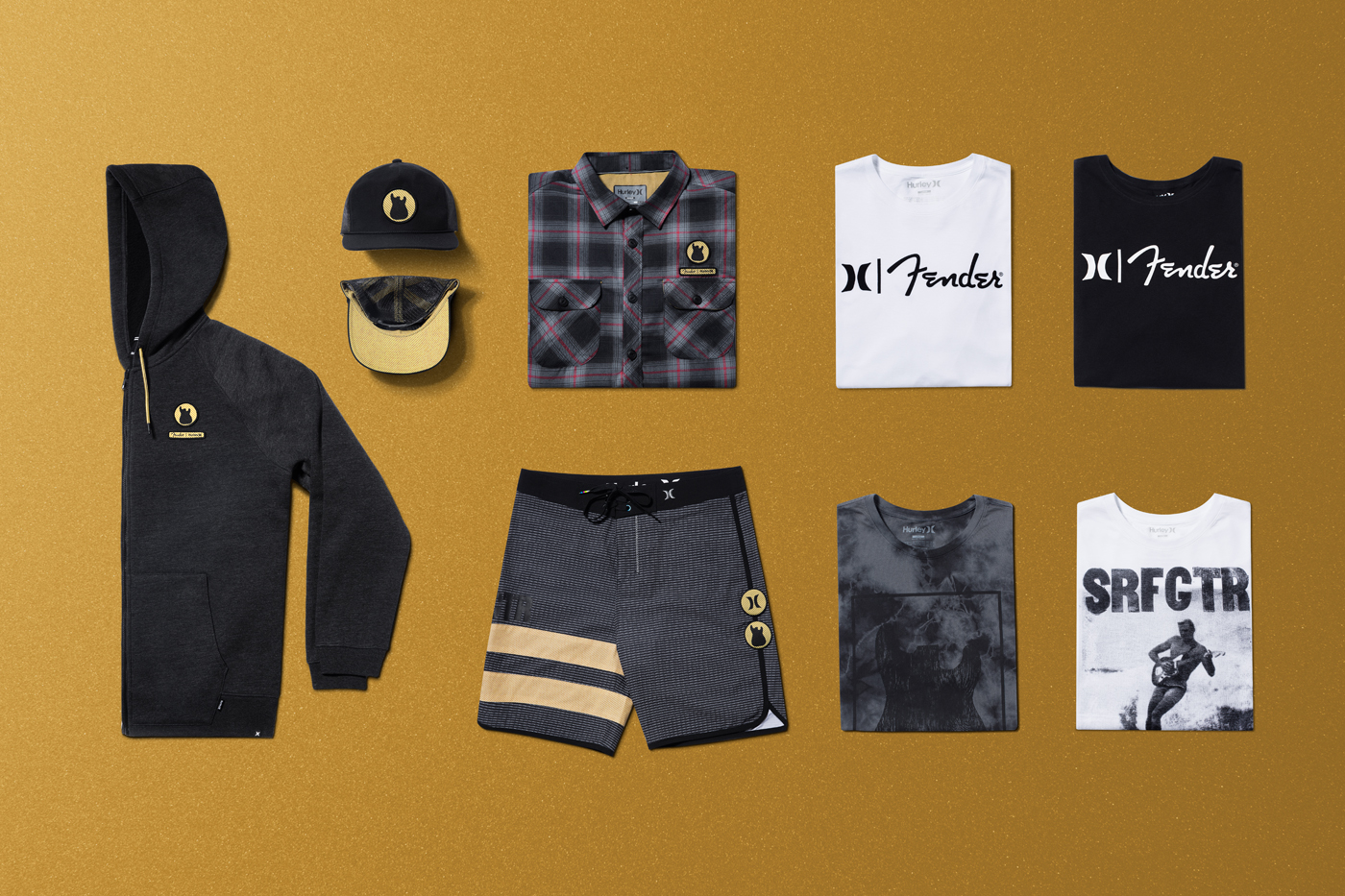 Fender. The gold standard of guitars for decades.
Hurley. A classic brand amongst surfers for years and years.
Together? Dare we say a special pairing? Looks to be that way.
The Fender x Hurley Capsule Collection is aimed to honor both brands for their style and standing in their respective histories.
See more on Fender x Hurley, courtesy of our friends and partners at Fender and Hurley:
Fender Musical Instruments Corporation (FMIC) and global surf apparel and accessories company Hurley announce the launch of Hurley x Fender, a curated men's holiday capsule collection influenced by the lifestyle of surfing and rock and roll. Hurley x Fender's patterns and designs are inspired by the iconic tweed print of Fender's amplifiers from the mid fifties as well as the music and surf culture stemmed from both brands Southern California roots. Available at Hurley retail stores nationwide and Hurley.com beginning October 3rd, Hurley x Fender's collaboration brings back the sense of surf and rock n' roll nostalgia to today's generation this holiday season.

"The launch of the Hurley x Fender capsule collection combines almost 90 years of history dedicated to Southern California's rich surf and music culture," said Evan Jones, Chief Marketing Officer, Fender Musical Instruments Corporation. "We are excited to partner with a brand that shares the same core values as Fender and look forward to bringing that quality and craftsmanship to life."

"The Hurley X Fender collaboration represents two innovative brands with deep roots in Southern California culture, said Craig Stecyk, Creative Art Director. "It was exciting to work alongside the Fender team and create product representative of both brands' heritage and passion."

The Hurley x Fender seven-piece collection infuses the influence of the Southern California surfing and rock and roll lifestyle into its design. The collection includes Hurley's signature boardshorts with Phantom innovation as well as tees, a zip-up hoodie, flannel and beanie. A highlight is the SRFGTR tee which pays homage to artist Bob Perine's "You Won't Part With Yours Either" campaign, which inspired Southern California youth to perform wild surf stunts with their Fender guitars and amplifiers in hand or slung around their neck while riding waves. The tweed design on the patches and boardshorts was a popular pattern featured on luggage back in the fifties. Admired for its reputation as one of the toughest available fabrics, Fender deemed it a road-worthy material to protect musician's precious cargo.

The iconic contour visible on the badging and printable t-shirt originated when Los Angeles based artist C.R. Stecyk III worked with a weathered Fender Stratocaster printing it on his Charles Brand etching press on Hurley's campus in Costa Mesa.

The Hurley x Fender collection includes:

Phantom Block Party Fender Boardshorts ($70 US) – Patented EZ fly closure, signature foil branding and metallic embroidery. Performance water repellency, all over print with custom Fender x Hurley patch branding
Fender Tee ($28 US) – 100% cotton, premium tee features iconic Hurley and Fender logos. Available in Black and White. SRFGTR tee with famous guitar playing surfer in White
Fender Irregular Dye Tee ($35 US) – 100% cotton, premium wash tee features legendary Fender Stratocaster® body shape outline
Fender Zip ($85 US) – Hurley signature zip-up hoodie with durable water resistant coated Fleece bonded with Sherpa. Features custom back panel SRFGTR design and Fender Stratocaster® body shape patch on front with tweed inspired borders
Dri-FIT Fender Flannel ($78 US) – Long sleeve flannel featuring Nike Dri-Fit technology. Double flap chest pockets with woven Fender patches and custom Fender x Hurley cat eye buttons
Fender Trucker Hat ($30 US) – 5 Panel trucker hat featuring Hurley x Fender patch and snap close back
Fender Beanie ($22 US) – Cuff and slouch beanie featuring Hurley x Fender patch

The soft goods collaboration was an organic next step for Fender and Hurley whose charitable relationship has evolved over the past five years raising over $100K for the non-profit organization, Waves For Water (W4W), providing aid in water solutions to communities in need. In 2015, Fender and Hurley collaborated for NAMM, National Association of Music Merchants, to showcase painted guitars for the anticipated trade show which celebrated California traditions as well hosting the 60th anniversary of the world's most iconic guitar, the Fender Stratocaster, among many others.

For more information on the Hurley x Fender collection please visit www.hurley.com.