Well hello there! Welcome to my fifth annual Top 50 NBA Players Countdown! In case you are new here, or if you haven't heard what will be different this time around, allow me to explain!
(That third exclamation point was not necessary)
Typically how this works is in the days leading up to the NBA season, I release a countdown of the Top 50 players currently playing in the National Basketball Association. This year I decided that it was time to remix this idea, expand the pool of players, broaden my horizons, and give myself an excuse to watch a bunch of old games on YouTube.
This time around I'll be counting down the Top 50 NBA Players of the 2000's (this means we're looking at a seventeen season sample size that goes from the 1999-00 season all the way through the 2015-16 season). I've detailed the criteria I used to make this awfully long list. If you want to check it out, you can do so by clicking here.
The Resume
14 years, 11 quality, 2 All-Stars … 2 Top Ten MVP Finishes ('08, '11), 2-time All-NBA ('08, '11), '08 Sixth Man of the Year, '04 Olympic Gold Medalist … 2nd, 3rd or 4th best player on four NBA Champions ('03, '05, '07, '14 Spurs), 4th best player on one runner-up ('13 Spurs) … 6-Year Playoff Peak ('05-'08, '10-'11): 18-5-4, 2 steals, 45% FG, 38% 3PT, 83% FT (88 Games)
Overall Averages: 14.0 points, 3.7 rebounds, 4.0 assists, 1.4 steals, 26.3 minutes, 45% FG, 10.1 FGA, 37% 3PT, 3.9 3PA, 83% FT, 4.2 FTA, 923 Games Played
7-Year Regular Season Peak: 16.8 points, 4.1 rebounds, 4.2 assists, 1.5 steals, 29.0 minutes, 45% FG, 11.7 FGA, 37% 3PT, 4.5 3PA, 84% FT, 5.3 FTA, 487 Games Played
Today I'm not here to justify Manu Ginobili's position on the Top 50 Countdown (which is now over halfway completed!) … I'm here to make the case that Ginobili is the Spursiest Spur of all of the Spurs who have played professional basketball in the city of San Antonio.
What exactly does the word "Spursy" mean? 
Spursy is an adjective that can be used to describe any individual who has any number of characteristics that belong to a basketball player who has excelled playing for the NBA's San Antonio Spurs.
So what does "Spursiest" mean then? 
Spursiest is an adjective that can be used to describe an individual possesses more Spursy characteristics than any other individual. It would be used the same way a word like "busiest" or "hungriest" would be used if describing someone who was more busy or more hungry than any peer.
What are those characteristics that make a player Spursy? 
Being drafted and stashed away … Being a foreigner or being internationally accomplished … Elderly or elderly looking … Having a crafty game … Having a quiet competitiveness … Possessing deceptive athleticism … Being unselfish both on and off the floor
Have all Spurs players been Spursy? 
No, not at all. Being a San Antonio Spur and being Spursy do not go hand in hand. For example … Stephen Jackson was not at all Spursy. Michael Finley, Drew Gooden, Keith Bogans, Austin Daye, and the sad version of Tracy McGrady who played for the Spurs in 2013 weren't very Spursy either. In the same breath, there are plenty of players, both past and present, who never played for the Spurs but possess Spursy qualities. Marc Gasol is the best current example of a Spursy non-Spurs player. Bill Walton was Spursy before Spursy was a thing. Steve Nash had a number of Spursy qualities too.
Let's get to it then … why is Manu Ginobili the Spursiest Spurs player? 
Well, just look at the criteria that I laid out and find one portion that doesn't apply to Ginobili. It's impossible.
Was Manu Ginobili drafted and stashed away? 
You betcha! After winning the 1999 NBA Title the Spurs wanted to add as little salary to their championship roster. They successfully traded their 1st Round selection but couldn't find any takers for their 2nd Round Pick. The Spurs sniffed out Ginobili and kept him in hiding for three years before they brought him over to the United States in 2002 after Argentina finished 2nd in the FIBA Championship. Believe it or not, Ginobili was not just San Antonio's first draft and stash selection, he was also the first international player they ever picked in the NBA Draft. Just check out the list of effective foreign players the Spurs have drafted since they picked Ginobili in 1999:
Tony Parker (2001), Luis Scola (2002), Leandro Barbosa (2003), Beno Udrih (2004), Ian Mahinmi (2005), Tiago Splitter (2007), Goran Dragic (2008)
Is Manu Ginobili a foreigner and internationally accomplished? 
We already half-way covered this one, but there is one point that needs to be mentioned: Ginobili leading Argentina to the '04 Gold Medal remains one of the more amazing international basketball accomplishments ever. Yes, that Argentinian team had a few pro's besides Ginobili and yes the 2004 USA Men's Basketball Team was an unmitigated disaster, but that's without question a feather in Manu's metaphorical cap … probably a Gaucho since Ginobili is indeed Argentinian.
Something else that needs to be mentioned: if it weren't for Ginobili and the Argentine's beating Team USA in the semi-finals of the knockout round, USA Basketball probably becomes an afterthought for NBA players. There was a newfound commitment to USA Basketball around 2006 mainly because guys wanted to be a part of the squad that brought Gold back to the USA. Let's put it this way … if it weren't for the Argentine's, Team USA probably suffers the same fate they suffered in '04, just in '08 instead.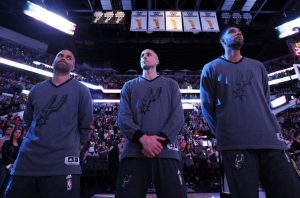 Is Manu Ginobili elderly or elderly looking? 
Young Ginobili didn't pass this one, but young Ginobili wasn't nearly as Spursy as old Ginobili is anyway. Ginobili actually had a luscious head of hair for the first five or so years of his NBA career, then shit went down hill in a hurry. First the now-famous bald spot popped up in about 2008. Then the long locks that waved in the air as he slithered through defenders like a snake as a youngster disappeared. Then his hair started thinning. Then the bald spot got so big colonists started settling there. And for the 2016 Olympics Ginobili conceded defeat and just shaved it all. Father time is undefeated folks.
Does Manu Ginobili have a crafty game? 
Manu Ginobili is a goddamn savant on a basketball floor. It's a beautiful sight. I don't know what "poetry in motion" means, but I think it applies to Ginobili's game. The way he's always in the right spot on the floor in every situation and the way he sees passing angles before they even exist is a display of genius-level anticipation and understanding of basketball. The way he's conned officials into buying the flopping act for fourteen solid years shows dedication to a wonderfully deceitful stratagem. The way he's able to weave through and Eurostep around defenses is nothing but instinctual mastery. I love Ginobili's crafty game.
Does Manu Ginobili possess deceptive athleticism? 
Yes, hold this thought for 60 seconds …
Is Manu Ginobili quietly competitive? 
The term "quietly competitive" was coined by my cousin Gianni. Gi is on my two-man Top 50 advisory committee and he's been a Spurs fan since Tim Duncan was drafted way back in 1997. He told me that being quietly competitive was a Spursy quality … by that he meant that while the Spurs weren't boastful or loud or intimidating or chest-thumping, they were just as competitive as any other team even if they never outwardly appeared to be that way.
Ginobili was more of a spark-plug in his younger days, but that's the case for just about every player (except for Kawhi Leonard, who has yet to show any sort of human emotion at any point in time in his pro career); when you're younger you're louder and dumber and less quietly competitive … that's just the way it is. But when you get older you mellow out and certain things, good or bad, just don't rile you up anymore.
Here's a perfect example: in Game 5 of the 2014 NBA Finals, the Spurs were on the brink of winning their fifth NBA Title and avenging their loss to the Miami Heat in the 2013 Finals. Miami busted out of the gate in Game 5, had a 7-point lead at the end of the 1st quarter, but San Antonio, patiently and calmly, climbed back into the game and outscored Miami by 26 points in the next two quarters. You know when, as a LeBron fan, I knew it was over?
When Manu climbed into a time machine, dialed it back to 2004 and drove a hellacious old-man slam right on the head of Chris Bosh. There's that deceptive athleticism for ya. Even damn near the age of 40, Manu was still surprising everyone with his ups and quickness off the dribble. And did you notice what Ginobili did after he finished the dunk that was essentially the final nail in Miami's coffin? He sprinted back to the other to play defense. Quietly competitive.
Is Manu Ginobili unselfish both on and off the floor? 
A resounding yes. That should be clear by now, and it should also be clear that it transcends the passing genius of Ginobili. Manu had countless opportunities to ask for more money or a bigger role or to consistently be in the starting line-up. Manu never bitched or made a stink of the situation. When he led Argentina to the Gold Medal in '04, on top of a win over Tim Duncan and Team USA in the Semi-Finals, there was never any fuss about whether or not Ginobili would be the new "guy" for the Spurs or whether the torch should soon be passed or any of the other stupid bullshit narratives that would come if someone other than Ginobili was involved.
Ginobili didn't just settle into his role … he fully embraced it. He became a game-changer who could impact a game in a multitude of ways in 25 minutes off the bench. Need him to carry the offense and get ya 30 points? Got it covered. Need him to run the point and get everyone involved and make a handful of goofy, borderline impossible to conceive and/or make passes? Yeah, he can do that too. Need him to sit on the bench and let a hot hand or a young guy who needs reps get some minutes in a big spot. Yeah, Manu could do that, all with a smile on his face, just waiting for the next opportunity where he can make some basketball magic.