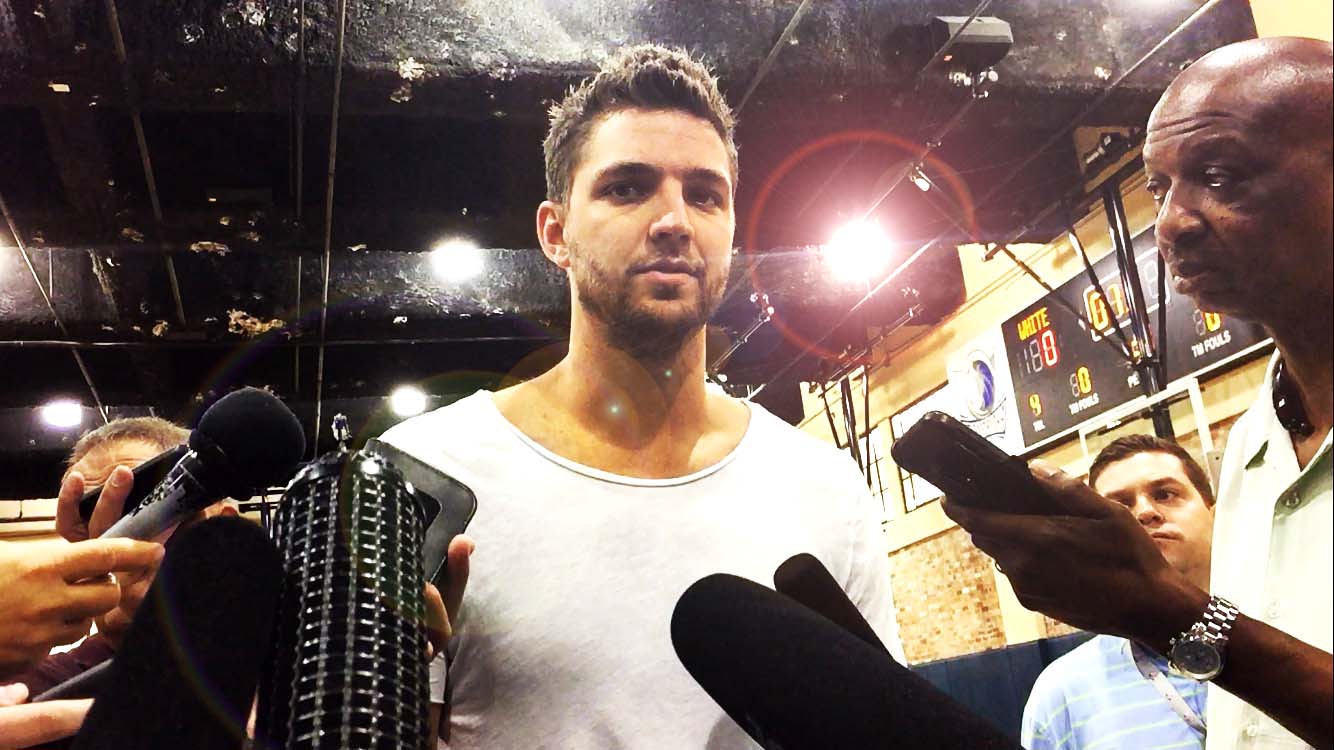 Around this time last year, the leaves on those fickle North Texas trees were finally starting to change and there was a brisk nip in the air (or it was still brutally humid because, well, Texas – like I freaking remember). Around this time last year, the American Airlines Center was cackling with words of bitter hate directed at one individual: DeAndre Jordan.
Ah yes, we all remember this in the basketball world. Why? Because Dallas people beat it to death at least six times over. Even when all was forgiven after Jordan decided to ghost Dallas Mavericks owner Mark Cuban like a Kardashian period a month after junior prom during the 2015 free agency, Dallas still held on to that irritable grudge. So much so, that ESPN attempted to exploit it when the Los Angles Clippers came to Dallas in November of 2015 to face the Mavericks for the first time:
Phil Collins' "Against All Odds" playing over footage of Mark Cuban cussing as supposed ingénue DeAndre tenderly bedroom hugs Chris Paul? Uh, yes please.
Cut to a year later when, in a completely supposititious sports wet dream, ESPN are kicking themselves in the ass for not waiting to use that little love ballad to promote the shattering of the like-not-at-all-weird Bromanace of one Mark Cuban and forward Chandler Parsons.
I'll sum up the depressing split of Parsons from his hetero life partner and the Dallas Mavericks in a simple one act play:
INT. AMERICAN AIRLINES CENTER. DAY

Parsons goes down on the court.

PARSONS: I hurt my leg and can't play in the playoffs, bro.

CUBAN: Bro.

PARSONS: Who knows if my knee will ever be the same, bro.

CUBAN: Bro!

PARSONS: But I still expect the max or nothing, bro.

CUBAN: Bro?

PARSONS: Max or I go elsewhere, bro.

CUBAN: Later, bitch.

JUSTIN TIMBERLAKE: Welcome to Memphis, look-a-like bro.

PARSONS: Brroooooooo.
On Friday, Parsons posted a nostalgic photo of the outside of the AAC on his Instagram, clearly all a flutter at returning to the city that once welcomed him with open arms and teenage sequels of delight from grown bearded men in cowboy hats chugging BudLight.
But now?
The blue-eyed playboy was met with a series of boos when he took to the court with his new team, the Memphis Grizzlies, on Friday night – the first of four games the two teams are set to play during the 2016-17 regular NBA season. While the welcome was rather lackluster for the forward, who is still on a minutes restriction due to his knee, he had to feel a tad better after the Grizzlies aimed a bazooka at the struggling Mavs and shot them into space offensively with their 80-64 win.
I mean, c'mon, the Mavs didn't even hit 30 points UNTIL THE FLIPPING THIRD QUARTER.
"I've been through tough stretches with multiple key personnel out before, it's very difficult," a rightfully moody Mavs head coach Rick Carlisle said to the press, speaking of the injured Dirk Nowitzki, J.J. Barea, and Deron Williams. "But, as a guy in a key leadership position, it's very important for me to stay positive and keep coaching these guys and keep talking about ways to put us in a position to win."
Winning is something they haven't been doing much of, considering the fact that they're now 2-9 on the season.
"We just have to keep the fight going," Harrison Barnes, the forward who replaced Parsons, said following the game. "You can't feel sorry for yourself. You can't get down."
As the game got underway and the boos seemed to push Parsons every time he touched the ball, he seemed less and less concerned about making his former teammates "feel sorry" for themselves and focused on handing out some bitter sweet payback. After swishing a 3-pointer, Parsons turned and glared down his bromance bro-bro Cuban, according to ESPN's Tim MacMahon.
The Mavs, on the other hand, only shot a very disobedient 25.4 percent through three quarters after going over eight minutes without a single field goal during the second.
After being up 27-23 in the second quarter, the Mavs decided to take a 17-minute break, allowing the Grizzlies to bust open the lead to 51-33.
"We stopped being friendly," Memphis head coach David Fizdale said to the press. "If you watched the first quarter, everybody was having conversations with the other team like they were all pals. And we don't have the luxury to be buddies."
Buddies on the court they are clearly now not.
The Mavericks are looking to finally get a much needed win when they face the Orlando Magic on Saturday.