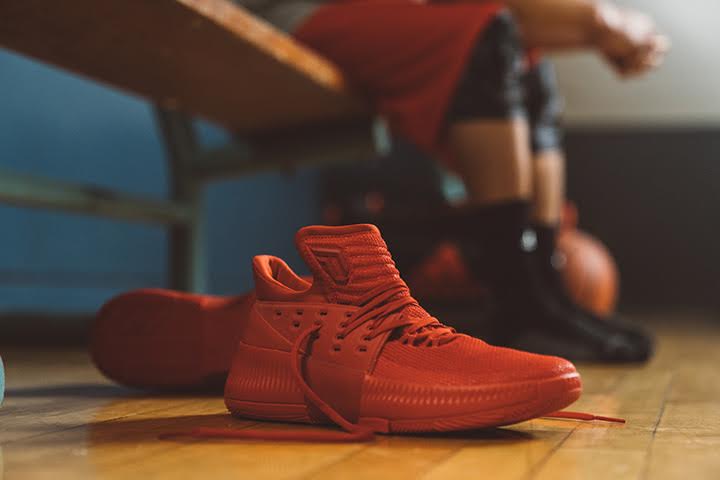 Brought to you by our friends at adidas.
Inspired by the family that helped Damian Lillard rise along his journey, from shooting on milk crates in Oakland, California to playing on NBA hoops across the country, adidas introduces his third signature shoe with Dame 3. adidas and the Portland Trail Blazers captain continue to move athlete collaboration forward through evolved storytelling grounded by his roots and hooked to the soil of basketball, community and music.
 "With this being my third shoe, it's all about appreciation for the people that went out of their way so I'd be able to hoop growing up," Dame said. "There were a lot of things that happened where if I didn't have a strong support system – it probably would've drowned me. But my family helped me rise up, and now I want to inspire and encourage everyone else to do the same thing." 
 It all started on a milk crate. Dame's grandfather would round up the leftover plastic boxes from Brookfield Elementary School, cut out the bottoms and nail them up on a telephone pole in their front yard so Dame could play basketball close to home. It's a humble reminder of his beginnings rooted in Oakland, California and a neighborhood that laid the foundation to who Dame would become both on and off the court.
 "Oakland taught him the good and the bad, toughness and determination," explained his mother, Gina. "Raising Damian…our family did it as a team. He understands how to help others because that's what he's been nurtured in to. He's going to make sure everybody knows there's an opportunity out there for them to make it."
 "Damian inspires all of us with his path in life and his approach to the game, giving the design team plenty to work with. We set out to create a shoe that embraces who Dame is, from his debut album 'The Letter O' to his community efforts and all the unique ways he connects with fans," said Jesse Rademacher, adidas Basketball Design Director. "Above all else, his commitment to kids and those around him show his true character."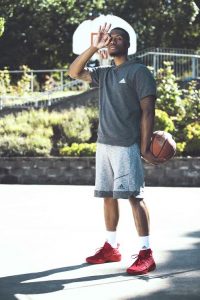 Founded on his creative ability as a storyteller with a deeper level of athlete insights and performance testing, Damian's third signature shoe is built by years of close collaboration and designed to elevate one of the game's most elite point guards.
 "Working with adidas, every step of the way is about telling my story," said Dame. It's allowing kids and people to relate to what I've been through. Everything has a story behind it. Similar to how I express myself through my own music, adidas embraces who I am to the fullest. You see it in the colorways and stories being told. That means more to me than anything else."  
 Roots – the first chapter of Dame 3 – returns to his early AAU days with the Oakland Rebels. He played for tough but fair head coach Raymond Young, who created a path for Dame's unrelenting attitude by challenging players to hold bricks in each hand when practicing their defensive stance. Roots features a triple red design to remember each brick Dame carried, paying tribute to the moments that built his career early on. 
 "He was teaching us that you got to be on time, you got to be a hard worker," Dame recalled. "If not, this is what you're going to do until you figure it out. For me, those lessons carried on past the basketball court."
 Hometown coordinates and initials of family represent the influential support Dame's received on his journey, including:
The initials of his mother and two grandmothers (Gina:Cecilia:Ruth) are molded onto the right toe while the initials of his father and grandfather (Houston:Albert) are showcased on the left

The longitude (37.737 degrees north) and latitude (-122.188 degrees west) of Oakland's Brookfield neighborhood are featured on the outrigger of the left and right foot, respectively

56316, the code displayed on the telephone pole in front his grandparents' house where Dame learned to shoot on a milk crate, is featured on the center of the outsole
"WEARING THE LETTER O" is printed on the left sockliner as tribute to both Dame's pre-game introduction in Portland and his debut album titled "The Letter O," signifying the three locations most important to his career – Oakland, Ogden and Oregon – printed on the right sockliner 
 A customizable lacing system is equipped for unrivaled lockdown, designed to complement a TECHFIT bootie and uniquely hug the foot for personalized fit. Dame 3 features a fused mesh upper that ensures season-long durability without comprising comfort and breathability. A softer material execution along the upper maintains structure and support while also fulfilling "no break in time" on-court.
 The model's traction pattern is constructed with geometric simplicity that ties back to Dame's milk crate origins, while optimizing grip for his lethal step-back jumper. Wrapped TPU at the center of the foot represents Dame's family support system with an internal torsion plate to provide fine-tuned stability. 
 Dual-density BOUNCE cushioning is engineered for natural court feel from tip-off to the final buzzer, delivering step-in comfort and optimized balance. Born from a "sit low, play fast" mentality true to Dame's style of play, the silhouette is executed with high sides to enhance control and stability while keeping Dame close to the court when banking against defenders.  
 Dame 3 Roots launches in limited fashion December 14 for $115 on adidas.com with additional colorway drops throughout the season, including Rip City (January 19).