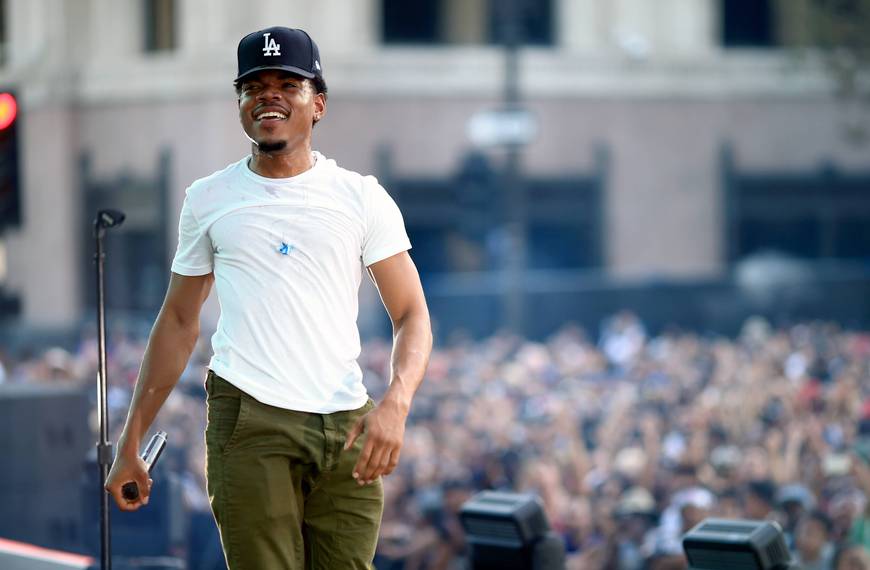 2016 might have been one of the more forgettable years in the big picture, but it was a phenomenal one for music. For Hip-Hop in particular it was another golden year as has been the trend for the past couple of years. Drake continued to drop hit singles and smash rapper's exes. Kendrick Lamar went platinum off his demos from To Pimp A Butterfly. Kanye West debuted his album at Madison Square Garden and even J. Cole came out of hiding to drop 2014 Forest Hills Drive Part II. But we already know these guys. Let's talk about Chance The Rapper. He may have been a household name for hip-hop heads, but 2016 was the year the mainstream got its introduction.
Hip-Hop fans know Chance best for his classic projects 10 Day and Acid Rap which can still be thrown into rotation to this day. Following Acid Rap's release in 2013 it was assumed he would be the next great rapper out of Chicago. Instead Chance spent the next two years touring mainly with his band Donnie Trumpet & The Social Experiment. The group released an album Surf that contained great music in a classical sense, but was far from what some fans expected as the follow up to Acid Rap. Don't get me wrong "Sunday Candy" is a great song, but it's not "Juice" or "Smoke Again" or "Brain Cells". It looked as if Chance was never going to go back to rap as he seemed hell bent on tearing up the "no genre" lane.
Then he reemerged. Chance played an integral part in Kanye's The Life Of Pablo which ended up being one of the strongest projects of 2016. According to Kanye himself Chance co-wrote a handful of songs including the intro "Ultralight Beam", "Waves" (why did Kanye not use Chance's version of this song I will never know), "Father Stretch My Hands Pt. 1" and more. His involvement with Kanye's work ended up being foreshadowing for his third solo project Coloring Book which brought every project he worked on together. Finally the rap fans got the proper follow-up to Acid Rap and the music fans got more great music.
Coloring Book was Chance's way of breaking the glass ceiling. It kept the gospel sound we heard on "Ultralight Beam", but also felt a lot more like his older work only it was obvious he had evolved. Guest appearances ranged wide, from Kanye to Lil Yachty to Justin Bieber and even Future. Despite the wide variety of guests he was able to make the album a seamless listen. It was streamed exclusively on Apple Music and reached 57.3 million streams.
His partnership with Apple Music allowed him to circumvent the traditional way a musician breaks out, doing it completely independent in comparison to his peers. The project was universally acclaimed and even made history by being the first free album to be eligible for a Grammy after a petition was made to include such projects. Chance was at the head of the movement and is now in position to be the first artist to win a Grammy off a free project.
https://www.youtube.com/watch?v=6DFLoN3JosA
To say this is a game changer for music is an understatement. While artists like Drake have played the game and won big, Chance has made his own rules and won too. The traditional path to superstardom will no longer have to include signing with a label or even building a label. Chance has been featured in Nike commercials, performed at the ESPYs, killed it on SNL, and became the face of H&M's campaign. If this were sports he would be Floyd Mayweather minus the ego. No label executives will get to grease their hands off the his work, a lesson Drake, Lil' Wayne, and anyone signed to Birdman had to learn the hard way.
So this year we can thank Chance for not just a great album. We can thank him for changing the game for future artists. He has used his newfound stardom to alter the way music is released and judged. He has utilized his celebrity to bring awareness to the violence in Chicago–he launched the first music festival held in the Southside of Chicago, Magnificent Coloring Day Festival, in September–even going to the White House to discuss the issue with President Obama.
As we move on to 2017 the top of the game will still be Drake, Kendrick and Kanye, but a new force has arrived. As the others rack up their Ws the old fashioned way Chance will enter his prime by trailblazing a new path for his peers to follow. What his next project will sound like I cannot tell you. What I can tell you is that we will be seeing a lot more of Chance The Rapper in the future and that is all we can ask for.