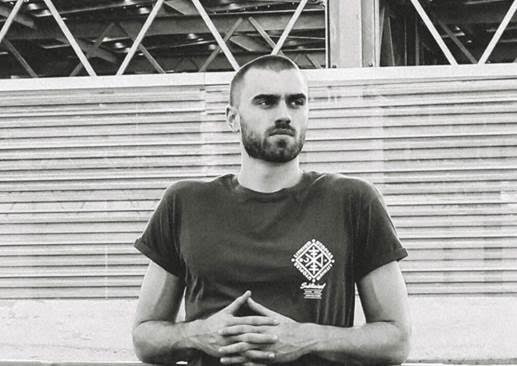 Matt Citron is a rapper from Atlanta, Georgia who should be on your radar. Possessing a rare combination of skills from freestyling to rapping with an incredibly fast pace, Matt has developed a growing following because of what he brings to the music scene. During our interview, the topics that we went over included but were not limited to his new album Final Moments of Forever, how his style formed, what makes Atlanta unique, and insights regarding the creative process of making music. Read our Q&A below and be sure to support Matt's rap career from now and into the future. A perfect start would be heading over to his SoundCloud page where you can listen to Final Moments of Forever in its entirety.
H&H: Matt, first of all, thank you for having this interview with my website. For starters, how would you describe the energy/vibe of the Atlanta music scene?
Matt: I think what makes Atlanta's music scene so unique, and also so successful, is that for the most part all the creatives in the city are down to support each other. It's not just the artists either. There's a lot of parts of the country where the people who live there only support a certain sound that they expect to come out of their city. The thing about Atlanta is that as long as the music is coming from an Atlanta artist, the people here just want to show love. That's played a huge part in keeping Atlanta on top for so long.
H&H: You used to be a serious basketball player and I'm sure still have some game left. Do you have an athletic achievement that you're particularly proud of?
Matt: My favorite moment while playing basketball was in a game on my travel team the summer before my senior year of high school. We were down by four points with about a minute and 30 seconds left, my point guard pitched it back to me on a fast break where I got a pretty wide open dunk down the middle of the lane. On the very next play, I stole the ball and took off from around the block and dunked all over this kid, seriously the most disgusting dunk I've ever made. He was pretty big, probably like 6'3" 230 lbs, he seemed more like a football player, but he went up to block it and got himself on my poster. I got fouled on the play, and hit the free throw to put us up by 1 with like 45 seconds left. I blocked this kid's lay up on the next play, and we won the game. That's honestly probably the highest I've ever felt in my entire life.
H&H: When did you initially realize that rap was the path for you to take?
Matt: I don't think it was ever a conscious decision. I just fell in love with it from the moment I started. I saw one of my friends freestyling when I was probably 17, and thought it was the dopest shit I'd ever seen. I started freestyling every day for hours, and not too long after that I started writing my raps. There's been huge decisions that I've made since then that made a massive difference in the direction of my life and in my music career, but I think I'm just the kind of person who follows my gut and my passion and don't think much about it. I just go for it, and the thought process kind of follows behind it.
H&H: Your flow is pretty crazy, I especially like how you're able to jam pack multiple rhymes together while also keeping an excellent rhythm. What sort of factors/influences contributed to forming your style?
Matt: I think freestyling with the stream of consciousness style of rhyming my words together made a big difference in how I write. I like each line to kind of intertwine with the one before it. I also grew up listening to guys like Andre 3000 and Big L – both of them love to twist words in really unique ways. It's not just about having rhymes at the end of each line for me. I want there to be words rhyming all over the place, so the flows and cadences have a really unique life to them.
H&H: You released Final Moments of Forever in December. How proud are you of this project and what went into completing this album?
Matt: I'm just so hyped everyone has appreciated this project as much as they have. I've got people all over the world telling me how much they liked the music, and how they're connecting to what I'm saying. I really tried to focus on touching on all the major experiences I've had in the past few years, and I'm definitely proud of how I was able to do that. I like to think of this project as the introduction to me as an artist. It's like the first time the listener has gotten the chance to meet me. Hopefully they feel like they know me a little better now. I'm more excited for what's to come though, with everything else I have to unravel for them.
H&H: I know that you toured with Xavier Wulf and have received props from DJ Greg Street. What does it mean to you to have the respect of these type of individuals in the music scene?
Matt: I think maybe it brings me some peace of mind. I always had confidence in my ability as an artist, and I was never the type of person who needed anybody else to tell me who I was or how good I was. But, when I've got someone as legendary as Greg Street – who has had his hands on some of the biggest milestones in hip hop history – I think it helps solidify my ability to myself and everyone else.
H&H: Take us behind the scenes of your creative process. Is there anything special that you have to do in order to get in the mindset of writing rhymes or creating songs?
Matt: All of my writing is inspiration based. I don't like to pound away at myself trying to create. I've found that method exhausting with dry creative results. I try to live as passionately and as uniquely as possible. I want to create gorgeous experiences that no one has ever had before. I think that's the best way to make art for me, because my art is completely a reflection of my life. If I spent all my time focusing on and creating my music, I would have nothing to write about.
H&H: Some of your tracks have been listened to fairly heavily on your Soundcloud page. Is it a rewarding feeling knowing that people are spending their time bumping your music?
Matt: I think music is a really interesting form of art, because you're literally competing for people's time. As much as anyone may like to think that it's just about the enjoyment of the art and it's not competitive, at the end of the day whether they like it or not, that's just not true. You have to make something that compels people to spend their time listening to you rather than any other artist in the entire world. When I think about that it's pretty humbling. A lot of artists forget that every single person who takes time out of their day to listen to them has their own life to live, and those people don't owe it to you to listen to your songs at all. They forget these aren't just number counts under videos, they're real individual people. So yeah I think it's pretty incredible.
H&H: To someone who has never heard you spit before, pitch them on you as a rapper. Why are you someone worth following and why should the readers out there check out Final Moments of Forever?
Matt: Maybe because I give a shit. That might sound ridiculous, but I'm being serious. I know so many artists who don't care about their fans or about the people out there in the world listening to them. They just want to get rich and famous. All of that shit is just an extra side bonus to being able to reach out to people with my music and my words. I want to inspire people, and give them a reason to get out of bed everyday to go hard as fuck on what it is they're passionate about. If they like the music that's amazing to me, but if what I say changes their life for the better that's a much cooler feeling to me.
H&H: Be it from family members, friends, or fans, how would you assess the feedback that you've received on your album and rap skills as a whole?
Matt: It's been incredible. I feel surrounded by so much support and positivity. You're always going to run into adversity or people who don't want to see you succeed, but it's beyond easy to not focus on any of that when I've got all of this overwhelming positivity from the people in my life. I know it's really rewarding for the people who believed in me for a long time. For them to be able to come on this journey with me in one way or another has always been a dream of mine. I always want my friends, family and my fans to know this isn't just me by myself accomplishing all of this, it's them too in a very big way.
H&H: Do you have future aspirations outside the world of music or is your rap career your primary focus going forward?
Matt: If you were to view my entire life as a house, my music would only be what you can see from the street. You can see what everyone else can see, and if you pay close attention you can see into the house a little bit through the windows. But there's so much more going on inside. I've got goals that nobody in the world knows about. Music is just one aspect of my life. It's also just one aspect of my creative life with art as a whole. I've got huge ideas for things I would like to do outside of my music. I'm not the kind of person who likes to share all of those ideas with a lot of people though. I'd way rather just do them, and have people see them after they're done. Too many people talk about what they're going to do, but never do it. I like to just do what I'm going to do, and not talk about it until it's been done. I've found that's a lot more effective and impressive to the people watching.
H&H: Is there anything on the horizon here in 2017 that you would like people to be aware of?
Matt: I'm already working on more music for my next projects. I'm always conceptualizing different albums that I want to work on, and there's a very good chance you'll be hearing more of my music soon. Just gotta stay tuned to everything I post with upcoming shows and releases, but there's a lot of surprises I'm already planning or have lined up for this year.
H&H: Thank you once again for the interview, you're a talented rapper and I wish you the best with all of your music endeavors. In closing, where can you and your music be found on social media?
Matt: Thank you for the opportunity and for the support, seriously I appreciate it so much. I post all of my upcoming shows and projects on my Instagram and Twitter. You can follow both of those at @mattcitronmtz. You can also find all of my music on Spotify, Apple Music, and SoundCloud. Also just want to finish off by saying a huge thank you to everybody who's been listening and showing love, I seriously couldn't do any of this without you.