The NBA All-Star Break is upon us and while this long weekend has served as a much needed break of the monotony of the lengthy regular season, I'm more interested in what will be happening after the players return to normalcy after the break. The NBA Trade Deadline is less than one week away, and that means that if the league is going to be shaken up at any point this year, we're not too far off now.
As I did for the first time last year, I'll be taking it upon myself to find trades for all thirty teams; trades that are financially plausible, could theoretically happen at the deadline, and ones that make at least a little bit of sense philosophical standpoint. No team can be featured twice, and it's also a priority to ensure that there is at least one four team trade and a few three-teamers as well. Let's call this the 2nd Annual 30 Team NBA Trade Deadline Challenge!
Milwaukee/Miami 
Greg Monroe, 2018 Top 10 Protected 1st Round Pick, 2021 Lottery Protected 1st Round Pick to Miami … Hassan Whiteside to Milwaukee 
This would have made much more sense if the Heat didn't recently rip off the most improbable 13 game winning streak in NBA history. Now the Heat are right back in the thick of the hunt for the 8th seed in the Eastern Conference, so they might have their foot off the gas pedal at the deadline. Moving Whiteside for Monroe and two protected 1st Round Picks saves the Heat $5 million in cap space right away (and potentially more this summer if Monroe opts out of his deal a year early) and nets them 1st round picks in two drafts where they've already traded their own 1st rounders.
As for Milwaukee, just look at the core Milwaukee would be going to war with in the immediate future, and for how long they'd be under contract following this season:
Giannis Antetokounmpo (4 years)
Hassan Whiteside (3 years)
Jabari Parker (2 years)
Malcolm Brogdon (4 years)
Khris Middleton (3 years)
Thon Maker (4 years)
John Henson (3 years)
Is there a more intriguing/lanky/high upside septet than that group of seven? If Thon Maker turns into what a large number of people expect him to be and if Giannis develops a consistent jumper … Holy Shit! Just imagine Giannis, Maker and Whiteside on the floor together, blocking a collective 17 shots per game, owning the glass and doing all kinds of ridiculous shit every night, plus the ever-improving Jabari (get well soon!), Middleton (who I once called "The Homeless Man's Kevin Durant") and Brogdon (so in love with his game). That kind of never-before-seen-in-this-era potential of length and athleticism and size (but still enough shooting) is something you can give up two 1st Rounders for. My goodness. This is what they'd look like with all that length on the court: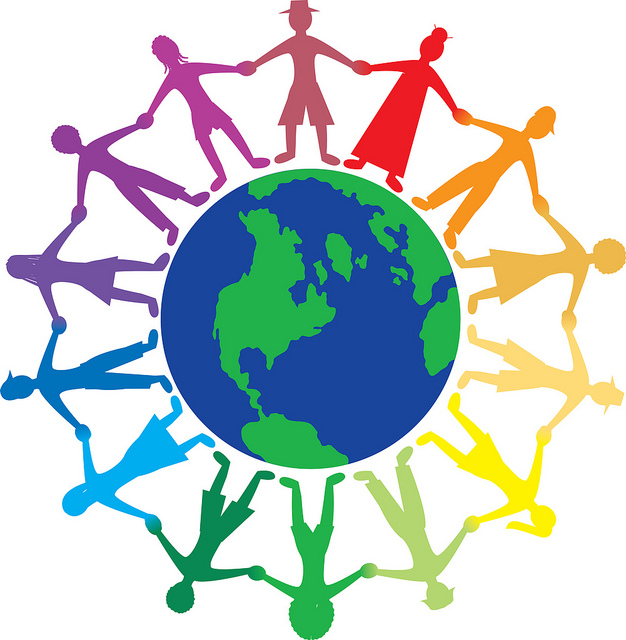 Get Jay Bilas some lotion and a box a tissues, ASAP!
Orlando/Detroit/Portland 
Andre Drummond to Portland … Festus Ezeli, Noah Vonleh, Reggie Bullock, Cleveland's 2017 1st Round Pick (via Portland) to Orlando … Nikola Vucevic, Meyers Leonard, Mario Hezonja, Memphis' 2017 1st Round Pick (via Portland) to Detroit 
I didn't have Drummond included in my preliminary Pistons trade, but then mid-week last week I saw that the Pistons were exploring potential Drummond deals, though, in there words, reaching a deal would be "highly unlikely." I don't necessarily understand why trading Drummond would be on Detroit's radar; He's 23 years old, has averaged at least 13 rebounds per game for the last four years, and still (probably) has another level to reach as an offensive threat. I'm pro-Drummond, but if Detroit is going to shop him, I will too.
If the Blazers are convinced that they're just one piece away from climbing a tier in the Western Conference, they could easily talk themselves into Drummond being that piece. There isn't any need for Drummond to come to Portland and provide an immediate scoring punch, but with the attention that Lillard and McCollum would get in pick and roll situations, I'm willing to bet we'd see an uptick in Drummond's scoring if he were to be traded to Portland.
Portland would have to give up some of their younger rotation bigs and a couple of 1st Round picks if they wanted to pry Drummond away from Detroit, but with Orlando's help the Pistons could get a package back in return that would make them feel like losing Drummond doesn't change their ceiling in a major way. Vucevic and Leonard would slide right into Detroit's rotation and I'm still convinced Mario Hezonja will eventually find a home where he will look like a former No. 5 draft pick.
Orlando is in no man's land now, so cutting ties with Vucevic is their next logical move in jump-starting their second post-Dwight rebuild. Really, Orlando should be actively shopping everyone but Aaron Gordon at the deadline. Find yourself young assets and as many draft picks as possible, give Sam Hinkie a call and fire up Trust The Process 2.0.
Houston/Indiana/Charlotte 
Jeremy Lamb, Frank Kaminsky III, Brian Roberts to Houston … Al Jefferson and C.J. Miles to Charlotte … Corey Brewer and Nene to Indiana 
These were the last three teams I had to find a trade for, and I'm not necessarily proud of this one. The prospect of Al Jefferson making a "triumphant" return to Charlotte is the dimmest of silver linings, but even still, even I'm underwhelmed by this deal. Two things to note:
First, before Serge Ibaka was traded to Toronto, I had an Ibaka to Houston trade that I absolutely loved. If Orlando were going to accept Terrence Ross and a late 1st Round pick for Ibaka, couldn't Houston have had a chance at him for K.J. McDaniels, Corey Brewer, Nene and a 2017 1st Round pick that will end up within one or two spots of the pick the Raptors got him? And if you're Houston, why wouldn't you be going after Ibaka. Wouldn't Ibaka have raised Houston's ceiling? A rim protector who could play the 5 alongside Ryan Anderson just as easily as he could play the 4 with Clint Capela? I was surprised that no Ibaka to Houston rumors were ever floated.
Second, I debated pulling the trigger on a Paul George trade since PG-13 came out and said he wouldn't commit to re-signing with the Pacers, but Indy wouldn't panic trade George yet. Look for any and all potential Paul George trades to be featured in next year's 3rd Annual 30 Team NBA Trade Deadline Challenge!
Dallas/Memphis 
Chandler Parsons to Dallas … Andrew Bogut and Deron Williams to Memphis 
We need Chandler Parsons and Mark Cuban to be reunited again. Their love story was too beautiful not to have a happy ending. And am I crazy, or would the Grizzlies be slightly more interesting/dangerous with a healthy Andrew Bogut and a healthy Deron Williams heading into the postseason? I'm crazy? OK, let's move on then.
Denver/San Antonio/Utah/Oklahoma City 
Patty Mills, Joffrey Lauvergne, David Bertans to Utah … Danilo Gallinari and Joe Ingles to Oklahoma City … Alex Abrines and Domantas Sabonis to Denver … Dante Exum and Juan Hernangomez to San Antonio 

I just wanted to see what a trade featuring nine dudes from anywhere but the United States would look like. So, ummm, this is what it looks like.
New York/Boston/Brooklyn/LA Clippers 
Austin Rivers and Kyle O'Quinn to Boston … Carmelo Anthony to LA Clippers … Jamal Crawford, Amir Johnson, Jonas Jerebko, Brandon Jennings, Memphis' 2019 Top 8 Protected 1st Round Pick (From Boston) to Brooklyn … Brook Lopez, Luis Scola, Terry Rozier to New York 
Truthfully, I think three of the four teams in this trade are winners, and 75 percent isn't bad at all.
First, the Celtics turn Terry Rozier into Austin Rivers, and give the Johnson/Jerebko minutes to Kyle O'Quinn. Two upgrades in my book, and it's worth giving up that 2019 Memphis pick to get it done since their window to win the Eastern Conference is probably more open this year than anyone expected it would be.
Second, the Clippers finally get Melo, ending the year and a half long "Is Melo every going to waive his no trade clause" dance. Seriously, a year ago I wrote about Melo getting traded to the Clippers. I really didn't think I'd be writing about it again in 2017. It has been sitting there for oh so long … the one potential piece the Clips have been missing. Despite this, the Clips did nothing, the Knicks did nothing, Carmelo did nothing.
Then Phil Jackson did something. He started lobbing verbal grenades in Carmelo's direction, doing everything short of coming out and saying, "You know what, Kevin Garnett was right. La La Anthony does taste like Honey Nut Cheerios!" Now Melo has at least acknowledged the trade talk and the slightest potential of OK-ing a trade to LA.
Third, Brooklyn gets $22 million in expiring contracts, Jamal Crawford heat checks and a 2019 1st Rounder via Memphis, a life saver for a team that traded 117 1st Round picks in 2012 and 2013.
Finally, we have the Knicks who have been doing very little winning recently, getting Brook Lopez and his five rebounds per game, Luis Scola and his bad hair, and Terry Rozier, who might end up being a starting NBA Point Guard. The Knicks are still losing.
Atlanta/LA Lakers  
Lou Williams and Tarik Black to Atlanta … Tiago Splitter and Cleveland's 2019 Top 10 Protected 1st Round Pick to LA Lakers 
I'm not turning water to wine here, but I can't sit here and say that I'm not pleased with this deal. LA gets Splitter's expiring contract, a future pick and an immediate downgrade to the quality of their team (cap space, draft picks and right-away sucking are three necessities if you're a rebuilding team in a big market). Atlanta gives up an expiring and a likely late-1st Round pick to get a rotation big in Tarik Black, who would steal some of those Mike Muscala/Kris Humphries minutes, and Lou Williams, a perfectly qualified and much needed crunch-time perimeter scoring option, which the Hawks are lacking at the moment. Chalk this one up as a win-win.
Minnesota/Toronto 
Cole Aldrich and Brandon Rush to Toronto … Jared Sullinger, Fred VanVleet and Bruno Caboclo to Minnesota  
Another one that is less than spectacular, but beneficial for both Toronto (grabbing two experienced bench players for the stretch run of the season) and Minnesota (the chance to save a little money and pray the rosary that Bruno Caboclo is closing in on the time where he's closer to "ready to play and slightly resemble Giannis" than he is from still being "two years away from being two years away."
Phoenix/Chicago 
Jimmy Butler and Cristiano Felicio to Phoenix … Brandon Knight, Marquese Chriss, TJ Warren, Top 3 Protected 2017 1st Round Pick (Unprotected in 2018) and Miami's 2018 1st Round Pick (Top 7 protected in 2018, unprotected in 2019) 
The one big question I kept asking myself while I was putting the finishing touches on this potential deal: Would Phoenix need to give up Eric Bledsoe or Devin Booker in order to get Butler, or would a couple of young prospects (Chriss and Warren), one young-ish former starting Point Guard (Knight, who is fresh of a three year peak averaging 18 points per game) and two really tasty upcoming draft picks get the job done?
The Bulls have been rumored to shop Butler in the past … they have at least been willing to listen to offers. Butler's tenure in the Windy City has been contentious, and the Butler/Wade/Rondo troika has been rocky to say the least. If Butler decides he is tired of questionable management and a coach who is probably better suited coaching collegiate athletes, he could send signals that he wants out ASAP.
Rather than getting stuck in a situation where you're being held hostage by a superstar who probably won't re-sign once he becomes a free agent (and yes, I know, Butler can't opt out of his deal until 2019), the Bulls could fast track their rebuild right away instead of putting fighting for the one of the bottom end Playoff spots for the next three years. Trade Butler now, let Wade walk in the offseason (maybe he'll make a 345 mile walk from the United Center to Quicken Loans Arena for a discount over the Summer), and change the culture immediately.
And if you're Phoenix, and you can nab a borderline Superstar without giving up Bledsoe (quietly averaging 22 points, 5 rebounds and 6 assists per game on a reasonable contract) or Booker (not so quietly averaging 21 points per game as a 20-year-old), you need to be willing to give up just about anything else, even if it means giving up future draft picks, the Suns Gorilla and the Mercury, their WNBA counterpart. Just get it done and try to take the next step.
Cleveland/Golden State 
Passive Aggressive Insults 
I know this goes against what LeBron has been saying for weeks now, but I don't think the Cavs need to make any major changes to their roster. I loved the Derrick Williams signing (my prediction: he'll have a legitimate moment sometime in the postseason) and if J.R. Smith and Kevin Love can get healthy by mid-April Cleveland will be fine. The only team, pending good health, that will be in better shape in April, May and June than Cleveland is Golden State. So rather than either team shaking things up too much, I think they should continue to needle each other in the media.
As you will see, the following two trade ideas were finished up late Sunday morning before the DeMarcus Cousins to New Orleans trade was even floating around the internet as a proposal.
Washington/Sacramento 
DeMarcus Cousins to Washington … Marcin Gortat, Otto Porter, 2018 Unprotected 1st Round Pick, 2020 Top 5 Protected 1st Round Pick 
New Orleans/Philadelphia 
Anthony Davis and Omer Asik to Philadelphia …Ben Simmons, Jahlil Okafor, Nerlens Noel, Ersan Ilyasova, LA Lakers' Top 3 protected 2017 1st Round Pick and an unprotected 2019 1st Round pick from Sacramento to New Orleans
So, a few things to note:
1: I really didn't think Cousins was going to get dealt. That, to me, was like the best possible Randy Orton "RKO" (for those of you who are missing out on the glorious world of Pro Wrestling, that would be "Outta Nowhere"). I mean, two days before the trade went down Cousins had mentioned how he wanted to sign an extension with the Kings, and that he wanted his "legacy to end in Sacramento." And then he's gone, like an RKO, outta nowhere? Again, I'm shocked.
2: My justification for proposing the Cousins to Washington trade … I just wanted Boogie and John Wall on the same team. In fact, here was, word for word, what I wrote in my first paragraph about this proposed trade:
Like the Butler deal, this one only goes down if Cousins were to voice his displeasure with the Kings organization and make it absolutely, crystal clear he would not re-sign in Sacramento when he becomes a free agent in the Summer of 2018. Cousins has said all the right things (like how he wants his "legacy to end in Sacramento" and he wants his "jersey to be in the rafters in Sacramento") and for all we know he really does intend to re-sign in Sacramento. And to be fair, it's incredibly unlikely Cousins would make it known that he wants out of Sactown within the next 72 hours. I would guess that Kings will be buyers at the deadline. They aren't far out of that very available 8th seed out West, and as a means of appeasing Boogie the Kings brass might decide they need to make a move that would give them a leg up over Denver, Portland, New Orleans, Dallas and Minnesota. However, a fella can dream of a DeMarcus Cousins/John Wall reunion, can't he? 
3: The Anthony Davis to Philadelphia trade was my single favorite fake trade that I've ever come up with. I was so impressed with it that I actually sent it to Bill Simmons via email for a potential spot in a future mailbag he would write. Philly would be giving up an unprecedented amount of youth (last year's No. 1 pick, the No. 3 pick from 2 years ago and the No. 6 pick from 3 years ago) and future youth (i.e., those two tasty 1st Round Picks) to get back the best under-25 basketball player in the world and Omer Asik's corpse.
But here's the thing: even if it's not Anthony Davis, Philadelphia still has the assets to go all in at some point for a big name star. Could it be Paul George? Could it be Jimmy Butler? Who knows. If Philly ends up getting that Lakers pick and if their own pick remains a Top 5 pick, couldn't they package those two selections together plus some of their recent lottery selections (Nerlens Noel, Dario Saric, etc.) plus dangle that Unprotected 2019 Draft Pick from Sacramento (now maybe the best Draft Pick trade chip any team has) to land a legitimate superstar? I think Philadelphia is a year away from being really relevant in the Eastern Conference.
4: It was a one in a million shot that a trade like this would have come to fruition anyway, but now it's a certainty this deal ain't happenin'. But man, the imaginary partnership of The Brow and The Process was intoxicating for a moment there. It would have been a throwback to the days when the prevailing thought among those in basketball management was that pairing two dominant bigs was the way you won titles; a mindset that so many teams have tried to adopt in the more modern era of basketball but never got right because they just didn't have the right two bigs. Embiid and Davis was a partnership that you would think had the make-up to be the right guys for the job.
But Cousins and Davis? The two best young big guys in the NBA, both in their respective primes, playing together for a team that's just a few games out of the Playoffs at the moment? Holy crap, this actually might be better than the Davis/Embiid pipe dream. I know Cousins can be a handful to deal with, and I imagine that is a big reason why Sacramento decided to accept a less than stellar offer from New Orleans for Boogie, but these two are going to be a problem for their opponents, including Golden State in the 1st Round of the NBA Playoffs.
My gosh, the NBA never fails to disappoint.