---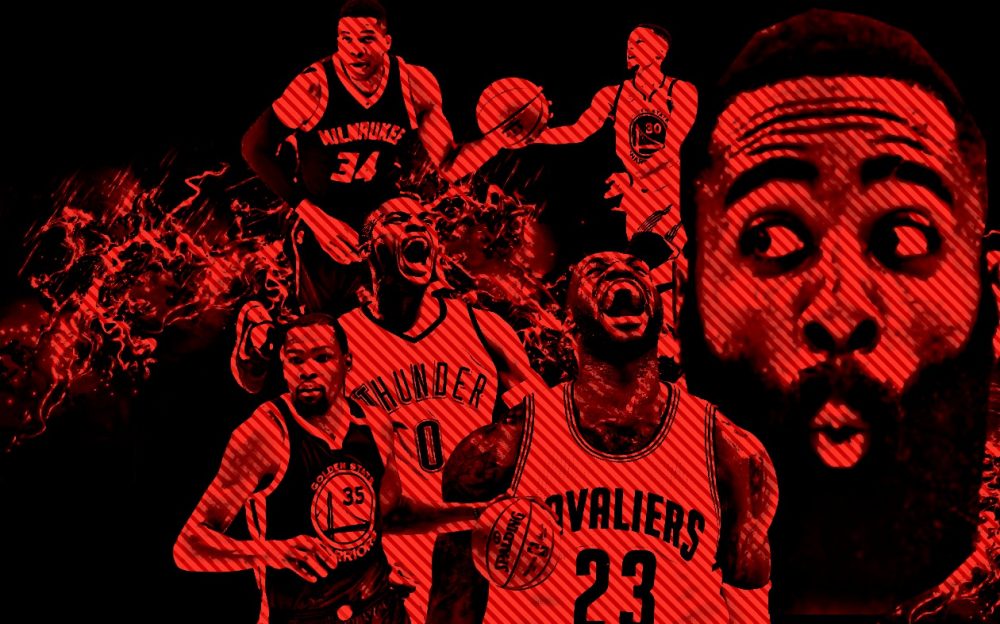 As you may know, in one week my Sonny Says mailbag column will be making its triumphant and long-awaited return to Hardwood and Hollywood. In an attempt to ensure that I'm not rusty heading into a question and answer column, I've decided to both ask myself and answer ten NBA questions of my choosing. We're only days away from the All-Star Break, so now seemed like a perfectly acceptable time to try to sort out what the hell is going on in the National Basketball Association.
How long does someone have to be embarrassed about picking Jason Kidd to win Coach of the Year?
Unfortunately I'm not asking this question for a friend. Over the offseason I got suckered into the idea that Giannis Antetokounmpo was going to elevate his game to such a high level that he could elevate Jason Kidd to Coach of the Year candidacy, but it turns out that J-Kidd is such a bad Head Coach that despite Giannis' night to night brilliance and potential for complete domination, Kidd could still manage to hold the Bucks back. I was at a Bucks game in Miami in mid-January and I saw firsthand how badly outclassed Kidd was going up against Erik Spoelstra. It was the epitome of one Coach playing Chess while the other played Checkers. The poor Bucks kept running the same bland offensive sets over and over, and that would've been perfectly fine if things were going well for them all afternoon. They weren't … Miami made adjustments at halftime and turned a 2-point deficit after the 2nd quarter into an 18 point home victory that sent the Heat fans back to South Beach happy.
It wasn't a huge surprise that Kidd was fired only eight days later. Some guys just aren't meant to be coaches, and I think after two stops it might be safe to say Jason Kidd isn't one of them. Of course, I'd bet money that Kidd will get another job within the next three to five years. It's just how it works. Even though Milwaukee proceeded to go 8-2 over their next ten games after Assistant Coach Joe Prunty took over for Kidd, some team (a poorly ran one) will talk themselves into Kidd eventually.
Anyway, I don't think pre-season Kidd believers need to feel too ashamed about their selection. The Coach of the Year winner is often the man at the helm of the team that makes a big jump in win total from one season to the next. I thought it was a possibility the Bucks could increase their win total from 42 last year to 52 this year. A ten win improvement would have been solid enough to put Kidd into the Coach of the Year discussion even if it's a known fact that Kidd wasn't even one of the ten best coaches in the league. Sub-par coaches have won this award before. Sam Mitchell, Byron Scott and Mike Brown all have taken home the hardware, and George Karl won it the same year he was fired after the season because the Nuggets (predictably) underachieved in the Playoffs.
Who is the Coach of the Year frontrunner then? 
My pick thus far would be the best Head Coach in the league — and the man who should run for and become President of the United States in 2020 — Gregg Popovich. Pop has won the Coach of the Year Award three times already and a fourth victory would put him alone at the top of the list all-time. He should be grandfathered into the conversation every year simply for his work in creating and maintaining a culture of winning in San Antonio, but this may be Pop's most impressive job yet.
Without perennial MVP candidate Kawhi Leonard for all but nine games, the Spurs still have the fifth best record in the NBA. Pop is getting decent enough production from no-name youngsters like Dejounte Murray, Kyle Anderson, Bryn Forbes and Davis Bertans while Tony Parker, Pau Gasol and Manu Ginobili (35, 37 and 40 years old respectively) are all playing 20+ minutes per game. LaMarcus Aldridge requested a trade in the offseason, but Pop talked him off the ledge and now because of Kawhi's injury, Aldridge is having one of the best per-36-minute statistical seasons of his career.
The two most likely candidates for 2018 Coach of the Year, in my opinion, are Dwayne Casey and Nate McMillan. Casey's Raptors felt stale after last year's 2nd Round Sweep at the hands of the Cleveland Cavaliers. The general belief after that series was that Kyle Lowry would leave Toronto, and some analysts felt that the Raps might be better off breaking up the Lowry/DeMar DeRozan pairing anyway. Lowry resigned and expectations for Toronto were tempered heading into the 2017-18 season. But at least partially to Dwayne Casey's credit, the Raps began playing faster and more freely, and they started firing a ton more three's per game. Because of that organizational alteration, the Raptors are sitting atop the Eastern Conference as you're reading this.
After trading away Paul George for Victor Oladipo and Domantas Sabonis, nobody expected that after fifty games the Indiana Pacers would be contending for home court advantage in a Round 1 Playoff series. Whether or not you think Nate McMillan deserves more credit than anyone else for this surprising development is mostly irrelevant. The Pacers are the biggest overachiever in the NBA and that's often good enough to snag some Coach of the Year votes. McMillan has won over 50 percent of his games as an NBA Head Coach (that's a better mark than I had imagined in my head) and he's led his team to the Playoffs in over half of his seasons on the bench.
I'd give a slight nod to Casey over McMillan, but either of the two, or Gregg Popovich, would be suitable choices.
Is Ben Simmons still running away with Rookie of the Year? 
Ben Simmons is the Kentucky Derby horse that tries to race with a wire-to-wire lead. Right out of the gate B.S. showed that even with a jumper that would give Giannis nightmares, he would be able to compete at a high level immediately thanks to ridiculous size, underrated athleticism and a cagey feel for the game that very few 21 year old's have. I love Simmons' game (and more importantly, I love the rapport he and Joel Embiid have already developed), and much like Giannis, once he starts knocking down some jumpers with consistency we will be forced to recalibrate his ceiling.
With that said, I'm not ready to rule Donovan Mitchell out of this race, who in this somewhat awkward Kentucky Derby analogy would be the horse that makes his way to the front of the pack around the halfway point of the race. We don't know if Mitchell will have a ton of closing speed, but his body of work is building up. Mitchell leads all Rookies in scoring at nearly 20 points per game, and he's been the catalyst of an out-of-nowhere ten game winning streak that has Utah right back in contention for the 8th spot in the Western Conference Playoff race. If Mitchell can carry the Jazz to a Playoff spot, not only should he get serious consideration for Rookie of the Year, we'll also have to insert Quin Snyder into the Coach of the Year conversation as well. The Jazz looked primed for a setback after Gordon Hayward and George Hill left for Boston and Sacramento in Free Agency, but Mitchell and a ragtag bunch of quirky dudes have the Jazz in the mix.
Kyle Kuzma is a pleasant surprise in LA. Jayson Tatum got starters minutes immediately in Boston because of Hayward's injury and he's been about as steady as you could expect a Rookie to be in that situation. Lauri Markkanen, Dennis Smith Jr., John Collins and Bam Adebayo are all contributing and should secure All-Rookie Team honors. Lonzo Ball has missed 20 games but he's averaging 10-7-7 on the year. The 2017-18 Rookie class as a whole is deep and fun. Next year's should be similar.
Who should be the #1 pick in this Summer's NBA Draft? 
I'm leaning towards DeAndre Ayton or Luka Doncic as of right now, but that doesn't mean that Marvin Bagley, Michael Porter and Mo Bamba aren't terrific pro prospects. I think everyone is a little too high on Trae Young, not high enough on Miles Bridges, and way off on Jevon Carter. As I voiced on Twitter this weekend, if somebody like Grayson Allen is actually picked 29 spots ahead of Jevon Carter (as NBADraft.net had on their Mock Draft as of February 2nd), quite a few people in front offices will deserve to be fired.
Which League Pass team (i.e. Teams that aren't frequently broadcast on National TV) is the most fun to watch? 
Philadelphia has been a League Pass favorite of mine this year because of Embiid, Simmons,
Robert Covington
's sneaky 3-and-D expertise,
T.J. McConnell
's hustle,
J.J. Redick
's shooting stroke and a bunch of other little things. The Bucks are always fun because of Giannis, but it's an especially delightful viewing experience when
Gus Johnson
is on the call. The
Damian Lillard
/
C.J. McCollum
duo is better than ever — these dudes each have a 50 point game in under 30 minutes of play this year — and the Pelicans were bully-balling their way to the top of my night-to-night list until
DeMarcus Cousins
ruptured his Achilles. Since Cousins is on the shelf for the remainder of the year, the Minnesota Timberwolves round out my Top 4.
Jimmy Butler
is a legitimate MVP candidate and
Karl-Anthony Towns
is on track to become one of the most prolific and efficient offensive bigs in NBA history. I can't choose just one from that group of four … it's my column and my question, so nobody can make me. My suggestion would be tune in whenever any of those four teams are on National TV. You really can't go wrong.
Does James Harden have any legitimate competition for the NBA MVP Award as of right now?
As far as I can tell, there are only four ways James Harden doesn't win the MVP:
1. If Harden gets hurt again and misses another two week stretch he'll be right near the outer limits of the number of games an MVP candidate should be allowed to miss in a given season. Only four MVP's in league history have missed more than ten games. Harden missed seven in early January, so he'll be on the wrong side of history if he ends up missing a few more this year. The question from there would become, "Is anyone else actually more deserving than Harden, despite the missed games?"
2. If LeBron and the Cavs turn things around and make a push towards the 1-seed in the Eastern Conference, voters may be inclined to hand the award to LeBron for the fifth time in his career. By the way, don't rule this scenario out. Because I've watched at least 80 percent of Cleveland's games this year I feel as though I am qualified to say that most nights this season the Cavs paid very little attention to and had almost no interest in playing defense. Once their offense started failing when Isaiah Thomas was inserted into the starting line-up, they totally shit the bed. The roster turnover at the deadline appeared to be drastic, but it was also necessary. This version of the Cavs will be far better offensively and defensively, and since Toronto is only six games ahead in the standings, I expect that there will be a late run at home court in the East. I'm not saying the Cavs will enter the Playoffs as the 1-seed. I am however cool with suggesting that Toronto or Boston's lead over Cleveland in the East won't grow larger between now and mid-April.
3. If Giannis starts averaging something ridiculous like 30-12-4-2-2 down the stretch and the Bucks get a Top 3 seed in the East, we'll need to review his 2017-18 candidacy and possibly declare him 2018-19 MVP one year ahead of time. For now, he remains in a tight battle with Kevin Durant and LeBron James for one of the two Forward spots on the All-NBA 1st Team. By the way, that sort of season is coming sooner than we realize.
4. If the Golden State Warriors only lose 2 or 3 games the rest of the year and voters come together to rig the vote so Kevin Durant and Stephen Curry become co-MVP's, I can't say I'd hate the idea behind it. I fight with myself on daily basis about whose MVP candidacy is stronger. I think I'm leaning towards Durant today. By next week I'm sure I'll have Steph slightly ahead.
All things considered, it's hard to imagine Harden not winning MVP this season. He's in the midst of his third truly transcendent offensive season in four years and it would be a crime if he didn't win MVP once. The Rockets are neck and neck with the Warriors in the race for best record in the league and Harden is notably more impressive statistically than his biggest MVP competitors. My vote as of now would go to The Beard, and I wouldn't have to think twice about it.
Should we take anything from Oklahoma City and Houston having a 4-1 record against Golden State? 
I don't want to get too carried away and try to talk myself into taking too much from games played in December, January and February, so this is as far as I'll go … I think the Warriors 1-4 record against the Oklahoma City Thunder and Houston Rockets indicates that the Dubs won't be able to steamroll through the Western Conference like they did last year.
Wait, are you saying the Western Conference is actually up for grabs? 
I think I am. I at least think I'm more open to the idea of someone other than the Warriors winning the West than I was last year, when the Warriors went 16-1 (and 12-0 in the Western Conference) in the postseason on the way to an NBA Title. Before the season I expressed beliefs that both the Thunder and Rockets could prove to be tricky postseason match-ups for the Warriors for very different reasons, and I still believe this is true. The Rockets could theoretically take — and make — enough three's in a series against the Warriors to swing things in their favor. Houston is better equipped to get stops than they were last season, and on a per 100 possession basis, the Rockets are actually outscoring the Warriors this year.
The Thunder are an even more interesting possible postseason opponent for the Warriors. Defensively they have the length and athleticism to bother the Warriors on the perimeter, even without defensive menace Andre Roberson. Just like James Harden and Chris Paul would, Russell Westbrook and Paul George will come into every game feeling as if they were the two best players on the floor, and on any given night they may be correct. Carmelo Anthony's place in the OKC Big Three has been taken by Steven Adams, but he's going to have at least one big Playoff game this year, you watch. And let's not forget, before Kawhi Leonard rolled an ankle in Game 1 of the Western Conference Finals last year, the Spurs had a 23 point lead against the Warriors in Oracle Arena. This doesn't mean San Antonio was Finals bound, but it does possibly highlight Golden State's exaggerated invincibility.
The Warriors late-game Death Line-Up hasn't had the same stranglehold on opponents as it did last year, even against average and below-average competition. Whether or not this is an anomaly remains to be seen. Talented, once-in-a-generation teams are supposed to have a switch they can flip, and once the Playoffs begin the Warriors could easily flip a switch and start demolishing everyone again.
How many different teams could win the Eastern Conference? 
LeBron James only plays for one team in the Eastern Conference. So the answer is one.
So this LeBron to the Warriors stuff … we don't need to take that seriously, right? 
No we do not. Here's how I expect this all went down, and for what it's worth, I have no insider knowledge, just a pretty decent track record figuring out what LeBron's next moves might be: LeBron's camp was probably displeased with the lack of urgency the Cavaliers front office has shown in improving their roster in the short term to maximize the Championship window while LeBron is still in the prime of his career. And by the way, it's really dumb that we can still consider LeBron in the prime of his career when he's in year fifteen. Fif-fucking-teen.
Anyway, the LeBron to Warriors chatter was nothing but a reminder to the Cavs that LeBron could walk this Summer. If there are better situations for him elsewhere, he's not going to stick around while Dan Gilbert plans for a future after LeBron. It was also a not-so-subtle reminder to the Lakers, Rockets, 76ers, Spurs and everyone else interested in LeBron's services that they better get their ducks in a row heading into Free Agency, because the team that makes the best pitch to LeBron will be the team he plays for in 2018-19.
So when you read a headline that says "LeBron James would listen to Warriors if max slot is available," you might as well be reading, "Alright Houston, are y'all thinking of how you can get rid of Ryan Anderson's contract so I can sign for the max?" or "Hey LA, are you prepared to trade Lonzo Ball and his crazy father?" or "Hey Comic Sans Dan, I don't want to have to leave Cleveland again, but if you keep planning for a future without me, the future will become your present very soon."