Welcome to the first ever edition of Sonny & Dalton's Real Time Review. In this edition, Sonny Giuliano and Dalton Baggett talked about and broke down Game 6 of the Eastern Conference Finals as it was happening on Friday night.
Sonny Giuliano (8:50 pm EST) – This is a very big night for basketball fans, Dalton. Not only could the young, pesky, and as-surprising-as-a-two-seed could be Boston Celtics punch their ticket to the 2018 NBA Finals, it could also be the final game for LeBron James in a Cleveland Cavaliers uniform (again). Of course, the Cavs could do "Whatever It Takes" to "Defend The Land," forcing a Game 7 and then all of the sudden we were premature to debut Sonny & Dalton's Real Time Review for a Game 6.
Either way, I'm happy we're doing this, because if the game ends up being close, I'm going to need something to keep my mind off of wanting break down into tears as the game is still being played. The good news: I watched "Creed" before the game, so mentally I'm not only ready to watch Game 6, but I'm also ready to fight "Pretty" Ricky Conlan. Unfortunately, Kevin Love already took what looks like the equivalent of a Conlan uppercut. He's out of the game and in the corner with Rocky. Or rather, he's going back to the locker room. This isn't good.
Dalton Baggett (8:55 pm EST) – Ok I was a little late to the party because I was at the gym, treating my body like the temple it is. (I made a beer run). I turned on the game to LeBron missing a layup. Sorry bud. Celtics in 6. Also, Terry Rozier is looking a little frightening, may even become scary soon? I hope not. I hate horror films.
SG (8:57 pm) – Lucky for you, you missed the J.R. Smith shot that hit the side of the backboard, and the Jeff Green shot that was a shot. As a Cavs fan, I can say with a great deal of certainty that there is nothing scarier than a Jeff Green field goal attempt.
SG (9:02 pm) – Kyle Korver comes into the game and drills his 1st three-pointer. 19-18 Celts. We can't ignore the fact that Ty Lue admitted the Celtics "threw the Cavs for a loop" in Game 5 because Brad Stevens shortened his rotation to seven guys, neglecting to play Semi Ojeleye. I'm sorry, but if a team dropping their eighth man — a rookie who averages fewer than 15 minutes per game — throws a coach off so much that he just forgets to play his third most productive offensive player more than 20 minutes in a crucial Game 5, he's not a good basketball coach.
DB (9:04 pm) – Your point holds up because I've never heard of Semi Ojeleye in my life. That does seem like a thing a coach should be able to handle pretty easily. Quick insight into my brain: Ty Lue reminded me of Allen Iverson, who reminded me I was a big Sixers fan when I was a kid, which reminded me I love Kyle Korver, which reminded me that I wear long socks when I play basketball because of him. That's all to say that when he makes 3 pointers it makes me nostalgic and happy.
SG (9:09 pm) – It's really not rocket science. The Cavs have three guys who are scoring at least 10 points per game in the Playoffs this year. LeBron (33), Kevin Love (15) and Kyle Korver (10). That basically held up through the first four games of the series too. J.R. Smith is averaging 5 points per game this series and shooting 23% from the field. George Hill is the Cavs 4th leading scorer at 8 points per game on 42% shooting. This isn't meant to be an excuse or anything for LeBron, it's just the fact … this supporting cast sucks, and the Celtics are really good, even without Kyrie Irving and Gordon Hayward.
DB (9:12 pm) – No, don't you dare sugar coat your point. That is absolutely a valid excuse to use for LeBron. His team is awful. (Besides sweet Kyle).
This will work very well if you handle all of the stats and game analysis. I'll handle the jokes and the hot takes. My first hot (luke warm?) take is that LeBron is a better passer than Magic Johnson. I feel very confident in this having watched a lot of LeBron and zero Magic Johnson. It's very 2018 of me
SG (9:13 pm) – That's a bath water take … LeBron is the greatest passer of all-time. Why don't you turn the temperature up a bit?
DB (9:14 pm) – LeBron can't palm the ball. I'm a fan and all now, but I can't give up on my conspiracy theories.
SG (9:17 pm) – Oh, by the way, since you professed your love for Kyle Korver, the Cavs are on a 14-3 run. Cavs are up 38-33 with under 7 to go in the 2nd Quarter, with LeBron going to the free throw line. This very nervous Cleveland crowd is now very lively!
DB (9:19 pm) – You're welcome. But also I'm sorry because I'm actively rooting for LeBron now and things I like never succeed. You actually might have my past hate of LeBron to thank for his rise to GOAT status.
SG (9:22 pm) – Well unfortunately the good times are over. Doris Burke just let us know that Kevin Love is still in the locker room. He has a history of concussions and he was almost certainly (accidentally) concussed by Jayson Tatum. Mike Breen just said the words, "Jeff Green now has a big role." I need a beer.
By the way, I can't believe I just typed the word "concussion" in an NBA discussion. That's usually reserved for the NFL.
DB (9:25 pm) – Yeah you said the "good times are over" and I know you were referring to the Cavs, but we can agree that it is good the NBA actually has a concussion protocol and cares about its players.
SG (9:30 pm) – We can agree on a number of things in the NBA/NFL side by side discussion. The NBA cares more about their players in a multitude of different ways. The NBA is gaining viewership when the NFL (and every other pro sport) is losing viewers. The NBA is in a golden age stylistically and culturally, the NFL is in the weird, dark era where fans and casual observers are just pissed off about everything. Literally everything. The NFL is going to have a lockout in 2021 because tensions between the two sides (players and owners) have never been testier. The NBA won't have a lockout in 2023 because Adam Silver, the owners and player leadership will be smart enough to realize that the NBA (and basketball in general) is on the cusp of becoming the most popular sport in the world.
Just read this if you think I'm bullshitting about the NBA's viewership and popularity being on the rise.
DB (9:32 pm) – FAKE NEWS! Just kidding, I believe you. I'm not an asshole.
So the Cavs are up by 11. With 2 minutes left in the half. What does their lead need to be at half for you to not be having a panic attack the rest of the game?
SG (9:35 pm) – I can't give you a set number, because I've seen Cleveland shit all over themselves in 2nd halves of games and blow huge leads. And nobody has had more "pull a horseshoe out of their ass" wins than the Celtics this year. Just look at this: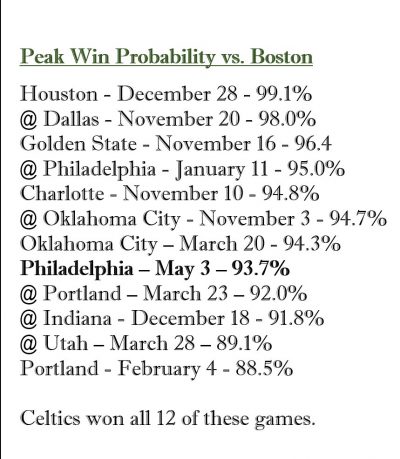 And for the record, when I say "pull a horseshoe out of their ass" wins, I actually don't mean to imply that they are lucky. This is moreso a testament of being very well-coached and playing incredibly hard when most teams would fold.
DB (9:38 pm) – What you're saying is you'll be having a panic attack until LeBron is bathing in confetti, bear hugging ol' Larry O'Brien?
SG (9:39 pm) – Yeah, now you get it. Cavs up 54-43 at halftime. Let's take a breather.
DB (9:56 pm) – Sonny, I just read a stat courtesy of a Bill Simmons tweet, that LeBron has played 53,000 NBA minutes. I can't think of one thing I've devoted 53,000 minutes to. Maybe Halo? And I'm still not good at it. That's honestly one of the craziest things I've ever read. He deserves all of the respect.
Ok, 2nd half is starting. Let's see what he does with the next 24 minutes.
I'll probably make some pizza rolls.
SG (9:58 pm) – I think the only thing in my life that I've done for 53,000 minutes is WATCH basketball. I like to think I'm pretty good at that. Can you send some of those pizza rolls my way please?
DB (10:00 pm) – LeBron was just looking at Jaylen Brown like Stanley looks at Jim on Beach Day. I most certainly would have soiled myself.
SG (10:01 pm) – Oh, I'm really happy you mentioned The Office because I have a bone to pick with you, Mister.
Robert California is a top 5 Office character https://t.co/oZfYFPMM93

— dalton. (@daltonbaggett) May 24, 2018
Um, what?
DB (10:02 pm) – You have a problem with Robert California?
SG (10:02 pm) – I have a problem with suggesting he's a Top 5 character on The Office.
DB (10:03 pm) – Sonny. He's the fucking Lizard King.
SG (10:04 pm) – I'm very aware.
DB (10:05 pm) – OH MY GOD LEBRON JUST MURDERED SOMEONE I DON'T EVEN KNOW WHO IT WAS. They have to retire now.
SG (10:06 pm) – Scary Terry had a nice career then.
DB (10:08 pm) – But my quick defense of Robert California is that he saves the show. If they don't bring him in after Michael leaves the show is awful. They make some dumb choices in the Michael-less seasons, but Robert California is not one of them. He makes it worth watching. And I love him. It's my Top 5 leave me alone. I bet you didn't even read the article. It makes great points. Typical millennial.
SG (10:11 pm) – For the record, I really like Robert California (after all, he IS the Fucking Lizard King). And every point you make is correct. But I think you need to think a little bit more about overall body of work than just one season's worth of excellence. The Top Four characters from The Office are Michael, Dwight, Jim and Pam. Robert California can't be higher than fifth. And frankly, I prefer what Kevin Malone brings to the table over nine seasons than I do what Robert California did for one.
DB (10:13 pm) – What if we did average level of performance though? I think Robert California does the most with the least amount of minutes.
SG (10:14 pm) – I'm just looking at it as if I'm ranking an NBA player's career. Picking Robert California over Kevin Malone feels to me like someone saying that Derrick Rose had a better career than Chris Bosh.
DB (10:16 pm) – That is a very good point. You win the argument. I'm not changing my mind though. Good transition back to talking basketball as well! We digressed a bit there.
SG (10:17 pm) – I think that was very productive. Cavs are up 15 with 2 minutes to play in the 3rd, and in case you were wondering, I'm still not comfortable.
DB (10:21 pm) – That's probably the best attitude to have. So, LeBron being the best passer of all time, you would think his teammates would be more prepared for a pass at any moment. Doesn't seem to be the case.
SG (10:22 pm) – Especially since a lot of these dudes can't create good shots on their own. Celts mini run cuts the lead to 10 to end the 3rd. My stomach hurts.
DB (10:25 pm) – That Scary Terry 3 to end the 3rd quarter doesn't bode well. It's like in Friday the 13th when they start playing Jason's theme music. Someone's getting put in a sleeping bag and slammed against a tree.
SG (10:26 pm) – I find it interesting you defaulted to Friday The 13th for a scary movie analogy. I was always more of a Halloween guy.
DB (10:27 pm) – I have a love hate relationship with scary movies, but Jason has always been one of my favorites. I'm not that into Halloween. Though Michael Myers and Jason Vorhees are essentially the same character, just with different motivations.
SG (10:30 pm) – My favorite movie of the Friday The 13th franchise was Jason X, which was set in the year 2455. I distinctly remember renting that from Blockbuster. Maybe we should take the advice of that idiot from Fox News and "stick to sports" for the duration of this thing though. 9 minutes left, Cavs are up 7.
DB (10:33 pm) – Yeah that's fair. (Your point, not comparing us to 30 years older Tomi Lahren).
DB (10:34 pm) – HE'S GOOD! RELAX!
SG (10:35 pm) – (Hyperventilating)
DB (10:36 pm) – When LeBron goes down like that I just immediately picture you like Simba checking to see if Mufasa is alright.
SG (10:36 pm) – It's a good thing LeBron James hardly ever goes to the ground in very dramatic fashion.
DB (10:37 pm) – Also ideal that he rarely gets caught in a stampede of wildebeests.
SG (10:39 pm) – And also ideal that he doesn't have an uncle who is a lion named Scar.
DB (10:40 pm) – You took it too far. But you're stressed, so I'll give you a pass on this one.
DB (10:43 pm) – Mike Breen just said something to the affect of "LeBron leading the way for the Cavs tonight" and I feel like that has been the case for every game he has ever played as a member of this team.
SG (10:45 pm) – Yeah, I mean when Jeff Van Gundy (who is getting harder and harder to listen to) has to say "I think the Cavs need to go to Jeff Green for some offense" you know the situation is dire and LeBron is likely shouldering an unheard of burden. And speaking of dire, this shit is at 7 with under 4 minutes left and it feels like Boston has wayyyyy more gas left in their tank. Calm me down Dalton.
DB (10:46 pm) – Take a note from your favorite NFL player and R-E-L-A-X.
SG (10:47 pm) – I don't think Mitchell Trubisky ever said that.
DB (10:49 pm) – Oh, my bad, must be remembering wrong. How about you think about the fact that Dolph Lundgren is going to be in Creed 2 and it might very well be the perfect film.
SG (10:50 pm) – You know me so well Dalton. That absolutely put a smile on my face. But Kyle Korver's foul on a Jaylen Brown three-pointer just swiped it right away.
DB (10:51 pm) – There's no helping you right now.
SG (10:51 pm) – Great, I'm officially helpless.
SG (10:52 pm) – CLUTCH GENE MOTHER FUCKER!
DB (10:53 pm) – We should have a long conversation about what exactly LeBron is. Alien? Cyborg? He's definitely not human.
DB (10:54 pm) – NOT EVEN A LITTLE BIT HUMAN!
SG (10:54 pm) – CLUTCH GENE MOTHER FUCKER!!!
DB (10:55 pm) – I just one time in my life want to feel like LeBron James felt when he just hit that second dagger 3. I imagine it's what cocaine is like
SG (10:57 pm) – No way cocaine is that good.
DB (10:59 pm) – I agree, I think the only thing that feels like that, is doing that. Maybe he's an angel? I'm still hung up.
SG (11:00 pm) – I'm just smitten.
DB (11:00 pm) – I'm glad we got to do this together too, but how do you feel about the Cavs winning?
SG (11:05 pm) – Ya know, I'm not even going to think about it for the rest of the night or tomorrow. For half of my life, I've been in some way defined by being a LeBron James. It hasn't always been easy. There have been a bunch of bumps in the road — the 2009/10 losses to Orlando and Boston in the Playoffs, The Decision, the no-show in the 2011 Finals — but the moments like tonight, damn man, these sorts of moments make it all worth it.
And if this is LeBron's final game in Cleveland as a member of the Cavaliers, then what an incredible ride it's been. Watching LeBron bring a title to Cleveland, the city where I watched my first ever professional basketball game in person (three years before LeBron arrived), was a legitimately life-altering night for me. And it wasn't the first one he's been a part of. Being able to watch LeBron James excel at such a high level (arguably higher than anyone ever) and being able to say that he was my favorite basketball player beginning when he was a Junior in High School, it's absolutely made my life profoundly better.
So Sunday night I'll be a nervous wreck. I'm certain I wouldn't be able to do a back and forth like this during Game 7. If the Cavs win, then it's an eighth straight NBA Finals appearance for LeBron. If they lose in Boston, it doesn't change anything about the last fifteen years. And that's a really good place to be in both mentally/emotionally.
DB (11:10 pm) – I, with 100% honesty, can say you almost just made me tear up. Mostly because I feel legitimate sadness that I chose to be the worst type of person and actively hate on LeBron for 15 YEARS. Tonight was so much fun to watch and I'm upset I could've just been enjoying it since I was 11. But alas, we can't change the past. Thanks for constantly nagging me about the man, and making me see the light.
SG (11:11 pm) – Anything for you.