The 2020 NBA draft is just around the corner and team executives are beginning to make the final preparations for what they plan on doing with their draft pick come November 18th. There's a lot of decisions that need to be made from many organizations, and the careful planning and evaluating of prospects in this coming week will prove to be crucial for every team. Every aspect of a player must be studied because the next 10 years, at the very least, depends on what decision is made. Heading into this final week before the draft, I'll give you better insight as to what I think each team needs to do with their picks. Let's take a look at this week's updated mock draft.
1. Minnesota Timberwolves: Anthony Edwards, SG, Georgia
As I mentioned in the first mock draft, Anthony Edwards is without a doubt the best player in this draft class and his fit with this Timberwolves team is too perfect for them to not select him on draft night. Standing at 6'5", Edwards is a shifty two-guard that can handle the ball extremely well, while also being able to shoot from almost anywhere on the court. Edwards' lengthy frame allows him to be a suitable defender in the league as he can guard any position from one to three. He would fit very nicely next to Timberwolves point guard D'Angelo Russell in the backcourt. Not only will Edwards play well himself, but his style of play can make Russell play a bit better too, as Russell could play more off the ball like he did when he was with the Brooklyn Nets playing next to guard, Spencer Dinwiddie. Russell thrived in Brooklyn because he played off the ball more, having the best year of his career and earning an All-Star selection; maybe with Edwards alongside him, Russell can become an All-Star player once again.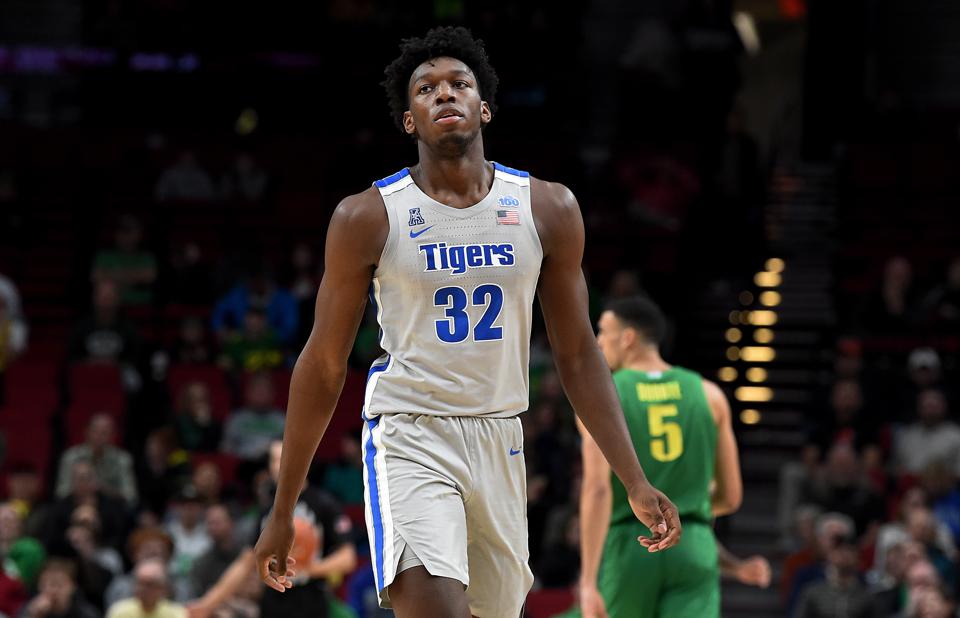 2. Golden State Warriors: James Wiseman, C, Memphis
The Warriors need to select James Wiseman with the second overall pick on November 18th. Not "should" draft him, rather "NEED" to draft him. The center position has been a big hole for Golden State for many years and with the lack of high quality big men in Golden State right now and star forward Draymond Green getting older, the team needs to make the move and select Wiseman. His incredible size and frame would make it a tough task for teams to score down low against Golden State with him on the floor. His style of play also provides excellent spacing for a Warriors team who loves to move off the ball, using many screens to get their star shooters Stephen Curry and Klay Thompson open looks from three. Wiseman's ability to knock down the three ball helps this team get better looks for everyone else on the court. Not to mention, Wiseman having a defensive specialist like Green as his mentor would certainly go a long way in his development in the league. I think Wiseman is more likely to be the best version of himself in Golden State than anywhere else in the NBA.
3. Charlotte Hornets: Onyeka Okongwu, C, USC
Many experts and analysts keep suggesting that the Hornets will select guard LaMelo Ball if he is still there at number three. However, I feel like the Hornets simply don't need Ball to make this team better, rather a strong center who can hold it down in the paint every night and is able to clean the glass with his impressive rebounding ability. USC big man Onyeka Okongwu is the guy they need. The Hornets haven't had a true big man since former NBA star Al Jefferson was in town. Although, Ball is a great prospect, he simply wouldn't be the best version of himself in Charlotte as it's hard to see him fit well alongside guards Devonte' Graham and Malik Monk. Okongwu would provide an instant impact for this team right out of the gate. His athletic frame and size along with his impressive basketball IQ allows him to be the perfect big man for this team to take the next step, which is to become a playoff team once again.
4. Chicago Bulls: Deni Avdija, SF, Tel Aviv, Israel
In last week's mock NBA Draft I had the Bulls taking guard Killian Hayes from Germany. However, I changed my pick to Deni Avdija this week simply because a dynamic small forward is what the Bulls need the most right now and with Avdija's incredible potential, if he's available at number four, the Bulls shouldn't second guess selecting him. Many international scouts and coaches are comparing Avdija to the NBA's latest European sensation, Luka Dončić. If you have the opportunity to add a guy who has the potential to be somewhat of the player Dončić is right now, you need to take that player. Avdija is an excellent point forward who has the tools to be great defender, but must be more consistent on the defensive side of the ball. Having Billy Donovan as head coach is another reason why I think Chicago should select Avdija, because Donovan has a track record of bringing out the best in young players and he could do just that with Avdija.
5. Cleveland Cavaliers: Obi Toppin, PF, Dayton
I was contemplating whether or not to change my pick for the Cavs, as the thought of LaMelo Ball in Cleveland intrigued me a bit since he would arguably be the biggest name in Cleveland since LeBron James ruled "The Land". However, with all the guards Cleveland has at the moment such as Collin Sexton and Darius Garland, adding Ball to that mix would lead to chaos in the team's guard rotation. That said, I'm sticking with my original pick of Obi Toppin because I think he would be the best available option for this team going forward. Toppin would fit nicely alongside center Andre Drummond in the frontcourt and his insane strength and athletic ability would make that tandem difficult for opposing teams to defend. Defensively, Toppin could provide an instant impact for the Cavs because his impressive size, frame, and shiftiness would be a tough task for opposing players to move out of the way or get past. Especially with Kevin Love getting older, selecting Toppin 2020 NBA Draft would be in the best interest of this team.
6. Atlanta Hawks: LaMelo Ball, PG, Australia
Deni Avdija was my first pick for this Hawks team, because if he fell to the sixth spot, passing up on him would be a big blow for this team. But now, the best available player would be LaMelo Ball, and although many executives believe Ball will slip down early on in the draft, it would be an absolute steal for Atlanta if they got Ball, just as it would've been if they landed Avdija. Sure, Ball needs the ball in his hands most of the time in order to really get going offensively, but if he's alongside star guard, Trae Young, that wouldn't be the case. If Ball and Young could play off one another effectively, they very well could become the next best shooting backcourt in the league, possibly giving Stephen Curry and Klay Thompson a run for their money in the near future. As far as defense goes, Ball will certainly be held accountable by the Hawks' head coach, Lloyd Pierce. If Ball can turn into a capable defender under Pierce in Atlanta, the backcourt of Ball and Young would thrive even more. The future of the league could be the Atlanta Hawks if Ball works out for them.
7. Detroit Pistons: Killian Hayes, PG, Ulm, Germany
If the NBA Draft goes like how this week's mock draft is currently going, the Pistons' best bet would be to select Killian Hayes from Germany. The Pistons need to find their point guard of the future and this is the draft to do that, as the number of promising and talented point guards available is high. There's no doubt the Pistons would love to get their hands on LaMelo Ball, but unless they trade up for him in this case it's unlikely they land him. Hayes would definitely be a great backup plan for this team though, as his two-way style of play could make the team's backcourt much stronger. Hayes can handle the ball, find teammates in tight spots, and can score very well from mid-range territory. He would be great for guard Luke Kennard's development too, as he could make the backcourt less of a compromise defensively, and would get Kennard the ball for many spot-up three-point shot opportunities. Hayes can be the face of the franchise for the Pistons going forward, so taking a chance on him could be worth it for Detroit.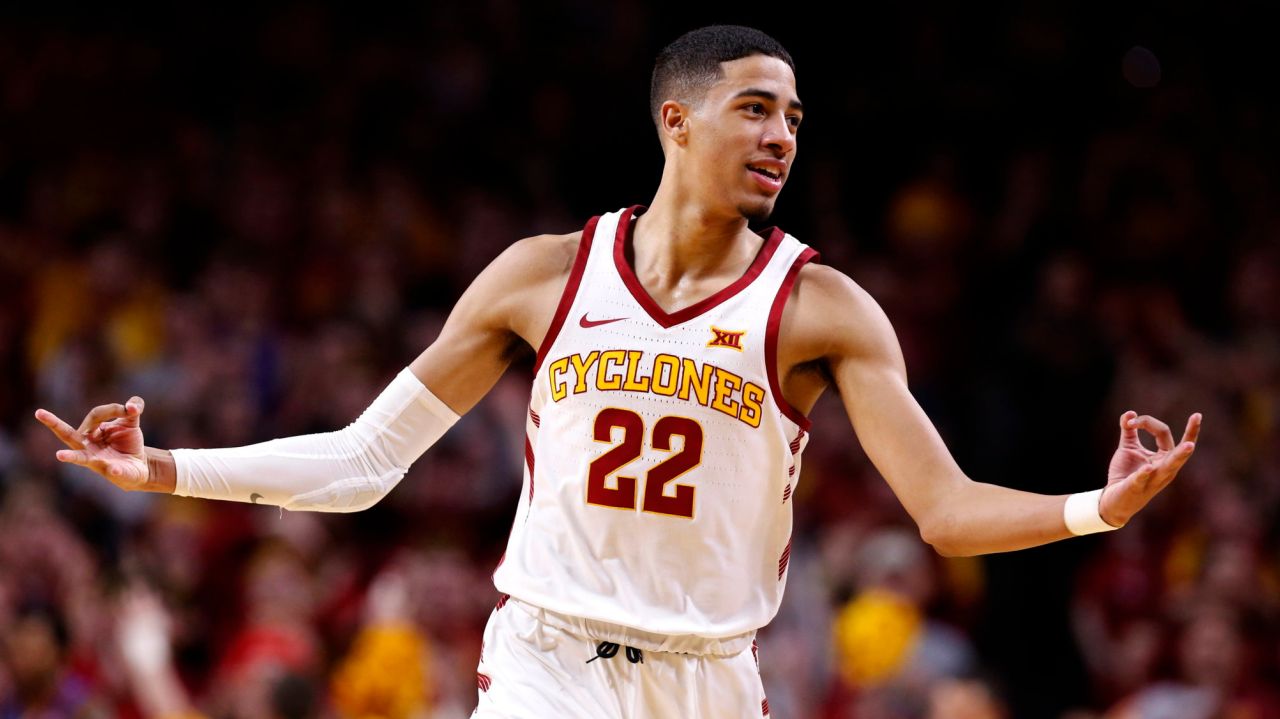 8. New York Knicks: Tyrese Haliburton, G, Iowa State
The Knicks' priority heading into the 2020 NBA Draft should be to select the best point guard available for the future. Like I mentioned in the first mock draft, Tyrese Haliburton would be a great fit for this team because how well he'd fit alongside R.J Barrett in the backcourt, and how NBA ready he is. Haliburton is an excellent ball-handler, who has no problem taking on big responsibility. Not only is he a player who can get his teammates the ball, but he can also create quality shots for himself. He has a great mid range jumper and a decent three point shot, allowing for better spacing and faster tempo for this team. Head coach Tom Thibodeau would certainly bring out the best in Haliburton, as he is always willing to learn. If the Knicks did somehow manage to land Chris Paul via trade as some rumors point to, Haliburton could elevate his game even more with the mentorship and guidance of the future hall-of-famer.
9. Washington Wizards: Issac Okoro, SF, Auburn
I still think the Wizards should draft Issac Okoro if available because he could provide an instant impact for them. Okoro's size and skillset prove him to be NBA ready and the small forward spot is a hole for Washington that if filled with a talented player like Okoro, could elevate them back into a legitimate playoff team. Having a solid two-way player alongside John Wall and Bradley Beal could allow the Wizards to be one of the best perimeter defensive teams in the NBA. Not to mention, their frontcourt of Rui Hachimura and Thomas Bryant seems to be a promising defensive tandem as well. Okoro's shot still needs some work, but it's not anything that time in the gym with seasoned shooting coaches can't fix. Selecting Okoro could put Washington back on track and right into a playoff spot next season.
10. Phoenix Suns: Tyrese Maxey, SG, Kentucky
I had originally thought Aaron Nesmith of Vanderbilt would be a great fit for this Suns team, but after hearing reports from a few reliable sources, it seems that Suns star Devin Booker secretly wants out of Phoenix due to their constant struggles and failures. If this actually turns out to be true, the Suns should immediately start planning for the future. Finding a player to replace Booker won't be easy, as Booker, at 24, is one of the best scorers in the league. There may be one solution though and his name is Tyrese Maxey. Maxey is heavily regarded by many as the supposed "steal of this year's draft" because of how underrated and underlooked his game was at the collegiate level this past year. One could say it's similar to the position Booker was in when he got drafted in 2015. Maxey is a talented player who can shoot the ball well, is a decent playmaker, and can even play solid defense. If developed the properly,Maxey, could turn into one of the NBA's brightest stars in just a few short years.
11. San Antonio Spurs: Precious Achiuwa, PF/C, Memphis
Just like the Warriors "need" to draft a big man, the Spurs also "need" to draft a big man because the team's future depends on it. San Antonio hasn't had a truly dominant big man since future hall-of-famer and now Spurs assistant coach Tim Duncan was the sheriff in town. The Spurs found some young gems in Dejounte Murray, Bryn Forbes and Derrick White, but guards can only do so much for a team. That's why I'm sticking with my pick of Precious Achiuwa for the Spurs. His strong and athletic frame would immediately help the Spurs down low. Achiuwa has excellent post moves and his ability to play both the four and five is something head coach Gregg Popovich would use to the Spurs' advantage. Now with rumors circulating that the team is looking to move on from LaMarcus Aldridge, the Spurs need to find a new big quickly.
12. Sacramento Kings: Patrick Williams, SF, Florida State
I'll stick with my pick for the Kings from the first mock draft of Patrick Williams because out of all the available prospects, he would be the best fit for this young Kings team. It makes no sense for this team to add yet another guard like Devin Vassell or Cole Anthony due to the plethora of guards in their current rotations along with the chemistry issues it would create. Drafting Williams as the team's small forward would put the Kings in a better spot not just for next season, but in trade talks in this offseason as well. Kings guard , Buddy Hield, may be on the move after his displeasure with the coaching staff moving him to the bench. Drafting Williams gives Sacramento a better chance at getting a solid return in any Hield trade, as they can focus on  improving their front court and possibly landing a solid big man in return. Even if they don't end up moving on from Hield, drafting Williams is the best way to go for the Kings.
13. New Orleans Pelicans: Devin Vassell, SG/SF, Florida State
Devin Vassell is another player who I believe is NBA ready when it comes to his all around game. He's a great playmaker who can hit tough shots. Putting him in a backcourt alongside Lonzo Ball would be very interesting to see. They would certainly play off of one another pretty well and having two ball handlers would allow the Pelicans to play at a faster pace that would help them thrive even more. Last season the Pelicans were one of the better fast-paced teams in the NBA. Especially when Zion Williamson returned from injury, we saw the Pelicans play some of their best basketball up until the season was halted. While Vassell projects to be a shooting guard in the NBA, his size (6'6) allows him to play the three spot at times. This would certainly allow the Pelicans to play more of a small ball lineup. Putting Vassell on the floor with Ball, Jrue Holiday, Brandon Ingram, Willamson, would definitely put the Pelicans in a better position going forward.
14. Boston Celtics: Cole Anthony, PG, North Carolina
I had Boston selecting Tyrese Maxey in my first mock NBA Draft, but with uncertainty among quite a few teams Maxey, may end up going earlier than many expect. So with a player like Aaron Nesmith being available, selecting him as a forward could work, but I don't think it's the best thing the Celtics could do on draft night. The best thing the Celtics could do is draft a point guard to backup Kemba Walker, and be the point guard of the future after Walker. That player is Cole Anthony from North Carolina. When Walker exits a game, head coach Brad Stevens is given the choice to play Marcus Smart, Jaylen Brown, or Brad Wanamaker due to their lack of a true point guard to bring off the bench.  If you bring Cole Anthony into the mix, not only can he develop into a star in this league under Stevens, but Smart and Brown can play better on the floor at their true positions. Anthony has an NBA ready basketball IQ and playmaking ability and adding him to the young Celtics core could be team executive Danny Ainge's best move yet. With Anthony, you address the lack of depth at point guard right now, and don't have to worry about drafting a point guard in the near future.