Chapter 16: The Rescue
In the eighth and final episode of the second season of The Mandalorian, Mando, Marshal Dune, Boba Fett, and Fennec commandeer an Imperial shuttle with Dr. Perhsings, the evil clone doctor/scientist. They plan to use that shuttle to sneak into Moff Gideon's ship but before they do, our heroes make one last stop to complete their Avengers-like rescue team by recruiting Bo-Katan and the other Mandalorians that follow her.
After a scuffle with Boba Fett, Mando tells Bo-Katan that they have Gideon's location and they needs her help to save The Child. She agrees as long as she is the one that defeats Gideon and gets to keep the Darksaber. For the Mandalorians, the Darksaber and the one who wields it is seen as the rightful ruler of Mandalore. A fact that will become important later in the episode.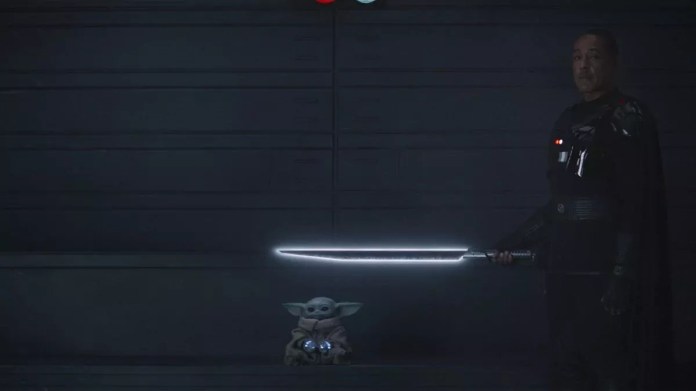 Once on Gideon's ship, our heroes split up. While the rest of the team blast their way to the bridge, Mando sneaks past their wreckage en route to trying to save The Child. He stumbles upon the Dark Troopers who are fully charged and about to exit the hangar they are in. But, Mando manages to lock them in, all except for one which he manages to take out with the Beskar spear. Just as the platoon of Dark Troopers are about to break open the doors, Mando opens the back of the ship and releases them into the vacuum of space. Mando then makes his way to where Grogu is kept and runs into Gideon threatening to kill The Child with the Darksaber. Mando manages to fight off Gideon, captures him, and joins up with the rest of the team in the control room.

Mando tries to give the Darksaber to Bo-Katan but she refuses since it is a Mandalorian tradition that the Darksaber cannot be yielded, but must be won in battle. This means now Bo-Katan has to fight Mando if she wants to be the rightful ruler of Mandalore. While explaining this to Mando, the Dark Troopers come flying back to the ship and try to break into the control room when an X wing lands on the ship and a dark-clothed hooded figure with a green lightsaber is seen. This individual single-handed takes out the platoon of Dark Troopers with ease. He makes his way to Grogu and finally puts down his hood revealing him to be none other than Luke Skywalker! Definitely a momentous and special scene for Star Wars fans. The gravitas of the moment is not even hindered by the still unconvincing deepfake/de-aged/CGI version of actor Mark Hamill as Luke Skywalker.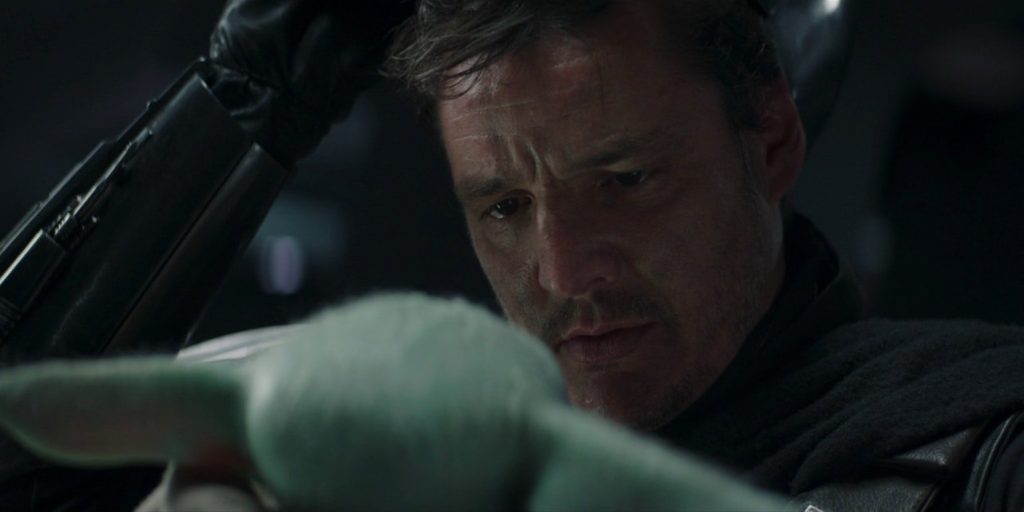 As Gogru and Mando say goodbye, Mando takes off his helmet. The scene is very reminiscent of when Luke takes off Vader's helmet after defeating him in battle in Star Wars: Return of the Jedi. We've seen how over time Mando became a father-like figure to Grogu. Darth Vader's mask was keeping him alive and with it off he would die. Although Mando is still alive, the person that he used to be is no more and that is all thanks to Grogu. As Mando hands The Child to Luke, our favorite droid, R2D2 appears and it seems like these two have met before as they were equally excited to see each other. Now with Grogu, Luke walks away, and just as they leave Mando gets teary-eyed. It's okay to cry.
What's next? 
Certainly this series, and the second season in particular, has met and exceeded Star Wars fan's expectations. With season three scheduled to release Christmas Day, 2021 we'll have to wait to see where Mando's journey takes him next. Now with the Darksaber, there are some questions many are asking. Will Mando be the king of Mandalore? Will he have to face Bo-Katan in a deadly battle? The end credit scene laid the foundation for what is to be our next favorite Mandalorian's spin-off series, The Book of Boba Fett starring, well, Boba Fett. This adds to the monstrous amount of new Star Wars content announced from Disney. We will also get to see Rosario Dawson (who made her Ahsoka debut in The Mandalorian) return as Ahsoka Tano in Star Wars: Ahsoka also around Christmas time in 2021.