Luka Dončić has emerged as one of the league's best players. He was drafted third overall in the 2018 NBA Draft by the Atlanta Hawks and  immediately traded to the Dallas Mavericks in exchange for fellow rookie Trae Young. Dončić then went on to win Rookie of the Year in his first season in the league after averaging 21.2 points, 7.8 rebounds, 6.0 assists, and 1.1 steals per game while shooting 42 and 32 percent from the field and three, respectively. Dončić followed up that impressive rookie campaign by averaging 28.8 points, 9.4 rebounds, 8.8 assists, and 1.0 steals per game while shooting 46 percent from the field as he led the Mavericks to the playoffs. After an excellent second year in the league, Dončić enters the 2020-2021 season with lots of hype surrounding him.
Dončić's start to the 2020-2021 NBA season
Luka is coming off his best game of the 2020-2021 season thus far. Against Dallas' in-state rival Houston Rockets, Dončić had 33 points, 16 rebounds, 11 assists, and shot 48 percent from the field in a 113-110 victory. Through six games, Dončić is averaging 25.8 points, 9.0 rebounds, and 7.2 assists per game while shooting 44 percent from the field. The question is, has Luka become the best player in the league?
Luka has shown that he is undoubtedly a great player. However, he still has a ways to go before we can call him the best player in the league. Dončić remains a tier below the likes of LeBron James, Kevin Durant, Kawhi Leonard, Giannis Antetokounmpo, James Harden, Stephen Curry, and Anthony Davis. Unlike Dončić, five of the seven previously mentioned players have an MVP award (Anthony Davis and Kawhi Leonard being the two outsiders). In addition, all of the above players (with Harden and Curry in debate) are elite level defenders, which Dončić lacks the prowess of. Also, outside of Antetokounmpo and Harden, all of those players have won an NBA Championship. Dončić has yet to win a playoff series. Basketball is a team game, sure, but fair or not, the Mavericks will need to emerge as a title contender if Dončić wants to be viewed as the league's best player.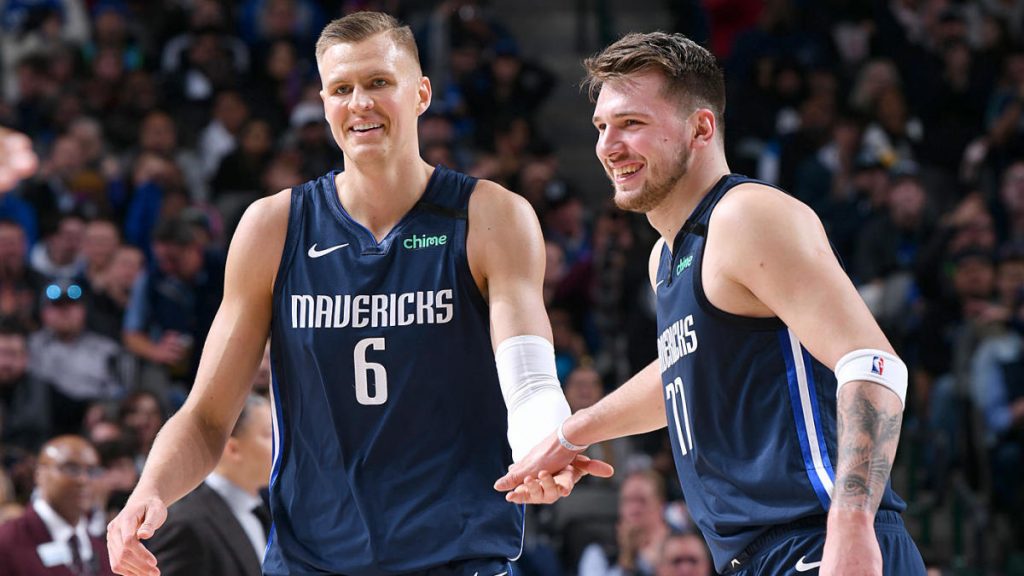 How can the Mavericks win an NBA championship?
So, how can the Mavericks become title contenders? They need to improve their defense. Last season, the Mavericks were an atrocious defensive team. They allowed 112.1 points per game, "good" enough for 27th in the league. This season they rank fifth with 105.1 points per game, but they've played a weaker schedule. Last season, the Mavericks scored the third most points per game in the entire league. This season, they've fallen to the 22nd spot. Granted it's a small sample size, but still, that's a problem.. The Mavericks will need great play out of Kristaps Porziņģis when he returns from injury if they want to win an NBA championship. In six regular-season games in the NBA bubble, Porziņģis averaged 31.6 points,8.6 rebounds, and 1.3 blocks per game per game while shooting 49 percent from the floor and 41 percent from three. In his final playoff game last season, before his injury, Porziņģis had 34 points and 13 rebounds while shooting 61 percent from the field. If Porziņģis can consistently play like that, the Mavericks could be title contenders.
What does Dončić need to do?
Luka has to improve individually if he wants to be the best player in the NBA. Last season, Dončić shot just 31 percent from three on nine attempts per game. So far this season, Dončić is shooting 19 percent from three on 6.8 attempts per game, which is abysmal. Given how much he shoots threes, Luka should at least be shooting 33 percent from deep. Dončić also needs to improve his defense. He often gets targeted by opposing teams on the defensive end due to his lack of lateral quickness. This can be overcome by giving more effort and having a better defensive IQ. If Luka improves his three-point shot and defense, he could easily become the best player in the league.
Conclusion
Luka has emerged as one of the league's top players and he is just 21 years old! If you were starting a team from scratch, would you pick anyone over him to build your franchise around? Probably not. While he has an incredibly bright future, it's too early to call Dončić the best player in the league right now. But, when was the last time a 21-year-old was the best player in the league?