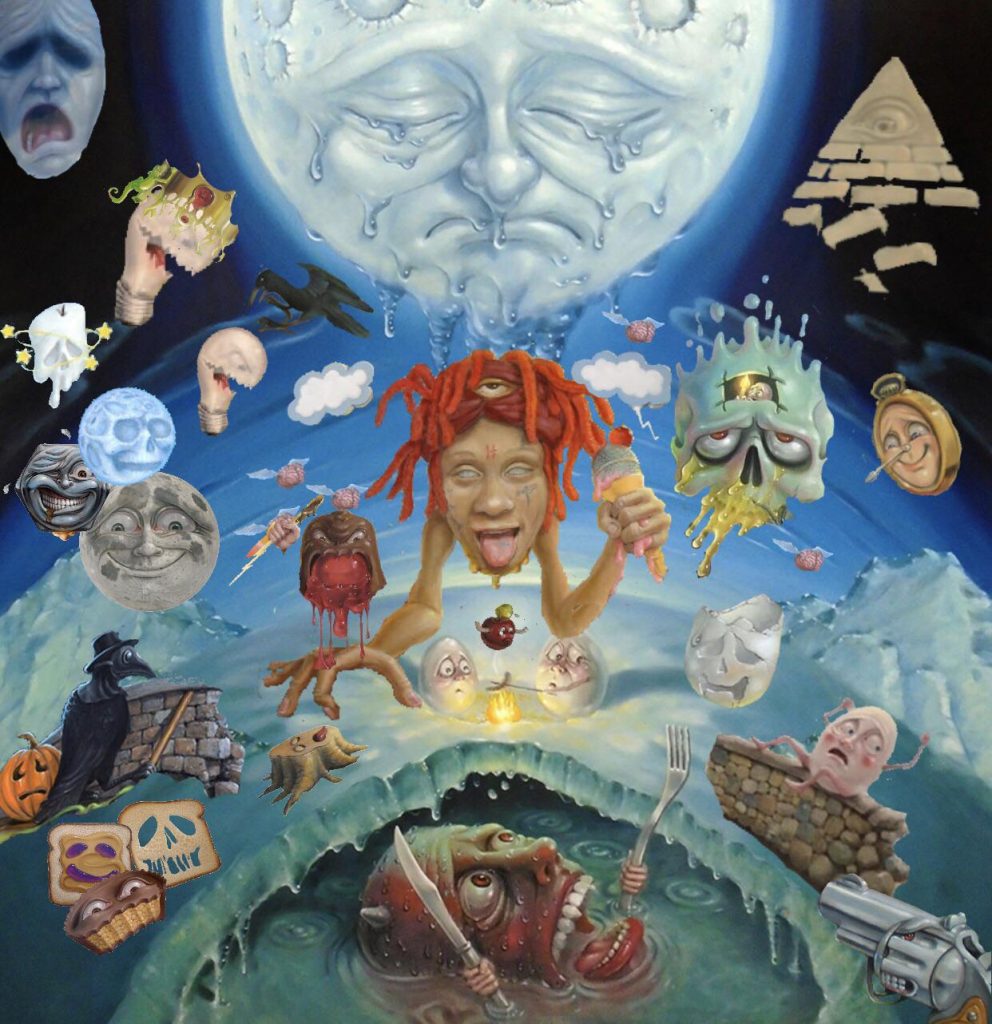 One of the most popular artists from the SoundCloud department, Trippie Redd, has returned with his fourth studio LP, Trip at Knight. This comes as a sequel to his 2018 debut studio album, Life's a Trip. This also comes as a somewhat quick turnaround to his last album, Pegasus, which was released less than a year ago in October 2020. Pegasus was an album that featured a lot more singing and R&B instrumentals compared to his previous projects. And while it was positive recognition for him to make the change and try something different compared to the common SoundCloud rap sound, there were still a lot of flaws with the album. His singing especially was off by a mile.
Despite being leaked multiple times, Trip at Knight was a highly anticipated album before its release, especially for fans who wanted Trippie to return to a more commonly known style of his. His return to the Trip-themed albums made a lot of fans believe he was returning to the style that got him mainstream recognition in the first place. There were rumors to be a Drake feature, which skyrocketed the hype. But Trippie Redd also released a track featuring Playboi Carti labeled Miss the Rage. This track is a near carbon copy of Carti's style, but nonetheless, it is pretty catchy. A lot of this all together really made this an intriguing project despite not much excitement from Pegasus.
The first half of the album is actually not too bad. MP5 is a quality emo/trap-rap track with a solid feature from SoFaygo. Holy Smokes with Lil Uzi Vert isn't an entirely bad track either. But the lyricism starts to get extremely repetitive when Trippie Redd just continues to rap about money. Betrayal brings a lot of controversy after the line that Drake dropped about Kanye West but there's still nothing special about Drake's feature of the rest of the track itself. Juice WRLD does have a nice feature on Matt Hardy 999. He and Trippie redd seem to have good chemistry through the entire track. Danny Phantom is easily the worst song on the entire album, but the majority of the second half isn't any better. Most of this album seems like Trippie Redd is pulling the strong and positive feedback from Miss the Rage and trying to implement that on every single track of the album. A lot of these beats are extremely similar with very minor changes to them but not enough to give them any form of distinction from one another. The only track that has a distinctly different beat is Rich MF that includes two strong features from Polo G and Lil Durk. But they do a lot of heavy lifting on the track while Trippie Redd adds little to nothing.
Overall, I would give Trip at Knight a 3/10 with some of my favorite tracks being MP5 and Matt Hardy 999. I appreciate that Trippie Redd is attempting to try a different style of a rap subgenre by going down more the path of experimental/trap rap. Almost as if Playboi Carti and Lil Uzi Vert had a baby, that's what the style he is trying to venture into. This might be the style that fits best for him, but the bottom line is that this album is barely palatable. It's filled with a lot of cheap and basic trap beats that all sound extremely similar, especially in the second half. Meanwhile, the lyrics aren't any better, they're just filled with the typical content of money and drugs that mainstream trap rappers repeatedly fall back on. I'd almost prefer the lyrical content from Pegusas despite Trippie Redd taking another different musical avenue that didn't work out well.
Trippie Redd is still another rap artist who is trying to find his independent sound. While he's bounced around from R&B to experimental, he still has plenty more to work on outside of just finding his unique place in the industry. Artists like him raise a lot of questions about the status of the industry and who truly deserves the spotlight. There are plenty of artists who have found their own individual form in the business but don't nearly receive the same kind of recognition through the casual audience of the genre. Nonetheless, Trippie Redd still has a ton to work on before becoming a rightfully respected artist in this industry.