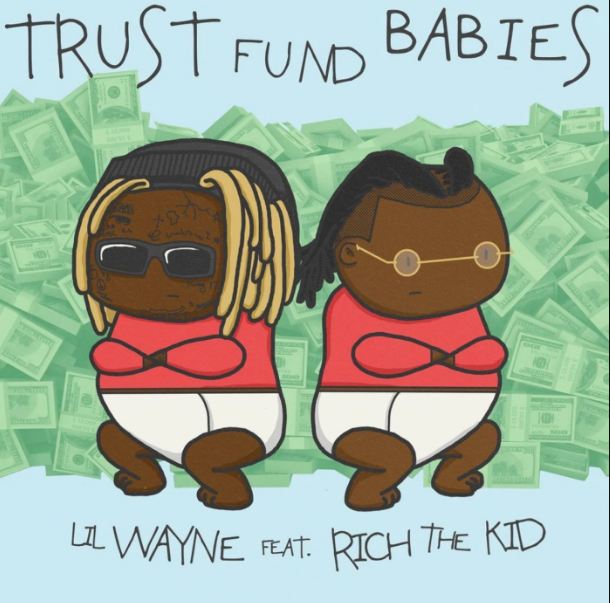 One of rap's more unlikely duos, Lil Wayne & Rich the Kid, released their highly-teased collaborative album, Trust Fund Babies, this past Friday. Before this album, these two artists had only teamed up once before on the song "End of Discussion" on Rich the Kid's The World Is Yours. While both artists seemed very enthusiastic about the collab, these two artists seemed to be trending in very opposite directions. After receiving mixed reviews on his 2020 project Funeral and releasing a deluxe for Tha Carter V, Lil Wayne has been extremely hot throughout 2021. It seems like Weezy has been everywhere, as he has collaborated with everyone from Drake to KSI, and has consistently had fantastic feature verses. Rich the Kid, on the other hand, has not seemed to capitalize on his early career momentum. After a decent The World Is Yours album series, Rich had a tough 2020, as he released a poorly received album, BOSS MAN, and a disappointing collaborative mixtape with Youngboy Never Broke Again. Rich also has not had a hot start to 2021, as he released another weak project in the Lucky 7 EP.
Going into this album, I had no idea what to expect, as this duo is a very interesting pairing, considering their lack of history together and the directions their careers are headed. This project was also only 29 minutes long, and only had one guest on it (YG), so I was intrigued as to how the chemistry between these two artists would develop over the near half-hour of Trust Fund Babies. The first two tracks on this album, "Feelin' Like Tunechi" and "Headlock", started the album off solid. There was nothing too crazy on these tracks, just decent production and solid performances from both artists. One thing that stuck out to me was how tolerable Rich the Kid was on these first couple tracks. I have not been a fan of his recent work, and to hear him keep decent pace with Lil Wayne was surprising.
The next track, "Trust Fund", continues the trend of decent trap production, but the beat was more dry and lifeless than the two that preceded it. Lil Wayne and Rich the Kid weren't great on this track, but they more than made up for it on the album's best track, "Admit It". The beat on this track was very upbeat and featured some nice synths, and also featured some great performances from both artists. "Admit It" was the highlight of this project and the only song that stuck with me throughout the whole album. The next few tracks, "Shh", "Big Boss", and "Still", featured more similar, basic trap beats, and this was my least favorite stretch on the project. Rich the Kid's hook on "Shh" was not very pleasing to the ears, and the beat on "Still" stuck out like a sore thumb. This instrumental made it very hard for both rappers to mesh and sound good over it, and the chemistry up to this point felt like it could be better.
The next couple tracks on Trust Fund Babies, "Bleedin'" and "Buzzin'" with YG, were nothing special, but still solid tracks. Lil Wayne felt like the highlight on these, much like the rest of the album, and it felt like everything else was just trying to keep pace. From Rich the Kid and YG to the production and the chemistry, it felt like everything was just a step behind Lil Wayne throughout this project, which doesn't create for a super memorable album. The album ends on a dud with "Yeah Yeah", with the hook and production just sounding very unremarkable on this one. This was the first song where I was not a fan of what Lil Wayne was doing on this project, as up until that point, he had delivered mostly solid performances. After 29 minutes of this, my main takeaway was that this was clearly Lil Wayne's show, and every other aspect of the album was just trying to keep pace with him.
While this album exceeded my expectations, as I thought it would be a dud of a record, it also felt like this album wasn't super memorable. The production just felt very similar to what is heard on any trap album in 2021, and while Rich the Kid didn't ruin the project, he didn't elevate it and deliver a standout performance either. Lil Wayne sounded solid on this thing, and I'm very excited to see what else he realizes in 2021, as he was full of energy and pushed this project along at certain points. I also felt like the chemistry was a bit lacking on this album, as it didn't feel like Rich the Kid and Weezy were always on the same page and meshing well. This album was by no means awful, but it's not something I see myself coming back to a ton in the future. I'd give this project a 5.2/10, with my favorite track easily being "Admit It". I think this album was a step in the right direction for both parties involved, even though it wasn't a major success, and I'm intrigued to see where they both go from here.