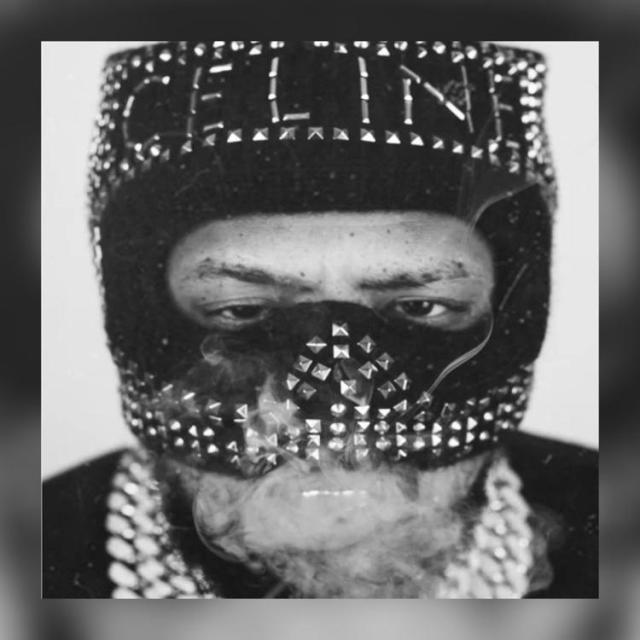 Alvin Worthy, better known as Griselda's Westside Gunn, finally followed up his August release Hitler Wears Hermes 8: Sincerely Adolf with the second half to his double album, Hitler Wears Hermes 8: Side B. Wrapping up his widely acclaimed Hitler Wears Hermes mixtape series, Gunn adds 20 songs to the 13 that came on Side A of this series, and much like the first side, Side B is filled to the brim with strong feature performances, Griselda-style production, and Gunn's classic high-pitched voice bellowing out ad-libs throughout. Before the release of Hitler Wears Hermes 8: Sincerely Adolf, Gunn emphasized this project would be a double album, and that Side B was not quite finished yet. After a couple of delays, and a month after Side A, Side B was finally released, and it was worth the wait.
Leading up to the release of Side B, Gunn took to Instagram to show the list of producers and features that would be featured on the project, and to say these lists were stacked would be an understatement. The feature list was filled to the brim with Griselda members (Benny the Butcher, Mach-Hommy, Conway the Machine, and Stove God Cooks to name a few), feature legends like 2 Chainz and AZ, and some of rap's best lyricists right now in Tyler, The Creator, and Jay Electronica. The producer list was stacked similarly, with names that Gunn collaborates with frequently (Daringer, Denny Laflare, and DJ Green Lantern), and some of rap's greatest producers in Madlib and The Alchemist. So, after releasing these feature lists, Gunn raised the expectations even further for the second half of this double album.
After an opening instrumental and an AA Rashid spoken-word track, the album starts incredibly well with "Hell on Earth, Pt. 2." Over a classic, grimy-sounding, Griselda-like beat, we see the three core Griselda members (Gunn, Conway, and Benny) all deliver powerful verses in a posse cut that ranks up there with some of their all-time group tracks. As vocal samples ring throughout the background of this track, Griselda shows why they are held in such high regard when it comes to lyricism with puns and punchlines littered throughout this track. One personal favorite rhyme of mine is when Conway decides to rhyme Iguodala with commas. Following this track, the vibe of the album switches with the calm instrumental on "Free Kutter." One thing that doesn't change is Gunn's intensity, as he delivers another fantastic verse, but he still is overshadowed by the lyrical genius that is Jay Electronica. On this track, Electronica delivers another lyrically potent verse that makes everyone wish he released more solo music, as his smooth delivery combined with his excellent wordplay almost always delivers on features.
One thing I wanted more of on Side B was Westside Gunn solo tracks, and we received some with the Madlib-produced "Richies" and the already released single "Julia Lang." These tracks allow Gunn to do what he does best, which is gloat and spew ad-libs over his chosen production, and he does this at a strong level on these two tracks. Gunn follows these up with a gritty posse cut in "Celine Dion," which finds Gunn, Heem, and Chase Fetti taking turns rapping over another dirty-sounding beat with a menacing violin loop. In the second half, a piano loop plays over hard-hitting drums, which allow guest Flee Lord to make his presence felt with his snarling flow, surrounded by two Gunn hooks. The next track, "Best Dressed Demons," features another strong feature from Mach-Hommy, who is having quite the 2021.
"Forest Lawn" is one of the brightest spots on all of Side B. Over another classic grimy Griselda beat, we first hear Westside Gunn rap in a flow that we haven't heard from him very often. After he repeats the hook, a distorted "Toni" rings out before 2 Chainz delivers one of the hardest verses on the whole project. I didn't think 2 Chainz over a Griselda beat could work so well, but this track is one I come back to often because of the Chainz feature. Not to be outdone, Griselda's own Armani Caesar delivers a strong final verse, keeping pace well with Gunn and Chainz. If you had told me that these three rappers would be the same track, I would not have expected it to be this awesome, but this is a perfectly crafted track. Three solid tracks follow, "Why I do em Like that" featuring Billie Essco, another Mach-Hommy appearance on "RIP Bergdorf," and the previously released banger "TV BOY." 
The album rolls on with "Survivor Series 95," which features a very non-traditional, almost funky Griselda beat produced by Camoflauge Monk. While this beat wasn't my favorite, I still appreciate Gunn trying new things with his production selection, and there are solid features from Jay Worthy and Larry June. Collabs with Griselda members Rome Streetz and Stove God Cooks make up three of the next four songs, and Tiona Deniece sings a gorgeous vocal verse on "Munch." In case you were wondering who produced "Munch," that question is answered at the end of the track, where the phrase "Conductor, we have a problem" is repeated five times. Conductor Williams' producer tag being said over and over in a frantic voice always makes me chuckle, but Williams also does a good job with the "Munch" beat.
The next track, "The Fly who couldn't Fly straight" features the most popular feature on the whole tape in Tyler, The Creator, who kills his verses. Over a looped vocal sample and a drum loop that makes you want to bob your head, Tyler and Gunn spit some of their best bars of the year in another high point on this record. The last track with rapping, "Big AL" featuring Rome Streetz, has Gunn lamenting over lost lives on top of a somber-sounding beat. Side B fittingly ends with a track titled "BYE BYE," which sees Keisha Plum reading one final poem, before closing the book on the Hitler Wears Hermes series for good.
While this album had a lot of great things, there were a couple of things that could've been improved upon. The beginning instrumental that was "Brodie Lee" seemed a bit out of place, as it was 30 seconds long and didn't add a ton to the album as a whole. A couple of the songs also felt a bit too long, like "Richies" had a conversation snippet that went on for about 90 seconds, and just felt too long as it neared the end. The song "Survivor Series 95" also could've been shorter, as this track did not feel like it needed to be seven minutes. I also felt like the best tracks on this album could've been spaced out better, as four of my favorite songs all occurred from track 3-9, and it made the songs from 10-17 in the tracklist drag on a bit, especially since my favorite track in that section, "TV BOY," had already been released.
Regardless of my complaints, I felt like this was a great ending to the Hitler Wears Hermes series. This second half of the double album felt like a step up from the first, as this half had better Westside Gunn rapping performances, more standout tracks, and more solo Gunn songs. I'd give this album a 9.2/10, and I'd put it up there as a top-tier Hitler project, along with HWH5 and HWH7. If you enjoyed the first one, the second one is even better, so I highly recommend it! While it is sad to see one of my favorite series in all of hip-hop come to a close, Gunn ended it on a high note and was able to create a project filled with highlights.