The New York Knicks will be wearing new uniforms starting this upcoming NBA season and the unis will be unveiled on September 6th. Oddly enough, it's already be kind of revealed thanks to a video about NBA 2K13 development, which you can see below. Also, you can immediately see the screenshot of the new uniforms as worn by Carmelo Anthony, Tyson Chandler, and Amar'e Stoudemire, who just got burned by the Atlanta Hawks' Jeff Teague and, well, his derriere.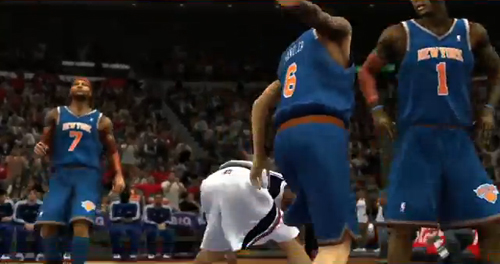 In any case, you can check out the new uniform style in all its moving glory for yourself:
But, could the Knicks really have let the new look for the uniforms leak that easily? Apparently, yes.
Turns out it was, and the Knicks will play next year in a uniform with all of the black completely taken out. Ian Begley of ESPNNewYork.com writes that other changes include the removal of all piping on the side of the jersey and shorts, the circle on the back will be replaced by a traditional basketball logo, and there will be an addition of new silver piping at the top of the jersey.
So, the New York Knicks are gong back to basics and keeping it simple. Kind of like the Brooklyn Nets have done in their image redux. Whether it's true or not, there seems to be an ulterior motive with the franchise in Manhattan wearing new unis for the same season their Brooklyn counterparts have basically controlled the headlines in New York City for much of the offseason, particularly with their new black and white branding. But, who can know for sure?
In any case, I actually dig this retro sort of look for the New York Knicks as it's not too busy anymore and reminds me of the days when Patrick Ewing controlled the paint and the perimeter on offense. Coincidentally, the Nets will unveil their new uniforms at the end of September.
(H/T to Dime)