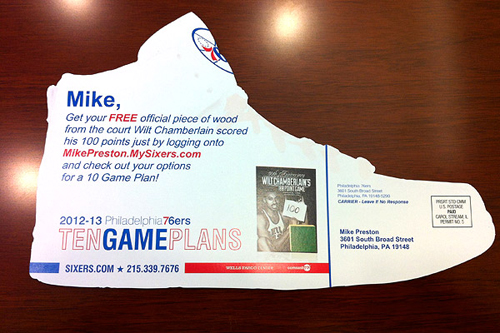 The Philadelphia 76ers are being truly innovative in selling tickets for the franchise's upcoming 2012-13 campaign, particularly for ten-game packs, blending an old method of selling with a more modern and personal approach. Postcards and websites and Wilt, oh my!
It's the norm for sports franchises to give a quick and seemingly impersonal call or to send a piece of mail to season-ticket holders to renew for the following season. Usually, the team's performance will dictate the end-result. However, for packages on a lesser scale, even less effort, if any, are put forth in having them sold. Not so for the Philadelphia 76ers.
After having the best increase in attendance last season in all of the NBA, a jump of about 3,000 fans per game, the Sixers are still going hard and getting after it! According to Darren Rovell, 92% of season-tickets holders have already re-upped and their 10-game package sales have already hit four times what they did last year!
How are they doing it, you ask?
In an effort to sell more 10-game plans this offseason, the team recently sent out a postcard that includes a personalized website and picture of a Sixers shoe with that person's last name on it. The team sent it to more than 40,000 people who the team believes have been to a game in the past two years. To trigger a response, the Sixers are offering a piece of the floor on which Wilt Chamberlain scored 100 points (the team bought it last year for an undisclosed price and gave it out last year as part of a giveaway). To get that piece, a fan has to make sure his or her information is updated on the special website, answer a few questions and, of course, buy at least one ticket to a game to pick it up.
What a great way to engage potential customers and fans. I really dig this method, commitment, and innovation from the Philadelphia 76ers. It helps to have recently new owners (2011), Josh Harris and Adam Aron, that put money and passion into the product. I have to check out a game in Philly now.