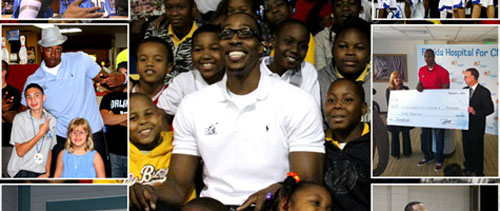 Dwight Howard, the former Orlando Magic star center, took out an ad in today's Orlando Sentinel with the following message for the city:
To play the game of basketball in the NBA is a blessing and to have had the opportunity to play before the Orlando fans for eight years was truly a privilege and an honor.

Words cannot express the love that I have for Orlando. With your support we have done great things in this city from hanging banners to impacting our youth.

Although my career with the Magic has come to a close, my love for the city and the people that make it beautiful will never end.
I obviously don't know Dwight Howard and I've never even been in the same room with him, so we never even shared the same air. The only thing we share and have in common is a love for basketball. However, I'm pretty sure I can assess Howard's motives for the above act – he has an insatiable need to be liked. Why else buy an advertorial page in a newspaper for a town (and franchise in the Orlando Magic) that you basically screwed over?
Howard had the ability to sign an extension a couple of years ago, but when the question was brought up regarding it, he would say he wasn't eligible to. Howard, through sources and eventually himself, said he wanted to be traded. Then changed his mind. But then wanted to play for another franchise because the city of Orlando didn't fulfill his need to be on a bigger stage. But, he changed his mind again and spoke about "loyalty" as he opted into a one-year extension with the Magic. Then demanded a trade, which eventually happened this summer as he was sent to the Los Angeles Lakers for pennies on the dollar.
Obviously this is all a public relations move to fix Howard's image, but I don't understand the timing. For months Dwight Howard was incognito and purposely away from the spotlight in Los Angeles as he dealt with a back issue and huge disconnect with the Magic. It was so bad that Howard wasn't able to attend his own youth basketball camp that parents paid their hard-earned cash for with the promise of Howard walking into the gym and bringing a smile and feeling of joy on their children's faces. Unfortunately, it didn't happen because Howard wasn't allowed to travel.
A couple of weeks later, however, we see Howard flying to China representing his sneaker company, adidas, competing in a Pop-A-Shot game and doing bad impressions while playing ping pong and yucking it up. Basically, it was Dwight Howard being goofy and child-like again. But, taking out an ad professing your love for Orlando after flying halfway across the world and being a ham for the cameras is childish and more than a slap in the face, it's a punch in the eye.
Essentially, Howard can do what he wants. He's always been that way with the only trouble being figuring out what he wants. Maybe Dwight Howard honestly loves Orlando and I'm fairly certain that's true, but why would he take out an ad after the abovementioned events? It's confounding. Let sleeping dogs lie. Let the Orlando Magic fanbase get over the hurt and emotional turmoil that they went through for several months and then come to realize that a player they sincerely loved, didn't love them back. Just take your well-deserved boos and move on knowing that you have a real shot to finally win an NBA title and be an even bigger star by being in Los Angeles.
Time heals all things, but obviously not when you feel you always need to be liked because that's a constant. Next time, Dwight Howard should take an ad out to himself letting him know that he'll always be loved by him, and maybe this public relations and image mess will move away like it's been traded for peace of mind.