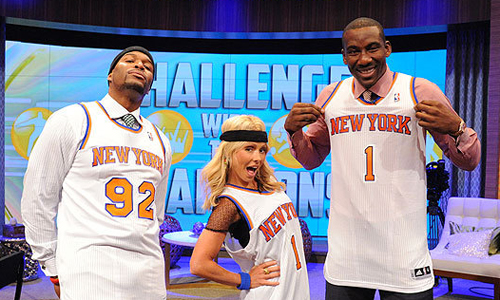 If you were waiting for the official reveal of the new New York Knicks jerseys to go down tomorrow, well, Amar'e Stoudemire ruined it. Stoudemire appeared on Live! With Kelly and Michael this morning, wearing the new home white jersey for the Knicks, as well as bringing customized gear for hosts Kelly Ripa and Michael Strahan. As you can tell from the picture above, you'll either be cheesing or mean-mugging when you put these jerseys on.
Last week, we noted that the new look road jerseys for the New York Knicks were leaked on an NBA 2K13 development video. The jerseys basically got rid of the black color, which I was never a fan of because it's always been about blue and orange to me, as well as the piping on the side. The look is a lot cleaner and more classic.
However, no matter what the Knicks do, such as revealing the new look little by little on their social media platforms, as well as having STAT show up on one of America's most popular morning shows, it won't beat the hype that's been built around the Brooklyn Nets jersey. The New York Knicks' neighbors across the East River have basically got the hype and anticipation on lock with their re-branding. The black and white motif has generally been well-received, plus it helps that Nets minority owner, Jay-Z, has been wearing a Nets cap all over the place.
Forget about cheesing and mean-mugging, the Nets are going to want to make the Knicks put on that sad face. Regardless, the cleaner and more classic Knicks jersey gets a thumbs up from me.