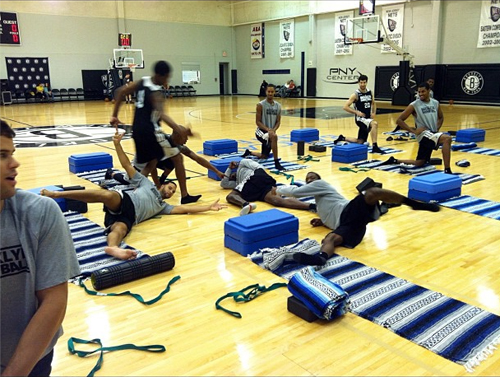 There's a lot going on here in this picture, which centers on Brooklyn Nets small forward Gerald Wallace dead asleep on a yoga mat. Obviously, moving forward, this will be one reason that his nickname is "Crash" and not just because he gives up his body with hard play on an NBA court.
The major thing that is going down in this picture is a shift in attitude and environment for the Nets. For the past several seasons, it's been fairly listless and, truth be told, depressing. However, after this offseason with its many moving pieces, the team seems to be having more, dare I say, fun.
In the middle of it all is the team's leader, Deron Wiliams, the All-Star point guard that almost left the promise of Brooklyn during unrestricted free agency this past summer. He surely seems happy with his decision, doesn't he? He's been the commander of hijinks, such as filling MarShon Brooks' car with popcorn because Brooks still owes 16 games of rookie status due to last season's shortened 66-game season. D-Will even joined the media representing Deron Williams News to ask his coach, Avery Johnson, a hard-hitting question about which New York NBA team is better? The mood is something very special right now with the Brooklyn Nets.
But, back to the picture. Look at D-Will stretching/posing to point at Crash who fell out. The same with Tyshawn Taylor. And why is Brooks running in the pic? Is he getting into some sort of position to also point at Wallace? It's just a funny blur to see because you can feel the tangible playfulness and child-like joy that's happening. The rookies on the right just can't help but smile and Kris Humphries seems like he's at the point of oblivion just before he realizes what's going on.
And, it's that soon-to-be realization that I feel will also happen to the NBA, both teams and their fans, when the Nets start to make some noise. This is a different team from the recent past, so don't sleep on them. You can only do that if you play small forward for the team.