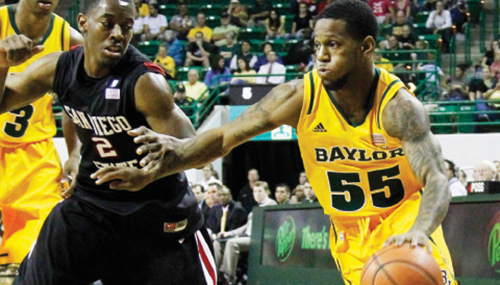 I'll make a bold statement: this year's crop of second-round draft prospects possess more talent than those of prior years.
I like the value; it's like finding different years of Nike Air Jordans on the clearance rack for $29.99 a pair. And as any astute NBA fan knows, the Utah Jazz have had their share of Jordan shoe-like finds (though they've also have had some Velcro shoe selections).
With a second-round choice at 46, the Jazz will almost certainly miss out on guys like Isaiah Canaan and Reggie Bullock, but a portion of the players listed below should be around when the Jazz are on the clock. Due to the volume of the players listed, my analysis is brief, though I hope you enjoy my thoughts:
Pierre Jackson, PG, Baylor
Like Shane Larkin, Jackson is considered undersized. The difference is the latter is going to be selected in the second-round, which makes him less-risk and a better value. Boasting almost twenty points per game during his senior year, 7.1 APG and 36 percent from three, all while maintaining a two-to-one assist-to-turnover ratio. I see a lot of similarities between Larkin and Jackson, including a winning attitude and numerous offensive tools. Speedy with good ball-handling skills, Jackson should have no problem finding a team who will utilize his point guard skills off the bench.
Trevor Mbakwe, PF/C, Minnesota
With a good all-around game, Mbakwe has a toolbox of skills at his disposal. When viewing his stats, a few things become clear: this player is a good rebounder and shot-blocker. Watching him play, it's as if he's Jeremy Evans wearing a fat-suit (I'm being extreme, though he does have fifty pounds on Evans), but plays a very similar game, though I consider Mbawke to be a more complete defender than Evans. I don't expect Utah to draft Trevor, but he'll get a chance to play somewhere.
Carrick Felix, SG/SF, Arizona State
This is the guy I want Utah to draft! I love Felix's game. To begin, he's a defensive stopper. That alone makes him intriguing, especially since he can play both shooting guard and small forward. Also, Carrick has dramatically improved his three-point shooting (37 percent his senior year). I'm going to say it — this guy could be a Bruce Bowen-like player. I'm not exaggerating. Of course, there are setbacks to this comparison, as well: Felix isn't a complete shooter, as one would expect a shooting guard to be, and yes, I'm aware Bowen played small forward. Also, like Bowen, his free-throw shooting isn't the best (66 percent his senior year — the lowest percentage during his college career), but I genuinely feel he's worth the pick based solely for his defensive prowess.
Lorenzo Brown, PG/SG, NC State
The biggest knock I can make against Brown is he almost always shot the ball horrifically against ranked college teams. To his credit, against many of those teams, he distributed the ball well. Brown is a serviceable defender who as intimated, gets his share of assists. He's also listed as a shooting guard, but based on the fact he can't shoot well, I'm almost certain he'll be an oversized NBA point guard. The reason I put him on this list is based on his potential. If he improves his shooting, Brown could very well stick with an NBA team.
C.J. Leslie, SF/PF, NC State
I agree with those who claim Leslie has the height, but not the weight. At 6'9" and 200 pounds, Leslie is going to get knocked around the post. While I don't think he'll have any problems guarding a small forward, CJ might have trouble dealing with a power forward in the paint. Although he's not a terrific shot-blocker, he does have shot-blocking potential; Leslie also snags his share of rebounds and converted over 50 percent from the field during his final two seasons at NC State. If Leslie can develop offensively, he'll find an NBA team willing to make space for him.
Ryan Kelly, PF, Duke
Kelly won't log a lot of minutes in the NBA due to the fact he's simply not very athletic, is an inferior rebounder and plays mediocre defense. The good news is Kelly is a gifted three-point shooter. If he sticks on a team, it'll be due to his shot stretching the floor, causing his defender to guard him on the perimeter and unclogging the paint. Far-fetched? Well, just look at Steve Novak and Matt Bonner, it's how they earn their wage in the NBA.
Kenny Kadji, PF/C, Miami
I really like Kadji's game, especially if he can successfully play power forward in the NBA. Aside from being an under-appreciated rebounder and shot-blocker, Kenny shoots 35 percent from behind the arc. He can score in a number of ways. Personally, I don't think he'd be a great match for the Jazz, but he deserves a chance to play for an NBA team.
Jeff Withey, C, Kansas
I LOVE Withey's game. If he's still on the board and Carrick Felix is gone, I would be pleased with seeing Jeff selected by the Jazz, though I don't think Withey will be available at 46. Although he stands at 7'0" and weighs only 235 pounds, he never appeared to show any major "skinny guy" deficiencies in his game. A good defender with shot-altering potential, he can also rebound (no surprise) and shot 58 percent from the field during his senior year.
I believe Jeff would play well in Utah's half-court offense and although Withey is neither fast nor awfully athletic, I don't think it will result in automatic failure at the next level (Roy Hibbert lacks both and he's a coveted player, though he does have two inches and forty pounds on Jeff). Having Withey play behind Kanter and Favors would be a nice luxury, though wherever Withey ends up, barring injury, I expect him to play a lot of years in the NBA.
Whether or not the 46th pick of the Jazz will join the ranks of wise second-round Jazz selections (most-notably Millsap, Anderson, Russell and Mo Williams) or not will remain to be seen, but with this year's abnormally talented second round, there's no doubt numerous teams will be pleasantly surprised.
Also, be sure to check out my two previous Utah Jazz draft articles by clicking the links below: