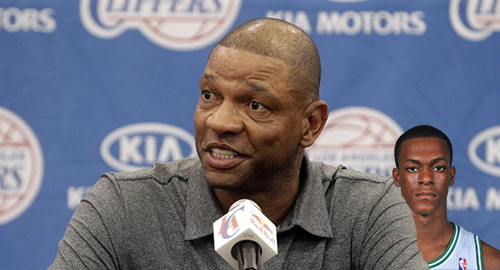 After securing the services of the NBA's second-best coach (I love Pop) and best point guard (after Chris Paul verbally accepted a $107 million five-year contract extension), it's hard to argue the point that the Los Angeles Clippers are responsible for the two most riveting offseason moves thus far.
Doc Rivers' history of coaching great point guards is no secret, so one must wonder if he'll have the same success in Los Angeles as he did in Boston. Let's explore the top five reasons whether this marriage between Doc Rivers and CP3 will bear worse, similar or greater fruit than Doc and Rajon Rondo.
1. The upcoming 2013-14 will be a honeymoon season. Clipper optimism is at an all-time high and it should be! Coming off of their best season record in franchise history and probably the most disappointing playoff appearance in the same year, the Clippers have successfully secured their two most important pieces. A more experienced head coach and their point guard stud. Undoubtedly this will raise expectations and one can only wonder (even within the Clipper locker room) what would've been if Rivers would've been at the helm, calling the plays and making the adjustments last postseason.
2. Chris Paul is more coachable than Rajon Rondo. We've all heard the rumors of Doc and Rondo nearly coming to blows after Rondo drops an F-bomb, and although an upset Chris Paul is no walk in the park, Paul has consistently handled himself in a professional manner on and off the court. Last season, after a disappointing and unexpected loss to the then New Orleans Hornets, Paul showed his belief in the potential of strong on the court play coupled with great coaching when he commented, "We lost to a very – let me choose my words – not very talented team, but well-coached." If you don't believe Chris Paul is more coachable, just think of the numerous opportunities he's had to berate Vinny Del Negro!
3. Chris Paul is a better communicator on and off the floor than Rondo. It was widely speculated last season that the head coaching position was shared between Paul and Del Negro. Placing Paul with Rivers who unquestionably has greater X-and-O acumen than Del Negro allows for greater and clearer communication on the court from Paul. Instruction will be made simpler, and fans can expect more cohesiveness and fluidity on both the offensive and defensive ends.
4. CP3 shot a mild 33 percent from outside the arc compared to Rondo's 24 percent, which is on par with his career average. Although their career field goal percentages are similar – fluctuating at 48 percent – it's clear that Paul is more of a perimeter/three-point threat than Rondo. If we've learned one thing from former Rivers-led Boston Celtics teams, it's that the ball is constantly moving, and the player motion/spacing is top five in the league. However the Celtics' Achilles heel was the poor outside shooting from Rondo, which at times encouraged defenses to double team Paul Pierce and Kevin Garnett. Considering the Clippers round their roster out with key shooting pieces, they'll be able to spread the floor for Blake Griffin, open up more opportunity with the pick and roll/pop, in addition to allowing Paul to circumvent the defense and cause mismatches on a routine basis.
5. The Clippers are younger and faster than any of the previous Celtics teams. Think of Doc on the sideline and most times you'll remember him jumping and screaming, "Run!" The Clippers main strength is getting stops on the defensive end to push the ball in transition. Doc might have to change his tune from "run" to "slow down," for the high momentum, fast-paced Clipper group.