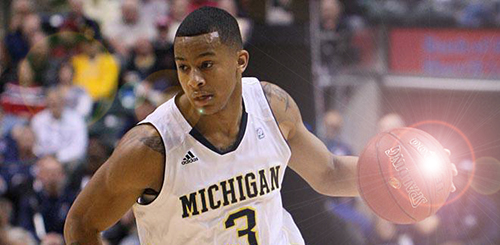 On draft night, Utah Jazz General Manager Dennis Lindsey and the rest of the Jazz brass melted the faces of Jazz Nation by doing what appeared impossible—obtaining Michigan Wolverines point guard Trey Burke. If you read my first NBA Draft piece, I stated Burke would not be there at 14 as he was slated by many mock drafts to go as high as second overall (Orlando Magic) or sixth at latest (New Orleans Pelicans).
Though as luck would have it, the draft took an unexpected turn from the beginning, causing the first eight picks to shuffle unexpectedly. With the next three projected picks being point guards, the Minnesota Timberwolves (who have no need for a point guard since they have Ricky Rubio, Luke Ridnour and J.J. Barea) were more than happy to drop five spots in exchange for Utah's 14th and 21st picks.
The trade made sense for Minnesota, who obtained two interesting prospects (Shabazz Muhammad and Gorgui Dieng), though naturally, both picks have nothing on Trey Burke.
Us Jazz fans are a picky bunch—we often boo and complain about the draft picks Utah selects. It's said Jazz fans booed the John Stockton pick (16th overall in 1984), and on prior draft nights, the Jazz message board I frequent complained about drafting Gordon Hayward, Enes Kanter, and pretty much everyone else.
But one thing remained consistent—Jazz fans fell hard for Burke, especially during the NCAA tournament. And when Burke hit the three-pointer against Kansas to force overtime and Michigan later won the game to advance to the Elite Eight, Jazz fans salivated like a rabid Jazz Bear, but realized Burke wouldn't be there when it came time for Utah to draft a player at 14.
Not to get off-topic, but I agree with Doc Rivers—Bill Simmons is an idiot. When the Jazz-Timberwolves trade was announced live on ESPN, Simmons claimed Utah shouldn't have traded their two first-round picks for Burke. This statement should have resulted in Simmons being pulled off the air and beaten by Jalen Rose (fitting, for Jalen is a Michigan alumnus).
So let's address Trey's weaknesses. Some claim he's undersized, but the guy is a 6'1" point guard; how much taller should he be? An inch? Two inches? As far as the elite NBA point guards go, Chris Paul is 6'0" and Russell Westbrook, Deron Williams, Kyrie Irving and Derrick Rose are all 6'3". Also, I've read Burke isn't quick or athletic enough. Watching his game tape, I disagree. He's no less athletic than John Stockton, so I don't consider that criticism valid.
As far as his strengths, there are many. Burke is a winner, makes the players around him better, can score from anywhere on the floor (over 46 percent shooting and 38 percent from three-point land) plays very consistent ball, is a good defender, and perhaps most important—can distribute the rock while rarely turning it over (6.7 assists versus only 2.2 turnovers per game). Also, these stats were accumulated against a quality schedule of teams, unlike fellow draft pick CJ McCollum (drafted by the Portland Trail Blazers). Also, Burke has a 6'5" wingspan which will help offset the supposed height problem he possesses.
Speaking of problems, although last year's starting point guard (Mo Williams) was a talented scorer (though inconsistent), he wasn't distributing the ball as well as he could have; he's also a mediocre defender. Trey Burke's an instant upgrade and will make those around him better. Pairing him with Utah's existing youth movement (Hayward, Alec Burks, Kanter and Derrick Favors) will be exciting for both fans and players alike.
And Utah's draft night didn't end with Trey Burke. The Jazz also drafted Virginia Tech guard Erick Green with the 46th pick, but traded the talented scorer (and cash) to the Denver Nuggets for center Rudy Gobert. I analyzed Gobert in a prior article and am not overly-excited with the trade, but feel Gobert will become a serviceable second-string big man who will protect the basket. As mentioned in the prior piece, there are a lot of questions surrounding Rudy's game due to the fact Gobert didn't have much competition in France and as a result, didn't utilize all of his tools (such as his jump shot). Though I do like how he runs the floor and base much of his success on how he develops.
And finally, I would be remiss if I didn't mention the Jazz traded a future second-round pick to the Atlanta Hawks in exchange for Brazilian Spanish league point guard Raul Neto. From what I've researched recently, Neto has a good jump shot (it improved immensely this year) and is also fleet of foot and offensively aggressive. It's a low-risk pick for a pure point guard. At only 21-years-old and drawing comparisons to Timberwolves star point guard Ricky Rubio, the Jazz can let Neto develop in the Spanish league.
With a wildly successful draft (I'm basing this exclusively on the Burke trade), the Jazz head into free-agency with numerous needs that must be addressed; we'll discuss them in my next article.