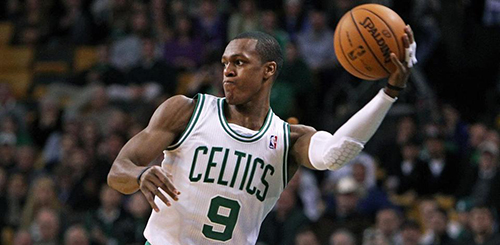 Last night, while scrolling through pictures of the Big Three era, tears rolling down my face, I did a little addition in my head and decided to go the irrationally optimistic route and post this to Twitter:
Celtics line-up=: Bradley, Rondo, Wallace, Green, Olynyk/Melo (yikes) is actually not terrible. I MAYBE see us sneaking into the playoffs.

— Evan Turissini (@djhadmatter) July 1, 2013
An hour later, Ryan Crane, fellow Baller Mind Frame writer and Celtics Fan Boy, replied to my tweet, sparking this quick dialogue:
@djhadmatter Interesting – if Green has a 18 / 7 season, maybe.

— Ryan Crane (@RyCrane234) July 1, 2013
@RyCrane234 100% dependent on our entire squad being healthy and reaching full potential, especially Rondo. #unlikely #tankforwiggins

— Evan Turissini (@djhadmatter) July 1, 2013
@djhadmatter Dare I say – Trade Rondo for like, Steve Blake or whosoever and #tankforwiggens ?? @BallerMindFrame

— Ryan Crane (@RyCrane234) July 1, 2013
I tried typing out an answer to this proposition, but like everything with Rajon Rondo, there was no way the whole enchilada would fit in under 140 characters, so I decided to swing to the other extreme and write an entire article about it. Ryan, this one is for you.
WHY TO TRADE RONDO:
1. Rondo is horribly volatile
Bill Simmons, in one of my favorite quotes, likened Rajon Rondo to owning a cat: "Sometimes he jumps on your lap, sometimes you don't see him for days, sometimes he goes down in the basement and kills mice for you, sometimes he's kicking over his own kitty litter box, sometimes he's hissing at your children… you just never know." And this cat has been away for half-a-year and licking his wounds. He's watched the team peel away all the old guys he's had little spats with to make room for him and to build around him. So, how is he going to respond? Can good cat Rondo play well with Avery Bradley and Jared Sullinger with Baby 2014 on the way? Or will he sulk endlessly about the mediocre play of his team and not play to his potential? Having seen Rondo, probably the latter.
2. Danny Ainge says he isn't going to do it
So he probably will.
3. We could throw in a lot of bad contracts
Getting rid of Brandon Bass, Courtney Lee, and the $30 Million Dollar Travesty Formerly Known As Gerald Wallace is in the best interest of our rebuilding. I really like Wallace, but he's far too expensive for his defensive expertise, and even 7 mill for Brandon Bass is simply too high.
4. More draft picks
Any day now, "Hoarders" is going to do a special on the Ainge household. The door opens to find a house cluttered with draft picks. Stacks and stacks of draft picks. When you dig through the stack of 2016 draft picks, an emaciated cat darts under foot and out the door for freedom. Every time you suggest throwing one away for a good support player, Ainge whines, "But I might need that one! Or that one!"
WHY NOT TO TRADE RONDO
1. His trade value is low right now
Coming off an ACL surgery, no one is going to take Rondo at face value. Simple as that.
2. He's the last vestige of this team's identity
Rebuilding is hard. Rebuilding completely from scratch? That's even harder. One of the reasons that Sullinger, Bradley, and Rondo are growing up so well are under the tutelage of their elders. If you watch Rondo's shot between 2008 and 2011, Rondo starts mimicking Ray Allen's form slightly.
3. He's criminally underpaid
Check out this list:
21.4 million/year
11.0 million/year
18.8 million/year
15.7 million/year
19.6 million/year
In alphabetical order (not in terms of skill, though it's not that far off), these are the payrolls of the five best point guards in the NBA: Chris Paul, Rajon Rondo, Derrick Rose, Russell Westbrook and Deron Williams (Kyrie Irving is still on his rookie contract, and you could make a case for Stephen Curry, but you'd be wrong). We're paying for a premiere talent at approximately 70% of any other player in his class. You're not going to get an opportunity like that just anywhere.
My vote: keep him around and see where we are at the NBA trade deadline. If Rondo is playing terribly, we can keep him around as we #tankforwiggins. If he's hot and we're a contender, we can keep him around and go for the playoffs. IF he's playing terrifically and we're tanking, trade him off for some more draft picks. If he's terrible, but we're doing well, check Jeff Green's water bottle for PEDs.