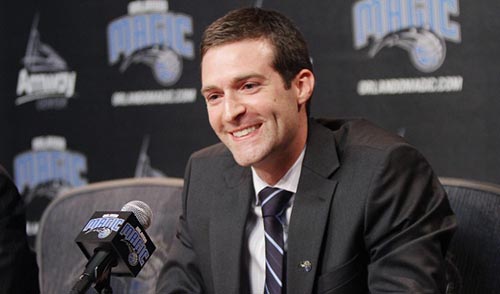 When Rob Hennigan was first introduced as the general manager of the Orlando Magic, the so-called experts had their doubts about how a "kid" (hired at 30!) could turn around the at-the-time Dwightmare. Hennigan had a difficult balancing act to pull off. Massaging the ego of Dwight Howard, just in case he stayed, while also trying to package him in a deal that sent enough valuable assets back to Orlando.
When we initially looked at the Dwight trade "on paper," it appeared the "kid" GM got suckered. This was a complicated trade that involved four teams, 12 players in total and five future draft picks. Howard got to be the next great Los Angeles Lakers big man, the Philadelphia 76ers got arguably the second best center in the NBA (Andrew Bynum), Denver added a talented swingman in Andre Iguodala… and the rest of us laughed at the weak return the Orlando Magic got.
The Magic received guard Arron Afflalo and forward Al Harrington from Denver, forward Moe Harkless and center Nikola Vucevic from Philadelphia, and forward Josh McRoberts and guard Christian Eyenga from the Lakers. The five future drafts looked decent, but who knows where these future picks will be taken. Hennigan knew that the trade would look like a disaster at first glance.
"Are we taking a step back? Absolutely, we are," Magic general manager Rob Hennigan said after the trade. "But we're taking a step back with a vision."
But maybe he knew more than we all thought. Howard is on the verge of leaving L.A., Bynum has bowled more than he has played basketball and Iguodala might sign elsewhere this summer. Orlando got a surprisingly good year out of their young center Vucevic (13.1 points and 11.9 rebounds per game), Afflalo is a solid two-guard in this league and could be trade bait and Harkless has the look of a steady long-term NBA player.
Hennigan was an executive with the Oklahoma City Thunder before becoming Orlando's man with a plan. He has seen first-hand how Kevin Durant, Russell Westbrook, James Harden and Serge Ibaka all made a meteoric rise toward the NBA elite. I believe he might be on his way toward accomplishing the same feat in Mickey Mouse land.
His steal of Tobias Harris from the Milwaukee Bucks late last season for the expiring contract of J.J. Redick, and now drafting Indiana's Victor Oladipo with the second overall pick, has only added more young talent to the roster. Oladipo could end up being, at best, a poor man's Dywane Wade or, at worst, Tony Allen. Either way, the Magic have just drafted a potential perennial NBA All-Star or a piece to get that player.
The 2014 NBA Draft will be loaded with talent – Andrew Wiggins, Jabari Parker, Julius Randle, Marcus Smart, for example – the like we haven't seen since the 2003 draft (LeBron James, Darko Milicic, Carmelo Anthony, Chris Bosh, Wade). Imagine if the Magic, who for the lack of the better word, "tank" this season and ended up with Wiggins or Parker? Joining the young roster of Vucevic, Harris, Harkless and Oladipo, plus having tons of cap room, could make the Orlando Magic in 2016 or 2017, the southeast version of what OKC had in 2011 and 2012.
Hennigan has a few high paid salaries he currently has to deal with in Jameer Nelson, Glen "Big Baby" Davis and Hedo Turkoglu with all three not having a future with the Magic. Jameer's contract at the end of next season becomes a team option, Big Baby and Afflalo could be traded as soon as I finish this sentence, and Hedo's second tour of duty in Orlando should end in a club buy-out since his horrendous contract expires in the summer of 2014. Al Harrington has two half-guaranteed years left on his contract, which may be tradeable.
Having a young coach like Jacques Vaughn is a good choice for this current roster. Low expectations can only result in high rewards. At worst, when this young group needs an older, more experienced head coach, the players will be mature by then.
Can Orlando Magic fans be patient while this rebuild goes on? I believe so. The fanbase is one of the strongest in the league. I've seen it first-hand over the years. Losing Shaquille O'Neal, Penny Hardaway and, more recently, Dwight Howard has never dampened their spirits. The crowd still shows up to Amway Center to cheer for a team that has no chance at winning 30 games in a season. Unlike Miami Heat fans, they don't have to be taught "how to cheer" and they don't leave the games early. If they're as patient as I think they are, in three or four years they could be rooting for their Magic in the Eastern Conference Finals.