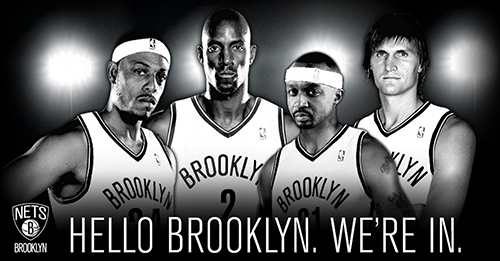 I hope you had your cameras out, because the Boston Celtics are not the Celtics of old any longer. In a trade made and agreed upon on draft day and finalized Friday, the Brooklyn Nets acquire two of the more iconic Boston Celtics players to ever play the game: Paul Pierce and Kevin Garnett.
Pierce and Garnett, along with Jason Terry and D.J. White, are headed to Brooklyn, and in return Boston acquires Gerald Wallace, Kris Humphries, MarShon Brooks, Kris Joseph, and Keith Bogans. In addition, the rebuilding Boston Celtics will also get first round picks in 2014, 2016 and 2018, as well as the right to swap draft picks in 2017.
In addition to the trade, the Nets also agreed to a deal with versatile forward Andrei Kirilenko, re-signed backup big man Andray Blatche and added reserve guard Shaun Livingston.
While the Nets had a decent record in their first year in the league last year (49-33) as the Brooklyn version, they are clearly looking to improve upon 49 wins. Imagine Pierce and Garnett out there with Deron Williams, Joe Johnson, and Brook Lopez, with former Sixth Man of the Year Jason Terry coming off the bench for some extra energy.
With the trade, the Nets blew well past the luxury tax line and are facing a bill of more than $70 million in luxury taxes, but Mikhail Prokhorov wanted a title within five years of owning the team, and there's obviously a price you have to pay. With the talent that Brooklyn has on its roster now, even centered around two aging stars (Garnett 37, Pierce almost 36) and a rookie coach (Jason Kidd) that may just be possible.
The Celtics this year will not be the Celtics of yesteryear, but they might surprise a few people. Wallace was a starter for the Nets last season, and Humphries and Bogans sometimes started. They join a Celtics squad that boasts Rajon Rondo, Jeff Green, Jordan Crawford and rookie draft pick Kelly Olynyk. Taking the reins is first-year head coach Brad Stevens, the former Butler coach who was hired to replace Rivers.
This trade will make competing in the Eastern Conference interesting, to say the least.