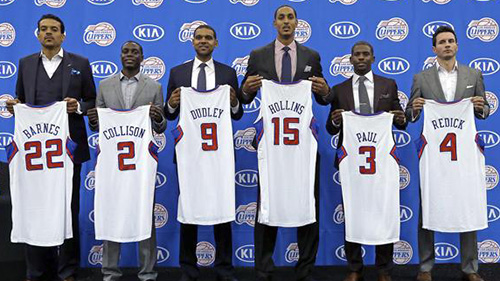 The aftermath of one of the greatest summers in Los Angeles Clippers history has seemingly reached its culmination with the additions of J.J. Redick, Jared Dudley and Darren Collison, and re-signed vets Matt Barnes, Ryan Hollins and Chris Paul. While still lacking significant backup size at the power forward position, the Clippers front office seems to be eating a bit slower, finally getting full and pushing away from the dinner table. But wait a moment … there's more work to do, and I hope the Clippers brass is paying as much attention to the 2014-15 season as they are to 2013-14.
For many teams and fans alike, NBA Summer 2014 has become a beacon of hope and a chance to revive some of the NBA's rotting corpse franchises. The 2014 NBA Draft is expected to provide speedy healing for teams playing below the .500 standard and the subsequent free agency period will serve as an opportunity to upgrade talent across the board. It's fair to expect a shift in the NBA power balance, the feeling of a great disturbance in the force, and quite possibly a disruption in the space-time continuum resulting in a major time paradox! Either way, the Los Angeles Clippers need to prepare themselves for what could be the next big wave in NBA talent, and quite possibly the next step towards ensuring the on-the-rise ball club stays on the winning side of the ledger throughout the next decade.
The Clippers have picks of low value and lofty expectations for the upcoming season, so don't expect them to be big players in the 2014 NBA Draft—barring any trades and extreme luck. Since shipping their biggest trade piece in Eric Bledsoe to the Phoenix Suns, there's virtually no chance to secure Andrew Wiggins, Jabari Parker or a top-10 player. However, the growing sentiment from GMs and personnel around the league is that this draft runs deeper than the highly praised 2003 draft, which produced seven NBA All-Stars, an NBA Sixth Man Award (Leandro Barbosa) and a Most Improved Player (Boris Diaw), in addition to a multiple NBA Finals and regular-season MVP (Lebron James).
A potential talent pool of this magnitude affords the Clippers the opportunity to find a late first- or second-round stud, worthy of joining the class of elite players to be picked late. League greats coming from the second round such as Willis Reed, Dennis Rodman, Nick Van Exel, Marc Gasol, Manu Ginobili and, last but not least, new Clippers head coach Doc Rivers have taught us not to overlook any player on the final draft board. There's definitely gold in those second-round hills, it just takes experienced miners to dig it out.
This brings us to free agency, and as of right now the Clippers are projected to have $65 million in guaranteed salary for 2014-15, which doesn't allow much opportunity for the acquisition of any big-name players. Office cooler optimism suggests J.J. Redick and Jared Dudley will turn out to be fruitful additions to the starting lineup, and the Clippers will be looking to solidify their approach to the NBA throne with a few key role players. Bidding on a restricted guy like Kawhi Leonard (11.9 points, 6.0 rebounds and 1.7 steals) could give the Clippers an upgrade on defense, while the bulk of cap space will most likely be spent on unrestricted free-agent backup big men such as Andray Blatche (10.3 points, 5.1 rebounds), or the Hollywood-shy Kris Humphries (5.8 points, 5.6 rebounds). Any combination of these players, in addition to whom the Clippers have given long-term commitments to, would be able to challenge any free-agency constructed "super team," and move the Clippers closer to their dream of their first NBA title.