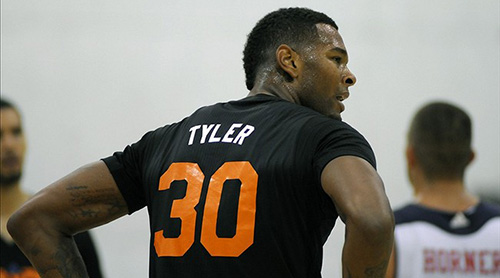 The high school prodigy that decided to forgo his senior year of high school and turn pro.
Jeremy Tyler may be the best player you have never heard of.
Back in 2009, the San Diego native was an agile 6'11" and 260 pound basketball machine averaging 28.7 points per game. He was touted as the nation's best player in the junior class, committing early to Louisville and expecting to be the first pick in the 2011 NBA Draft. His road was paved for basketball greatness, but then he decided to go a different direction: overseas.
High school basketball was no longer a challenge and he wanted to develop his game to be NBA-ready. With advice from his father, James, it was decided that he would play overseas for two years until he was eligible to enter the NBA Draft. In April of 2009, Jeremy Tyler signed a $140,000 deal with Maccabi Haifa of the Israeli Super League. Maccabi Haifa used Tyler's image in promotional materials around the city to excite local fans and spark interest in the team internationally. However, his professional basketball career was not panning out. He was averaging just 2.1 points per game and 7.6 minutes. Coach Avi Askenzai was surprised that Jeremy did not possess basic skills like boxing out and rotating on defense. After 10 games played, Tyler decided to go back home to San Diego.
Jeremy still had one year before he would be NBA-eligible, so he signed another overseas contract with Japan's Tokyo Apache in July of 2010. This time around he was hoping his experience would be different. In 33 games Jeremy averaged 9.9 points per game on 51.7% shooting and 6.4 rebounds in 15.4 minutes per game. Not the staggering numbers he was hoping for, but a much-needed improvement to get NBA teams interested again. In the 2011 draft, Jeremy Tyler was selected 39th overall by the Charlotte Bobcats. A few minutes after being drafted, his rights were traded to the Golden State Warriors for cash considerations. Although he was not the first overall pick, as many scouts predicted in 2009, he made it into the NBA.
The beginning of Tyler's rookie season was spent with minimal playing time until March 21, 2012 against the New Orleans Hornets where he was named the starting center for the Warriors. He would continue to start at center until the end of the season. During the 2012-2013 NBA season Tyler was sent to the Santa Cruz Warriors of the D-League for some additional development. He led the Santa Cruz Warriors to the playoffs, averaging 24.5 points per game. Tyler was developing as a player and coming into his own, yet even with playing his best basketball, he was traded from the Warriors to the Atlanta Hawks and waived shortly after.
This summer, Jeremy Tyler received an invitation from the New York Knicks to participate on their Summer League team in Las Vegas. Since accepting the invite, he has been turning heads on the court averaging 11.5 points and 9.5 rebounds per game in 18.0 minutes of play. If he keeps it up, Tyler could see himself getting a good NBA spot.
Although he is only 22 years old, his development from overseas and D-League play has molded him into a unique prospect. In Las Vegas, the Knicks and other teams, have their eyes on Tyler as he once again makes his case for the NBA.
What do you think the future holds for NBA hopeful, Jeremy Tyler? Share your thoughts in the comment section below!