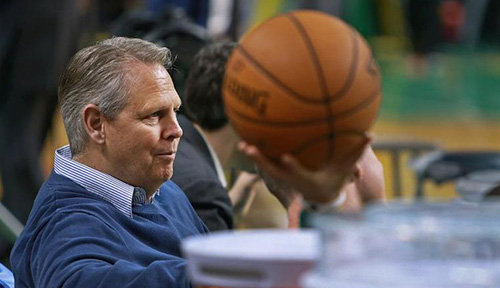 "The beauty of things must be that they end." JLK
Chris Rock said it best. "(The) Nets just gave up 3 first round draft picks to be in fourth place for one year." Even better (or worse depending on who you support), he failed to mention Kris Humphries, Gerald Wallace and MarShon Brooks were leaving the Brooklyn Nets for the greener pastures of the TD Garden or the fact that these guys are a combined 25 years younger than Kevin Garnett, Paul Pierce and Jason Terry. That stat alone should convince the Nets to litter the streets of Brooklyn with rabbit's feet, horseshoes, leprechauns and prayer beads for the upcoming season. The only way this doesn't turn out to be the worst trade of the summer is the unlikely scenario that Pierce, Garnett and Terry remain healthy. Even if Ainge immediately ships off his former Nets, these players, despite a few flabby contracts, are still assets on the open market.
Nonetheless, every sportswriter in the nation decries the trade as basketball blasphemy. Bloggers from Boston want Danny Ainge's head impaled on top of the Prudential Center. I admit, Danny ain't no Aingel. He horribly mishandled Ray Allen's departure, and he's often hilariously misleading during interviews. However, this trade was a stroke of genius, and we of the Bay State will be thanking our lucky all-stars that we won't spend a decade in rebuilding mode.
Before I proceed, some autobiography to protect my wife and family. I grew up on a dairy farm in Central Massachusetts. When I wasn't working or schooling my older brothers at 21, I was watching the Celtics and the Red Sox. When Bill Buckner seriously "bucked" up in Game 6 of the 1986 World Series, I slammed my fist against our heating vent. It was my first documented moment of SIR (sports-induced rage). In 1992, I sent Larry Bird a rhyming letter pleading that he play for one more year. I don't deal well with new beginnings. A poet, I'm a sucker for nostalgia, and any of my ex-girlfriends will tell you that I hang onto things for too long. I still have a discman and an alarm clock. Call my landline if you don't believe me. I loved watching KG headbutt the basket before every game, his eyes s(h)immering with fight and hope. I craughed uncontrollably as he told the world he was "certified" after winning the 2008 NBA Finals. So during draft night when I heard the news about this trade, I reacted much like former sportswriter turned TV weirdo, Bill Simmons:
[youtube]http://www.youtube.com/watch?v=CttHPa5nXVk[/youtube]
I was pissed. I couldn't believe that Ainge could suddenly call "game off," and all of us fans weren't personally notified. This was worse than a text-message breakup. To me it felt like a personal letter that a spotlight-hungry friend posts on your Facebook wall. I felt exposed and humiliated. Every other fan in the league was watching me suffer. On ESPN's twitter feed, I read:
Dear Arlo,
I've decided to trade your favorite players, you know the ones that you have learned to love, to a division rival they fought with last year. I hope that's okay. This is an automated message. Do not reply.
Best Regards,
Danny
However, after a few gallons of port, I began to survey the situation rationally. I looked at the facts. Doc Rivers' exit, Pierce's salary, Rajon Rondo's knee, KG's retirement… I imagined the 2015 Celtics without this trade, and I began to see the horrible light. Getting rid of KG and the Truth was the best thing for the franchise. And you're right to say that it's unfair. You're right to call it dispassionate. You're right to lament the state of professional sports, the free agency circus and the concept of a luxury tax. But to blame Ainge is dumb. He has adapted well in his habitat. Like any good GM, his brain has expanded and his trust in tradition and unwritten codes of conduct has dwindled. Indeed, Ainge is the opposite of the Grinch. To satisfy a virtual Whoville of Celtics fans, his heart must actually shrink.
Franchises are nothing without a tradition to legitimate their status in the league. Think of a veteran playmaker moving to the Raptors because of the rich history of the organization. It'd never happen. At least not for that reason. Teams with rich traditions respect their players and the players respect the legends who graced the locker room before them. When the Celtics draft a player, visions of Bill Russell dance like sugarplums in his head. So what distinguishes the teams from the original BAA who boast the same longevity, say the New York Knickerbockers, from the Boston Celtics? What makes Boston the more storied franchise? Winning. Remember what Mr. Lombardi said. "Winning is not everything. It's the only thing." It's prudent to remember this as we move forward and assess the moves that Danny Ainge has made this offseason.
What's Up Doc?
For starters, let's say it together: Doc Rivers didn't quit on the Celtics at the end of the season. Nope. He quit on the Celtics during the summer break, and can we really blame him? Imagine the days of introspection. Dewy mornings on the golf course outlining a weight room regiment for Shavlik Randolph and remembering that he'll once again be coaching Jordan Crawford. Imagine these thoughts haunting a man used to diagramming plays for three future Hall of Famers, his offseason filled with realistic expectations of once again making the NBA Finals.
Let's also remember that Doc is not always a good coach. He's fantastic with veterans, and he can be a good individual mentor. His defensive schemes are for seasoned professionals and very gifted young players. Consider his record with the Celtics before Ray Ray and KG came to town. 102-144. It seems to me that Doc realized that, despite his loyalty to the organization, he just isn't good for a team in transition. As a proud professional, he needed to move on to place where he could succeed. In Los Angeles, Doc will make the Clippers better.
Ainge, knowing his team wouldn't seriously contend, let Rivers loose from his lucrative contract and received a first round pick in the process. Then, he hired a young college coach who has excelled coaching kids who aren't blessed with All-American jump shots. In summary, Ainge saved money, made his team better and allowed Doc Rivers to pursue another championship. Maybe his heart didn't shrink after all.
Waiting for Garnett
In Samuel Beckett's play, "Waiting for Godot," two men, Vladimir and Estragon, wait for another man who never comes. As a Celtics fan, I can sympathize. I've been waiting to hear from Pierce and Garnett about this trade, and both sides have been eerily quiet. Every night, I check Chris Forsberg's blog and wait for a sound-byte, but alas I sleep like Vladimir unsatisfied against the cold stars. Waiting for Garnett to waive his no-trade clause was just as frustrating. Since Doc was gone, I knew he'd do it. Still, I entertained possibilities of KG-style sabotage. Would he refuse to comply and proudly cling to the values that uphold Celtic tradition or would he sacrifice his veto-power for the sake of posterity? In the end, KG did the Celtics a massive favor. Aware that his legacy lies in Boston, he facilitated a trade that could help the Celtics rebuild as fast as possible. Additionally, it lets Celtic fans watch the Truth and KG contend for another championship.
That's the silver lining here. We can still watch our superstars. They'll still be in the playoffs against the Miami Heat. Meanwhile, our team is virtually rebuilt before any significant demolition took place. Kris Humphries, Keith Bogans, Gerald Wallace and MarShon Brooks will help the team as players and/or trade bait. While Humphries had an off year in 2012, his minutes also declined. Per 36 minutes of floor time, he still averaged a double-double this year. Though I agree his contract is inflated, Gerald Wallace is an above average guard/forward who provides a veteran presence and a fierce tenacity on par with KG's. For a young team, his disposition and experience are invaluable. And he's five years younger than Pierce. Keith Bogans is another high-character guy that can help solidify the atmosphere Stevens wants to create while Brooks is an explosive scorer who's a bit tamer and more reliable than Jordan Crawford. Couple these guys and their attributes with three first round picks and a $10 million trade exception, and you've got a haul more valuable than Forrest Fenn's treasure.
Again, I want to summarize what Ainge has made possible. Our beloved heroes, Pierce and KG, get to chase one more championship. Doc Rivers, our celebrated coach, moves to Los Angeles where he can most effectively utilize his skill set. We, the fans, get to watch KG, Pierce and Doc vie for another ring as we sit on seven first round picks and look forward to contending in the very near future. In this light, Danny the GM seems altogether Aingelic (sorry, that's the last one I swear).
One Last Diss Before I Go
Yesterday, Ainge announced to the world that the Celtics weren't tanking. He told his former Nets, they'd "try and win every game." Because of what he's done this summer, the Celtics won't have to. In fact, the Celtics could easily make the playoffs. Can you really see Philadelphia, Toronto or Milwaukee pushing them out of contention? And making the playoffs isn't a bad thing. Yes, it removes you from the lottery, but it also inspires a young team to improve and work harder. Even in 2014, in the so-called draft of the century, the lottery will still unfold like a cow chip festival. Just because you bought 20 squares of prime real estate doesn't mean a cow will crap on it. And while teams clamor for unproven rookies, the Celtics can use their picks and their exception to get some players worth paying for. So, before you start hammering nails into vintage Ainge bobble-heads, consider what he's been able to pull off. It took almost fifteen years of mediocrity to fill the void that Bird, McHale and Parish left. In a matter of months, Ainge has successfully enabled his aging superstars and set up his team for success in the future. Everybody wins. When KG and Pierce finally do talk about the trade, let's hope for the sake of the franchise and its tradition that they too see it that way.