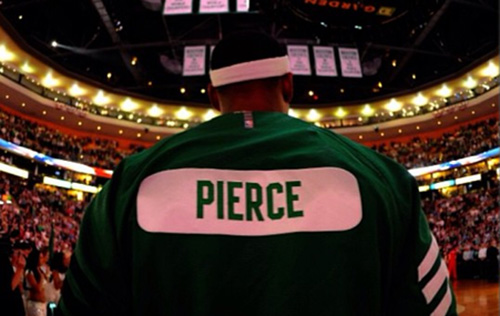 Any sports fan should have felt it. It didn't matter if you hate the city of Boston or if you barely follow basketball. If you saw Paul Pierce at the podium during his first meet-and-greet for the Brooklyn Nets, one thing was clear: the Truth hurt. Pierce seemed stunned, and he fielded questions like an amnesiac. What was he doing in Brooklyn? And why was he sitting next to Kevin Garnett? He flashed a few awkward smiles and repeated generic things that he probably repeated to himself. To Pierce, it seemed like a nightmare, but the city that never sleeps doesn't dream either, and when the curtain closed last Thursday afternoon, Paul Pierce was a Brooklyn Net.
Any sports fan would have hated it. In the post-Bird, free-agent era, hardly any franchise players stick around for their whole careers, and Paul Pierce wanted to retire as a Boston Celtic. Growing up in Central Massachusetts, I despised Wade Boggs for turning Yankee. Hell, one of the major reasons I was so high on Shane Larkin in this year's draft was that his father was Barry Larkin, a perennial MLB All-Star and career Cincinnati Red. While it shouldn't, leaving a team 15 years after it drafted you definitely affects your legacy. Ask Utah Jazz fans to name their quintessential player. Nine out of 10 will say John Stockton. While no more important to the franchise than Karl Malone, Stockton spent his entire career with the Jazz, and Malone played one year with the Los Angeles Lakers. As it went with Malone, so it will go with Pierce; he's left his (previously) only team, and his legacy will suffer because of it.
Nevertheless, this press conference may have cemented his place in Boston Celtics history. For me, it was Paul Pierce's best performance as a Celtic, and naturally, it made me nostalgic. I even second-guessed the trade I'd publicly lauded. However, after gushing over poor, willful Pierce and his eloquent statements that seem more surrendered than spoken, I came to the same conclusion that he did. The Celtics and Pierce are better off without each other—the only difference is that I wholeheartedly believe it.
Anybody who watched the Celtics in the NBA Playoffs last year must have been confused. How could a team this bad make the playoffs? The team's offense would stall for quarters at a time, and defensively, they missed rotation after rotation. Especially woeful was the Celtics' late-game execution, and many a mishap came from the captain himself, a man who fans had trusted with the ball for 15 consecutive years. Yes, at the end of a tiring regular season, Paul Pierce couldn't dribble, shoot or pass effectively. In short, he was a burden on the offensive end of the floor.
Because of his playoff performance, critics immediately derided him; he was washed-up, banged-up and perhaps it was time to give it up, hang up the high-tops and watch his jersey float up to the rafters. However, Pierce was stubborn. He wanted to play one more year. The Truth knew he still had some basketball in him, and his regular-season numbers suggest he has plenty. I believe that Paul Pierce will have a fantastic season in Brooklyn, but had he stayed in Boston things would have turned out worse.
You see, Boston couldn't properly handle the Truth. At the Garden, both Doc Rivers and Pierce's teammates had to treat Paul Pierce like the NBA All-Star he wasn't. This was his house, so you had to give him the ball in the waning moments of the game. You had to run isolation with him when you really needed a bucket. As long as he remained a Celtic, Pierce would be saddled with playing a role his older body couldn't sustain.
In Boston, he will always be our go-to guy even though the floor was spread with players who were more likely to make a basket. The last few years weren't fair to Pierce nor the players on the bench. Younger players weren't given the opportunity to seize those important moments, and Pierce was forced to play like his 28-year-old self.
In Brooklyn, he enters a brand new arena, and greets a new group of fans. Surrounded by younger talent, Pierce won't have to be the hero. Instead, he can set hard screens, take charges and spread the floor for other guys burdened with beating the final buzzer. Meanwhile, in Boston, Jeff Green will fill Pierce's shoes; they'll be a few sizes too big at first because he'll be following in the footsteps of greatness.
And that is the undisputed Truth.