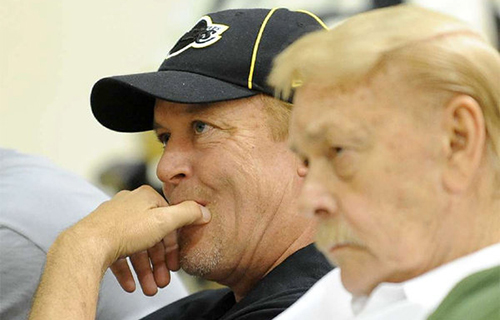 It's sad to think that Kobe Bryant's last years as a Laker will be affected by the decision-making of Jim Buss, a man who is at best, a quarter of the owner his father was. His slow and trolling takeover correlates directly with the unraveling of the team's elite status, making it no surprise that we're where we are now. His off-putting arrogance and blatant rebellion against his father's style of leadership is flabbergasting. It's not just that he continues to make poor decisions, ones that chip away at the Lakers' decorated reputation, but he seems to favor ones that clash directly with the management methods of his dad. If the Doctor's son doesn't quiet his ego and start seeking the help of those positioned around him, I fear that the novice will run this franchise into the ground.
So what's the big deal, what's he done that's caused the disdain of so many Lakers fans worldwide? First off, he made the ultimate error in not rehiring Phil Jackson. Unbeknownst to many, Buss decided that the most tenured coach in the history of the game didn't deserve 24 hours to make a decision. Instead, he employed Mike D'Antoni: a man famous for running a fast break system that puts no emphasis on defense.
It's clear that Buss wanted to modify the team's previous trademark style, and hiring Mike Brown proved that. But most of us believed that Buss had learned his lesson after letting Brown go five games into the 2012-13 season. Apparently, this was not the case.
Brown's style of coaching focused on diminishing the specific assignments of the five positions while creating a more equal-role style of play. This proved to be disastrous as the Lakers went 0-8 in the preseason and 1-4 to start the regular season. He was a terrible fit. Sure, there were other factors involved—the lack of training camp, injuries, lockout woes and so on—but nothing to excuse giving Jim enough confidence to keep him around.
Hiring and keeping D'Antoni not only proved that JB wouldn't learn from the past, but that he was trying all the more to repeat it. You'd think having one of the game's best players sitting on your bench would help aid in the appropriate decision-making for the team's growth and improvement, but I suppose that even Kobe can't change the mind of a moron. Bryant didn't approve of Brown, he sure isn't smitten with D'Antoni and no matter how well he charmed the media at the time, it was apparent that he, along with every other Lakers fan on the planet, was absolutely befuddled when Jackson's rejection surfaced publicly. Sticking with Bernie would have been a better choice.
Adding to the list of Jim's screw-ups isn't tough. He hired an aging legend that brought Lakers fans nothing but crushed hopes, put together a team that had and still has very little natural chemistry, brought about the Dwightmare as we know it today, and has continued to make the Lakers feel like, well, not the Lakers. This team is built on glory and greatness, always competing at the highest level. And when that is not the case, the front office always makes remarkable moves to ensure the team's continued prominence.
Jim Buss hasn't tended to the responsibility of ensuring anything in regard to prominence. Instead, he has continued to make choices that make us all feel less confident in our team. There's an uneasy feeling in Laker Land and it's because the current state of our squad is mediocre at best.
As one gets off the 101 freeway at Highland and looks out into the horizon, the Dwight banner still hangs, an advertisement reminding us that Buss Jr. is nothing compared to the Doctor. We haven't even been able to remove the desperation propaganda off the streets of L.A. The image represents Jerry's son quite well: impetuous, uneducated and weak. That is not Los Angeles, and in my eyes, he is certainly not a Laker.