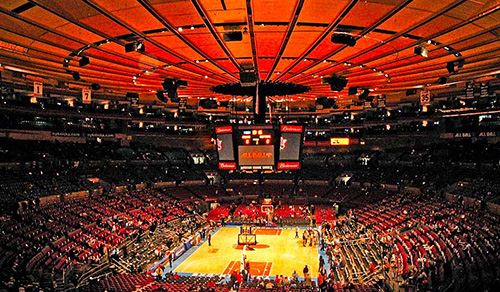 I'm really at a loss for words. People who know me, know how crazy that sounds, but recently the New York City council voted to limit Madison Square Garden to a 10-year lease renewal. What this means is that the iconic arena, home to my beloved New York Knicks, New York Rangers and the site of so many historic events in sports and entertainment, will have to find a new home. To people not familiar with MSG and its history, this may seem like no big deal. Nowadays, sports team are moving around like checker pieces, but this makes a man want to shed a tear.
I'm not going to get into the politics of it. The Alliance of a New Penn Station feels that this move will "improve transit access and spur economic growth in the city and throughout the region." I don't dispute that. In a city with close to 20 million inhabitants and a multitude of millions more visiting, the central transportation hub may at times get a little congested. But as a fan of the resident teams, and witness to decades of good times on 7th Avenue between 32nd and 33rd St, the idea is downright heartbreaking. Where else could you possibly move The Mecca besides right in the center of the Mecca of Basketball, New York City?
I watched the Rangers win the Stanley Cup. I saw the Larry Johnson's Four-Point Play. I was in the building when Jay-Z tore the house down with his Fade to Black concert (sold out the Garden in day). I even made a cameo appearance in the subsequent film. You can't recreate these moments, and if they happened in any other building, it wouldn't have felt the same. The history that's been made and the memories built are ingrained in New Yorkers' blood. Moving Madison Square Garden anywhere besides where it is now is nothing short of blasphemy.
In the grand scheme of things, a renovated, modernized Penn Station will be better for the city. The jobs it creates and the modernization of the area will be a catalyst to the economy and the continued transition of NYC to a city of the future. But you can not deny the nostalgic sadness that is sure to accompany this move. There will be debates for years to come, appeals and proposals, but at the end of the day, I feel the move will happen. Maybe my perception will change later, but right now, put me on the list of "leave the Garden alone."