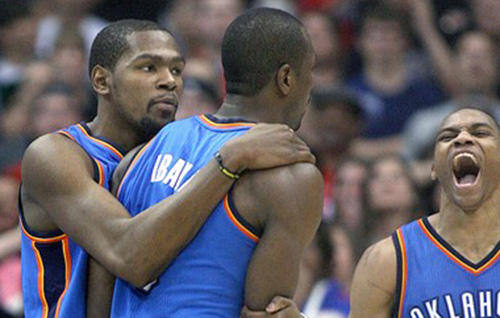 The 2013 NBA free-agency period was filled with several transactions that will have significant impact on title contending teams. Thanks to the brilliance of Kevin Durant and Russell Westbrook, most basketball aficionados continue to claim that the Oklahoma City Thunder will be the team to beat in the Western Conference. I'm not confident that conventional wisdom will prevail. Here are three variables that Thunder fans should take a close look at for this upcoming season.
1. The leftovers from the James Harden trade

There are NBA experts who believe the James Harden trade was a savvy move by the Oklahoma City front office that allowed Westbrook and Durant to thrive, and there are those who believe the team broke up an NBA dynasty without getting back an adequate haul. Both of those arguments are half-truths.
According to the 2012-13 NBA regular season PER stats, Durant (28.47 PER, second-best in the league) and Westbrook (24.15, eighth in the league) both played at the most efficient levels of their careers. It can safely be assumed that Durant and Westbrook will continue to improve as they refine their respective talents, but the same thing could have happened with Harden still on the roster.
In the three-team trade that involved James Harden, the Thunder received the following:
Kevin Martin
Jeremy Lamb
2 protected first-round picks (turned into No. 12 for 2013 draft; top-20 protected for future draft)
1 second-round pick in 2013 draft (turned into No. 32 pick)
Long story short, the Thunder got a one-year rental of Kevin Martin, and Jeremy Lamb, an 11th man who didn't enter a game during the playoffs, and multiple draft picks that will likely not become starters on the team. Meanwhile, a convincing argument can be made that Harden is now the best shooting guard in the league, but the fallout of the trade in this offseason is where the frustration for all Thunder fans begins.
2. Weak 2013-14 offseason
Re-signed Derek Fisher and Ronnie Brewer
Traded for Szymon Szewczyk (courtesy of Kevin Martin's sign-and-trade with the Timberwolves)
The Thunder lost their best spot up shooter, who averaged 17 points per game, re-signed two insignificant roleplayers and traded for the rights of a 30-year-old player who was drafted by the Milwaukee Bucks in 2003 (teams are allowed to trade the rights of Szymon Szewczyk even though he has never come to the United States to play in the NBA). The current iteration of the bench would be abysmal. Reggie Jackson is the only player who has the proven ability to create his own shot. Everyone else needs to be set up in order to score, and none of them have reliable jump shots. So far, Durant and Westbrook have been good enough to cover up the weaknesses of the bench, but the team might be putting too much pressure on their stars by having few players who can consistently hit open shots. No other Western Conference title contender lost talent during this offseason, so this is a significant development.
3. How much better will Serge Ibaka become?
James Harden was traded because the front office felt confident that Ibaka would develop into a perennial All-Star. Even if each of the the players took pay cuts, it would have been extremely difficult to keep Durant, Westbrook, Ibaka and Harden. The front office made the choice they believed worked best for the foundation of the team going forward: two All-NBA wing players and a big man with All-Star potential who anchored the defense. It's hard to make an argument against this philosophy when taking into account the history of the NBA. Teams without a reliable frontcourt do not have a history of winning unless LeBron James is on the team.
Ibaka's best skill is his ability to block shots. He has great closeout speed and exceptional coordination, which allows him to alter opponents' shot in the paint. However, he is not a great one-on-one defender and is exposed when facing players at his position with strong post moves. Ibaka is the best in the league at gambling for big, momentum-altering blocks on perimeter players, but this also means he is frequently not in proper position for rebounds.
[youtube]http://www.youtube.com/watch?v=DmRzowEjSOU[/youtube]
This explains why Ibaka averaged 3.0 blocks per game last season but only managed to grab 7.7 rebounds.
One aspect of Ibaka's game that has improved in leaps and bounds is his jump shot. Ibaka's advanced shooting stats show substantial improvements last season in jumpers beyond nine feet. Most players do not work on this part of their game, but Ibaka has demonstrated an ability to become reliable when alone and able to set his feet. During the 2012-13 regular season, 74.5% of Ibaka's field goals were scored from assists by teammates. The Thunder need Ibaka to show an improved ability to score without assists from others. An improvement in this area would take some of the pressure away from Durant and Westbrook, and give the other players easier opportunities to attack opposing defenses.
Ibaka's improvement is the key to the season. There are worse gambles in this world, but it seems unlikely that he will become the dominant player on both ends that the team needs to be a true title contender.
The Oklahoma City Thunder will likely have another regular season of over 55 wins followed by another second-round exit in the playoffs. I'm not sure what the front office will do to improve the team. It's a conundrum that seemed unthinkable just a year after the 2012 NBA Finals. Then again, if Ibaka becomes the player that the Thunder believe he can be, there's nothing to worry about.