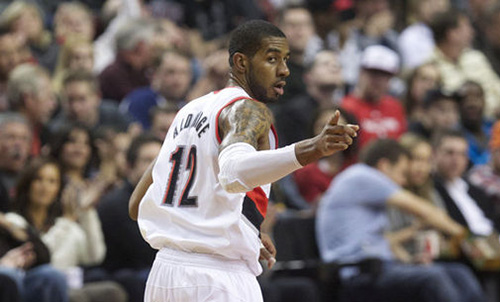 Portland Trail Blazer fans are a rare breed. In the past five years, our roster has ripened with mediocrity, yet we still seem to get irrationally attached to our players. We, the denizens of Rip City, learn to love overachievers, who despite their inferior talent, try hard and make the occasional fantastic play. Last year, I found myself cheering every time Sasha Pavlovic approached the scorer's table. I conveniently ignored his 6.2 PER rating, and I questioned Terry Stotts's sanity every time he logged a DNP. To me, Sasha was the king of intangibility, a guy who transcended rigid, statistical formulas.
Though I can't tell you why, I legitimately believed his presence on the court helped the Blazers. Clearly, this kind of fan behavior is abnormal. And I guarantee there are Blazer fans who have developed an unnatural affection for Victor Claver though his statistics prove he's done little to earn their unconditional devotion. While these strange relationships make it easy to support a subpar team, they also reveal some ugly truths about who we are and what we want. As sad as it is, Blazer fans have become, as poet, James Tate, so eloquently put it, "the fire hydrant of the underdog."
Perhaps we're still damaged (like Greg Oden's knees) from Brandon Roy's sudden demise and haunted by visions of Kevin Durant in a Blazers hat on draft night. Sam Bowie's ghost flashes across the Willamette until we've scared ourselves starless. Nevertheless, I posit we are nagged by a dilemma more complex than a string of bad injuries and near-misses. We, the fans, are so easily won over because The Portland Trail Blazers have never had a franchise player; we have no history, and until we lock up a Julius Erving, Magic Johnson, or Tim Duncan, Portland will always seem like a pit stop for decent players rather than a destination for perennial NBA All-Stars.
THREE TIMES A MAYBE
Whenever I give this argument, folks inevitably bring up three former Blazers to prove me wrong–Bill Walton, Clyde Drexler and Brandon Roy. It's true; Bill Walton delivered our only championship banner. However, he also demanded a trade and even sat out a year instead of playing for the team. Regardless if he was right to do so, that behavior disqualifies him from franchise status. Likewise, Clyde the Glide was a legendary Blazer; he led the city to two NBA finals. However, he left Portland for Houston where he finally won a championship and currently works as a commentator for the Rockets. Franchise players don't call games for other teams. Can you imagine Bob Cousy or Tommy Heinson working for the Detroit Pistons? And finally, I agree that Brandon Roy deserves consideration for franchise designation. He had all the qualities that characterize greatness–talent, heart, intelligence and a desire to win and improve the community. If he had played more than five years of NBA basketball, Roy would be remembered as the face of the franchise. Future prospects would have no choice but to confront his legacy every time they stepped into the Rose Garden Arena. Unfortunately, he left the game too early, and Blazers fans were left without a hero.
Without a franchise player, we've learned to settle. Perpetual nice guys, we see an average player who boasts just one of the aforementioned traits, and we want him to stay. Like the masochists we've become, we salivate over intriguing prospects hoping we could fix them and make them into a role model for the city. This habit also causes us to make another classic relationship mistake. We take for granted what we already have. And that, my friends, is what some commentators are doing to LaMarcus Aldridge.
THE LAST WALTZ
If you like any type of music and you haven't seen "The Last Waltz", you should be ashamed. It's a Scorsese rock-doc that features scores of famous musicians playing with The Band during their final performance. The recently deceased Levon Helm is probably the most important member of The Band, and even though he's often the lead vocalist, you don't always notice him. That's because he's also the drummer. Levon Helm is to The Band as LaMarcus Aldridge is to the Portland Trail Blazers. He lurks in the shadows of stardom, and rarely does he acknowledge the spotlight. While other stars from LA and New York share his floor, he plays with remarkable efficiency and consistency. Without him, the team will undoubtedly falter, and his presence will be most tangible in his absence.
The Band can't harmonize without Levon, and the Blazers can't find an offensive rhythm without LaMarcus. Imagine the current team without him. When our opponents would make a run in the last couple years, only one guy could stop them. Aldridge's signature 18-footer has frequently saved the Blazers from blowouts and helped them get back into games. Without him, we'll have Lillard heaving desperation 3s and Meyers Leonard holding the ball 'til he double dribbles or the 24-second clock expires. LaMarcus is our rock. He holds the family together. We must build around him, not only to ensure we remain competitive, but also to coddle tradition and make the Rose Garden a more stable environment than the small-market rodeos in Milwaukee, Phoenix and Toronto.
I admit that trading him is alluring. Package him with Wesley Matthews and Meyers Leonard, and we might be able to get a legitimate 2 and 5. Aldridge alone will have plenty of value at the trade deadline, and moving him will seem particularly prudent if we're poised to miss the playoffs.
On the other hand though, Blazers fans deserve a storied franchise. Despite a 33-win season, Portland was 10th in the league in attendance. Unlike Celtics or Lakers fans, who have the patience of a cat who's got to pee, we accept our players with all their blemishes, and we exaggerate their attributes 'til that's all we can really see. Making Aldridge a franchise player will reward the one man who's made the Blazers watchable for the last five years, and it will raise our pathetically low standards. No longer will we mindlessly adore Ronnie Price for an acrobatic lay-up that we saw once in the preseason. We will expect our players to perform well because we support a team that has a history of rewarding loyalty and cultivating excellence.