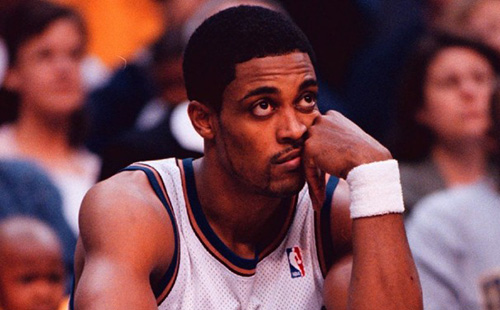 To those of us basketball junkies in our 30s, the 1990s were an odd, but also rather classic time. Due to the advent of a primitive worldwide web, it was already a decade stacked to the hilt with cultural sea changes of import. Yet notwithstanding Michael Jordan's dominance and majesty, which served as the central and prevailing light for a post-Bird-and-Magic league – along with what prestige was brought to the table by a small handful of other worthy superstars of the era such as Hakeem Olajuwon, Charles Barkley, John Stockton, Karl Malone, Reggie Miller, David Robinson and Patrick Ewing – the NBA at that time was relatively plunged into a kind of Dark Age.
Between 1991 and perhaps 2003, when King James and his court of Dwyane Wade and Carmelo Anthony finally ushered in a fresh epoch, the landscape of the league seemed absolutely riddled with one after another flash-in-the-pan aspirant to the status of basketball icon. Remember, for instance, how the phrase, "the next Jordan" was used in the media ad nauseum to describe players like Harold Miner and Jamal Mashburn? Needless to say, history has since proven that neither Miner nor Mashburn – nor Jerry Stackhouse or Vince Carter, for that matter – ever belonged even in the same box score as His Airness. And while other stars of equally short-lived luster did have their various moments in the sun, for the most part, many have been all but lost to the ages; lost, perhaps, but not forgotten – at least not by those of us who could never forget such an odd, but also classic time.
This week, we'll take a look back on some of the best erstwhile point guards of the 90s, all of whom, in one regard or another, have sadly been consigned to oblivion…
In descending order, here are my top five:
5. Kenny Anderson
Coming out of Georgia Tech via Queens, New York, Anderson looked as if he'd be a lethal scorer and assist-man in the pros. At an even 6-feet and a mere 168 pounds, the physics of his quick, flashy game were attributable mostly to his comparatively lithe frame. He possessed both a staggering first step, as well as a kind of weightlessness to the way he moved with the ball, and was a swift and clever decision-maker too. In fact, his on-the-court effectiveness might have even given pause to make the argument that, for their few years together, he and Derrick Coleman were clearly the third best point guard/power forward tandem of the 90s – behind Gary Payton/Shawn Kemp and then, of course, Stockton/Malone. Moreover, it would be fair as well to count Anderson as a valid rival to Allen Iverson when talking about the best small guards in the history of the league at getting to the rim.
Career Stats: 12.1 ppg, 6.1 apg, 3.1 rpg, 1.5 stl
Best Year: '93-'94 with the New Jersey Nets – 18.8 ppg, 9.6 apg, 3.9 rpg, 1.9 stl
4. Rod Strickland
In 1998, Maurice "Mo" Cheeks said in retrospect of Strickland, "The mark of any true player is that someone doesn't want to play against him. I'm sure guys around the league said that when they had to play against Rod." Strickland was tough as nails, but with a style of offensive play that might also have been considered buttery and pure. He was a premier pickpocket around the perimeter, but at 6'3", was also an excellent rebounder for a point guard. However, I remember him always appearing the most remarkable when running a fastbreak. Though he was prone to turnovers himself, it was duly quite often that he'd cause a turnover on the opposing team when engaged in one of their half-court sets. Then patiently, deliberately, purposefully, he'd slalom his way down the court and with perfect timing, make some kind of sly touch pass to one of his streaking bigs for a dunk.
Objectively, I have Strickland at #4 on this list, but really, in terms of which of these 5 players were my favorite to watch, I'd put him at #2 (I'll reveal in a bit who was #1; hint – it isn't the player I have ranked as #1).
Career Stats: 13.2 ppg, 7.3 apg, 3.7 rpg, 1.5 stl
Best Years: '94-'95 with the Portland Trailblazers– 18.9 ppg, 8.8 apg, 5.0 rpg, 1.9 stl
'97-'98 with the Washington Wizards – 17.8 ppg, 10.5 apg, 5.3 rpg, 1.7 stl
3. Mark Price
Alright, the wait is over. Mark Price wasn't just my #1 favorite point guard of the 90s – behind Michael Jordan, he might well have been my favorite all-around player of the decade too. Most likely this was because, as a budding point guard myself, I tried, more than any other player in the league (again, other than Michael Jordan, of course) to pattern my own game after his.
In my opinion, Price was niftier with the ball than Stockton was, and had a purer shot too. Much purer, in fact. I remember him frequently executing one of my favorite plays, which also, categorically, is one of the most simplistic – the good old give-and-go. On too many occasions to recount, he'd dump the ball into Brad Daugherty then roll toward the baseline off a high screen set by either Craig Ehlo or Larry Nance where, on the run, he'd then get the ball back and in one motion, drain one of his patented pretty jumpshots. Equipped with a deceptively quick first step, along with some of the tightest ball-handling skills I've ever seen, Price has also more than cemented himself as perhaps the best genuine point guard ever when it comes to splitting the pick and roll. His dribbling wizardry and passing ability always made me think of a more-in-control "Pistol" Pete Maravich – who, incidentally, is one of my five favorite players at any position of all-time.
Career Stats: 15.2 ppg, 6.7 apg, 2.6 rpg, 1.2 stl, 90.4 ft%
Best Years: '89-'90 and '90-'91 with the Cleveland Cavaliers (averages over two consecutive seasons) –18.3 ppg, 9.8 apg, 3.1 rpg, 2.1 stl
2. Kevin Johnson
For several years, KJ was statistically one of the elite point guards in the league, successively averaging better than 20 points and 10 assists across three seasons (four, if you count the season his official ppg was 19.7) – one of only four players ever to do so. Johnson was a bulldog, always seeming to play with his head down; perpetually in a state of forward motion. Suitably adept at finding the open man – as evidenced by his assist numbers – he's perhaps best remembered, though, for how ferocious he was when driving the lane and attacking the rim. He'd take his defender off the dribble, storming past as if fired out of a cannon. Once inside, he'd consistently then show off his jumping ability by dunking with fury on whoever happened to be in the way – as if angry with them – and with no regard for their size or what name was on the back of their jersey. Who can forget the elbow-in-the-rim, posterizing slam Johnson threw down on top of the The Dream, Hakeem Olajuwon? Every time I play that highlight back, it really just becomes more and more impressive.
Career Stats: 17.1 ppg, 9.1 apg, 3.3 rpg, 1.5 stl
Best Years: '88-'89 through '91-'92 with the Phoenix Suns (averages over four consecutive seasons) – 21.2 ppg, 11.1 apg, 3.8 rpg, 1.7 stl
1. Anfernee Hardaway
Poor, poor Penny. Sigh. What could have been…
When Anfernee Hardaway came into the league in 1993-94, right away teaming up with a young, spry Shaquille O'Neal, it was thought by many that he'd be the second coming of Magic Johnson. Over-sized for a point guard at 6'7", he was lightning quick, too; with excellent vision beyond being just able to see over the top of most perimeter defenders. Where it could have been said he was even superior to Magic was in his athleticism. While most of the time it was Penny who'd be throwing lobs into the air to Shaq et al, he was also more than capable of occasionally running the wing on a fast break while Dennis Scott or Nick Anderson pushed the ball up the court to then make a spectacular catch and dunk off an alley-oop himself. His footwork, both beneath the basket and outside the paint, was no less than relatively Jordan-esque, too. He'd often easily shake his man, spin and then either lean into a particularly sweet fall-away jumper or turn on a dime and rush toward the basket.
Sigh. For a couple years during the mid-90s, Penny was THE SHOW – another promising torchbearer for a new NBA; a potential hybrid of Magic and Jordan before LeBron James came along to successfully play that part. However, due to a series of nagging injuries, Penny's career fell off – slowly, perhaps at first, but then, year-after-year, more and more noticeably as well.
Career Stats: 15.2 ppg, 5.0 apg, 4.5 rpg, 1.6 stl
Best Years: '94-'95 and '95-'96 with the Orlando Magic (averages over two consecutive seasons) – 21.3 ppg, 7.2 apg, 4.4 rpg, 1.9 stl
Honorable Mentions: Chris Jackson, Mugsy Bogues, Mookie Blaylock
Dishonorable Mention: Tim Hardaway – who your typically fair author left off the main list, not because his skill level didn't warrant acknowledgement, but instead – vengefully, admittedly – because of Mr. Hardaway's past flagrantly homophobic remarks.
So there it is. As generations continue going by, let us, as NBA fans, not forget the impact these five dime-droppers of the 1990s had on the league. And check in next week when we'll draw back to mind some of the disremembered shooting guards of the era.