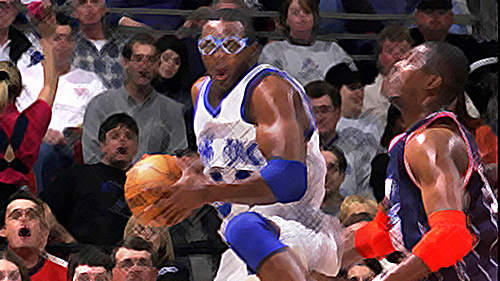 The Orlando Magic have had some good power forwards to complement great centers. When those great centers moved on, other power forwards stepped in as defensive anchors. There have been defensive specialists, stretch-fours and everything in between. With the Magic entering their 25th season in 2013-14, let's take a look at the top five power forwards in Orlando Magic history.
1. Horace Grant (1994-1999, 2001-2003)
Even though Horace Grant played for years with the Chicago Bulls, he joined an upstart Orlando Magic team as a veteran presence needed to climb to the top of the Eastern Conference. Grant became the perfect complement to the Magic's young star at center, Shaquille O'Neal, to create one of the most dangerous frontcourts in franchise history. That frontcourt flexed its muscle in the 1994-1995 season, as the Magic finished the season with a 57-25 record, good for the first-overall seed in the Eastern Conference. Grant's best moment with Orlando was when he dominated in the second round of the 1995 playoffs against the Bulls, averaging 18 points and 11 rebounds per game. The Magic won that series and was one more step toward their first NBA Finals appearance. It's gotta be the goggles, right?
2. Rashard Lewis (2007-2010)
When Rashard Lewis was signed by the Magic, many weren't sure where he would fit. Hedo Turkoglu was already manning the small forward position and, at the time, Lewis played small forward as well. With this quandary facing the team, head coach Stan Van Gundy did something revolutionary – he moved Lewis to the power forward position. Even though Lewis definitely didn't put the "power" in "power forward," he was a matchup nightmare for teams and spaced the floor well for star center Dwight Howard with his deadeye shooting. Lewis hit clutch shot after clutch shot for the Magic, helping tremendously on the way to their second NBA Finals appearance in 2009. Unfortunately for Lewis, he was suspended for the first ten games of the 2009-2010 season for performance-enhancing drugs. That was the beginning of the end for his time in Orlando, as he never really regained the form he had prior to his suspension and was traded in 2010.
3. Bo Outlaw (1997-2002, 2005-2007)
If you look up the word "hustle" in the dictionary, you'll find Bo Outlaw's picture. Outlaw couldn't shoot and his free-throw shooting was awful to put it nicely (52% career from the line), but he became a defensive anchor for the Magic. His presence helped a team that tried to find a new identity after losing Penny Hardaway and Shaquille O'Neal, moving forward with Tracy McGrady and the idea of a healthy Grant Hill. Although a healthy Hill never really came into fruition, Outlaw became a cornerstone during the Magic's "Heart and Hustle" era with Darrell Armstrong and McGrady. Because of this, he quickly became a fan favorite. Outlaw was an animal down low, rebounding and blocking shots with force. What he lacked in offensive prowess, he made up for in hustle and athleticism. Outlaw still works with the Magic as a community ambassador.
4. Ryan Anderson (2009-2012)
Who would have thought that in a deal sending Vince Carter to the Magic that Ryan Anderson would eventually be the most important piece for the team? That improbability became a certainty when Anderson took over the starting power forward spot after the incumbent starter, Brandon Bass, was traded to the Boston Celtics for Glen Davis in 2011. Even though he was good off the bench beforehand, with increased minutes, Anderson's production skyrocketed. In the 2011-2012 season, Anderson averaged 16.1 points and 7.7 rebounds per game, up from 10.6 points and 5.5 rebounds per game in his previous season. This production was key in earning him the Most Improved Player award, the second Magic player to achieve that feat since 2007 when Hedo Turkoglu won the award.
5. Tony Battie (2004-2009)
The final entrant on our list is Tony Battie, but that doesn't mean his role was any less important. Even though he played some center for the Magic, he played next to Dwight Howard in a power forward role for most of his career in Orlando. Battie essentially became Dwight Howard's Horace Grant, which was pivotal in the young center's growth, much like what Grant did with Shaq. Even though Battie was mostly seen as a defensive force, blocking shots and rebounding well, he was also capable offensively. He was able to knock down mid-range jumpers with ease, creating space for Dwight Howard to work in the low post. This was important for a Dwight Howard who was just coming into his own as an offensive player and needed as much room to operate as possible. Unfortunately, injury plagued Battie and he was traded in 2009 to the New Jersey Nets in the deal that brought Vince Carter to the Magic.
Even though some of the players didn't have massive statistical careers with the Magic, the impact that these players had for the Magic were immeasurable.
Top 5 Point Guards
Top 5 Shooting Guards
Top 5 Small Forwards
Top 5 Power Forwards
Top 5 Centers
Top 5 Coaches