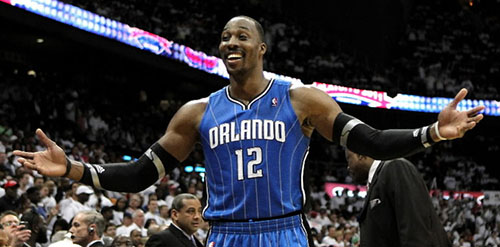 The center position has been celebrated and scrutinized in the Orlando Magic's 24-year history. All-time greats like Shaquille O'Neal and Dwight Howard have graced the Magic's parquet court, but those weren't the only important centers that have anchored the team down in the post. Let's look at the Magic's top five centers in franchise history.
No. 1: Dwight Howard (2004-12)
Even though most people know Dwight Howard lately as the player that put the Orlando Magic through the "Dwightmare" and who left Los Angeles for the Houston Rockets, he was the Magic's best center ever. He was a dominant force, leading the Magic to five playoff appearances and an NBA Finals appearance in 2009.
Howard was drafted first overall in 2004 and immediately made an impact. In his rookie season, Howard averaged 12 points and 10 rebounds per game, starting all 82 games. Even though these stats are impressive for a rookie coming to the NBA straight out of high school, he only scratched the surface of the seemingly unlimited potential that he possessed. Howard got better every season in Orlando, on his way to international stardom.
In 2010-11, Howard averaged the most points per game of his career at 22.9. In 2011-12, his last season in Orlando, Howard averaged a career-high 14.5 rebounds per game. A star on and off the court, Howard was a statistical monster in Orlando and his consistency over eight years makes him the best center in Magic history.
No. 2: Shaquille O'Neal (1992-96)
The Big TNT Analyst comes in at second on the list of best centers in Magic history. He only misses out on first place because of the short time he played in Orlando. O'Neal was a pivotal player in Magic history, even though his exit was less than amicable. However, when Shaq was a Magic player, he anchored a truly fearsome team that included Penny Hardaway, Nick Anderson and Horace Grant.
That Magic team took a trip to the NBA Finals in 1995 and posted the team's best regular season record ever in 1995-96, going 60-22. O'Neal dominated throughout his four years in Orlando, averaging 27.2 points and 12.4 rebounds per game through his four years in Orlando. However, O'Neal's time with the Magic came to an end, as he referred to himself as a "big fish in a small pond" in Orlando, moving on to the Lakers.
No. 3: Rony Seikaly (1996-98)
Stepping in and replacing a player like Shaq is no easy task, but Rony Seikaly was a very serviceable replacement for O'Neal in his two years in Orlando. The Lebanese center was traded to Orlando in 1996 from Golden State and was the team's starting center for two years before being traded to the New Jersey Nets in 1998.
During Seikaly's two years in Orlando, he averaged a very respectable 16.2 points and 8.6 rebounds per game. Seikaly was a contrast to O'Neal's powerful play, opting for finesse to make an impact for the team. Even though he's not a well-known commodity in Orlando history, Seikaly earned his place on this list for the way he produced and won over the fans after Shaq spurned them earlier that year.
No. 4: Nikola Vucevic (2012-present)
OK. I know. It might be a bit premature to put Vucevic on this list after only one season in Orlando, but what he did last year deserves recognition. Like Seikaly, Vucevic was tasked with replacing a franchise center that left for Los Angeles. Only this time, it was Dwight Howard. Vucevic was acquired from Philadelphia in the four-team trade that brought Dwight Howard to Los Angeles.
While originally considered to be an afterthought, Vucevic made his presence known by quietly producing for the Magic. That quiet production changed against the Miami Heat on December 31 of last year, when he set the team's record for rebounds in a game with 29. Some guy named Shaquille O'Neal held that record before Vucevic broke it. After that, Vucevic was squarely on the NBA map and he only got better as the season went on. Vucevic finished second in the league in rebounding with 11.9 per game, only behind Dwight Howard, and he scored at a respectable rate with 13.1 points per game. If he can get better from here, he may be higher on this list very soon.
No. 5: Marcin Gortat (2007-10)
The Polish Hammer rounds out the list at five, even though at first glance it doesn't seem like he should even make it at all. In his career with the Magic, Gortat only averaged 3.6 points and 4.0 rebounds a game, but that can be attributed to the fact that he was backing up the best center in the league, Dwight Howard. However, Gortat was a pivotal player on a team that had great depth at every single position and that showed on the court when the Magic put up 59 wins in 2009-10, Gortat's last full season in Orlando.
After Gortat was traded, he showed why he was a valuable asset, putting up 15.4 points and 10.0 rebounds per game in his first full season after being traded to the Phoenix Suns. Gortat was an intimidating presence in Orlando and was a great backup to Howard. He allowed Howard to gamble on plays and not be afraid of picking up fouls since Gortat was more than capable of playing and starting on almost any other team. This was vital for the team and was something they lacked after Gortat was traded.
All of these players were very important to the franchise, even though players like Shaq and Howard are the first (and possibly only) players you think of when you think about Magic centers. For Magic fans, hopefully that tradition continues with Vucevic and possibly Kyle O'Quinn off the bench in the future.
Top 5 Point Guards
Top 5 Shooting Guards
Top 5 Small Forwards
Top 5 Power Forwards
Top 5 Centers
Top 5 Coaches