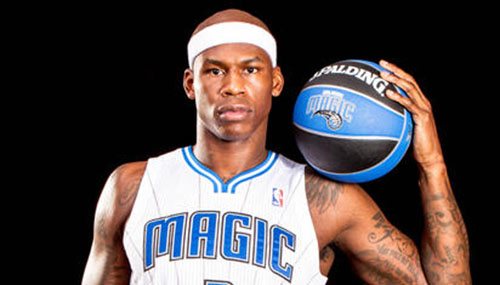 As training camp quickly approaches, Los Angeles's best team has one last hole to fill on the big man side of things. Although recently signed free agents Kenyon Martin (New York Knicks), Dejaun Blair (Dallas Mavericks) and Samuel Dalembert (Mavericks) would've been great additions to this list, here are five prospects receiving minimal water cooler chatter that can make solid contributions to the Los Angeles Clippers lineup. This mixed bag of studs and spuds is in the order of who I think should get that last contract… simply because I know everything!
5. Al Harrington
Recently released from Orlando, Harrington put up five points and three rebounds in 10 games before a season-ending knee injury. Those pesky injuries have the tendency to produce league-wide amnesia, as just two seasons ago with the Nuggets Harrington was a 14-point contributor from the bench. Reports from Impact Academy in Las Vegas show that Harrington is down 27 pounds and has regained his game and mobility. At 33 years old, a minimum contract would suit him well, and it's a risk worth taking for any team looking for that last piece to get over the hump.
4. Antawn Jamison
Remember the last time you turned a game on and said to yourself, "wow that guy is still in the league"? Most likely you were talking about Antawn Jamison. Jamison only made this list because of his recent dinner with Doc Rivers and supposed courtship from the Clippers front office. Yes, he's a nice guy, but so what—if the Clippers have learned anything from last season it's that nice guys and wins aren't synonymous. After adding two career 40-percent bombers in Redick and Dudley, the last thing the Clippers need is a 6'9″ softie who runs to the corner at the first sign of physical play. The Clippers bench has two slim-jims in Mullens and Hollins, and there's no room for a big that's incapable of defending the low post. League personnel have criticized Jamison's lack of physical play throughout his career. At this point Jamison seems to be the front-runner, I suppose Doc and Gary Sacks haven't been listening.
3. Earl Barron
Barron received a nod of respect after a 17-point, 18-rebound performance when inserted into the Knicks starting lineup three seasons ago. However, he hasn't done much since. Last season in 13 minutes of action per game he averaged three points and five rebounds. Nonetheless his career high sports double-double magic of 12 points and 11 rebounds. A true 7-footer, Barron has proven himself to be an adequate post defender and another big who can spread the floor with his decent mid-range jumper. He hasn't shown much ability to play the pick-and-roll, however with Mullens as a more capable shooter, this last big merely serves as a foul collector. Barron can get that job done.
2. Tyrus Thomas
The former lottery pick, who was amnestied by the Bobcats, has had a decline in offensive production. And who wouldn't with the Fresh Prince of Bel Air "pass the ball to Will" (aka Kemba Walker) style of basketball the Bobcats have adopted? He's an athletic 6'9″ forward who can keep up with the fast pace of play the Clippers are known for, in addition to being a constant on the defensive end with his long wingspan—perfect for shot-blocking.
1. Ivan Johnson
Johnson turned some heads last season, and it's a mystery as to why he's lasted this long on the free-agent board. In 69 games played behind Josh Smith and Al Hortford, he put up three double-doubles on the year and is a career seven-point, four-rebound guy in 15 minutes per game. Johnson could be the bruiser that the Clippers are sorely lacking at the moment. He's a career 53 percent field goal guy, most likely attributed to his ability to clean the offensive glass. Conversely the 66 percent in free-throw shooting leaves something to be desired. With DeAndre Jordan's miserably comparable career 42 percent, the Clippers most likely don't want more Hack-a-Shaq bait on the floor.