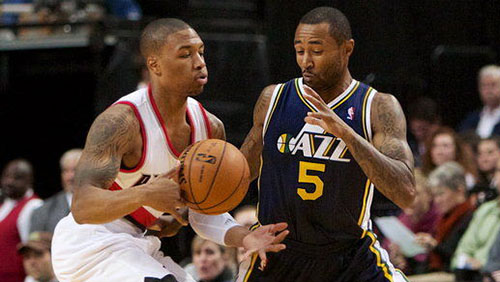 Mo, thank you. Mo, really.
I was just about to write an article citing the Portland Trail Blazers' alarming lack of depth at the point guard position. I'd started to admit what most Blazer fans have conveniently ignored for the entire offseason. Lost in the hullaballoo of C.J. McCollum's success in the NBA Summer League was the fact he seemed poised to back up Damian Lillard from the outset of the season.
While this might be the only Rip City recipe for long-term success, asking so much of a rookie making the transition from the Patriot League to the NBA might have stunted his progress. It's true McCollum will need consistent minutes to develop his NBA game; however, his game also relies on his audacity as a scorer and creator. Premature failure would have hurt his confidence and adversely affected Lillard's game in the process. All this was relevant until last night. Enter Mo Williams. Exit desperation.
Mo Williams is exactly who Earl Watson (Portland's other point guard acquisition) isn't — a proven scorer and facilitator. He'll be an important mentor to Lillard, and he'll allow McCollum to hone his game as a back-up 2-guard. Not to knock Watson (I think he can teach the young'uns how to abdicate), but Mo, at 30 years young, can still produce on the court. Despite a dip in his statistics last year, he logged a PER of 17. And unlike Ronnie Price, Nolan Smith or other ghosts of point guards past, Williams can shoot.
Watching McCollum dominate the Summer League, I was conflicted. He reminded me of Damian Lillard, which most intelligent fans would say is a good thing. Just the same, despite his point production and his ability to deliver in the clutch, he only shot 36 percent from the field. Confronted with two score-first point guards, I worried about passing. While Lillard improved as a facilitator as last season progressed, Portland was 26th in the league in total assists.
Fortunately, Mo Williams is good for five or eight dimes off the bench.
His presence will undoubtedly make Lillard more effective when he returns to the floor, and Wesley Matthews must be relieved to be free of point guard duties. Portland's two primary frontcourt weapons, Nicolas Batum and LaMarcus Aldridge, will get more touches and consequently more opportunities to find an offensive rhythm.
Offensively, Mo Williams' signing is a godsend. However, let's not forget that the Trail Blazers ranked 26th in defense last year. Neither he, nor Watson, nor Lillard are accomplished defenders. Hopefully, Robin Lopez's presence will make it easier for Blazers guards to keep the ball in front of them and Terry Stotts has more up his sleeve than just an offensive playbook.
Regardless, I welcome you to Portland, Mr. Williams, and I look forward to watching your mentorship unfold. While it isn't exactly Brett Favre grooming Aaron Rodgers, your relationship with these young point guards could elevate their game and the franchise to unprecedented heights.