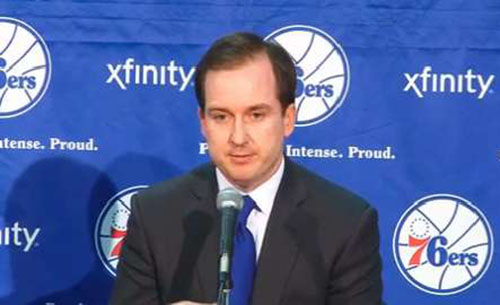 The Philadelphia 76ers franchise has been mired in a state of flux since team president and part-owner Pat Croce left many moons ago. They were able to skate through the Allen Iverson Era because of his star appeal and notoriety. Ownership even brought Iverson back, with hopes of being the answer to plunging ticket sales.
Last summer's acquisition of Andrew Bynum changed the fortunes of the 76ers for the worst. The draft night trade of All-Star point guard Jrue Holiday for the rights to Kentucky's Nerlens Noel and doing next to nothing in free agency is a clear indicator Philly is taking the long road back to respectability.
This is a team no one wants to be seen with — even in the mirror.
No matter what was accomplished under Doug ColIins, I always felt it was for the short term. It was the main reason I was never in favor of the Collins hiring in 2010. The team was in need of a coach who was not far removed from the game, energetic and capable of getting through to younger players. Most importantly, the coach would need patience with a new ownership staff having little knowledge of player personnel.
The glaring faux pas in Collins' tenure was drafting Ohio State's Evan Turner second overall in the 2010 NBA Draft. The team was in need of a young big man after athletic center Samuel Dalembert was dealt to the Sacramento Kings for a slower less aggressive Spencer Hawes. Selecting DeMarcus Cousins or Greg Monroe seemed to be the ideal choice to groom with veteran forward Elton Brand and Hawes. Word coming out of the 76ers camp was Collins wanted Georgia Tech's Derrick Favors and then-GM Ed Stefanski wanted Turner.
For two seasons, Collins made it work with a lineup — which included Andre Iguodala, Lou Williams, Thaddeus Young, Jrue Holiday, Brand, Hawes and Turner. With the Boston Celtics, Chicago Bulls and Miami Heat at the top of the Eastern Conference, there were no parade routes being mapped out in Philly, but hopes of remaining a competitor were there.
Chances are Collins and Co. don't make it out of the first round if Derrick Rose doesn't shred his knee in 2012. Nevertheless, the 76ers validated their first round upset by taking the Boston Celtics to Game 7 of the Eastern Conference Semifinals. Evan Turner was beginning to come into his own with another season under his belt. Rookie big men LaVoy Allen and Nick Vucevic were impressive during the regular season and playoffs.
Philly's new ownership, headed by Joshua Harris sought to bring fans back by reaching into the teams history and bringing some of the teams all-time greats back on a regular basis. Julius Erving, Bobby Jones and Moses Malone were brought back on several alumni nights. The most dramatic moment was when the beloved Andrew Toney returned to Philadelphia for the first time in nearly two decades. A fence not even Pat Croce being the great team ambassador he was could mend.
It would be their lone miracle.
In less than twelve months, the 76ers have moved two All-Stars in Holiday and Iguodala — who also made the gold medal winning Team USA roster and a budding low post stud in Vucevic — only to gain more doubters in return.
Throughout the NBA Playoffs, draft and free agency, there have been rumors to who will be the next head coach in Philadelphia. There was an new leak night of the draft that San Antonio Spurs assistant Brett Brown was hired. Most recently Portland's David Vanterpool, Boston's Jay Larranaga, Chicago's Adrian Griffin, Atlanta's Kenny Atkinson and Brown have been on the teams coaching radar. Don't count out current team assistant Michael Curry as a prospect.
New GM Sam Hinkie has been busy, but all he has to show for it is the contract of malcontent Royce White, Rookies Michael Carter-Williams and Nerlens Noel. Trading Holiday for Noel is reminiscent of last year's acquisition of Bynum for Iguodala and for those like me, old enough to remember the painful trade of Moses Malone for Jeff Ruhland nearly thirty years ago. Lost in the Bynum deal was second-year player Vucevic — who second in the NBA in rebounding and posted six games with 19 or more boards.
Allowing Bynum to sign with another team and trading Holiday left the franchise with more than enough to spend on quality free agents. Instead, they have chosen to work the clearance racks. They'll shuffle through the season with the likes of Damien Wilkens, Royal Ivey and Kwame Brown, with incumbents Turner and Young in hopes of stockpiling money and losses in hopes of landing Andrew Wiggins with the first pick in 2014.
The combo of trading All-Stars for players with bad knees ranks up there with soft pretzels and water ice.
I know how luck or the lack thereof works in Philly. The Eagles ended up with Leroy Keys instead of O.J. Simpson, the Phillies had the lesser of the two DiMaggio brothers. Again, the Eagles traded up to draft Mike Mamula over newly minted Hall of Famer Warren Sapp. Finally, in 1993, the 76ers took Shawn Bradley over Anfernee Hardaway and Jamal Mashburn.
Once again, Philly's faithful, yet inpatient fans have been duped into walking down a dark road towards an oncoming light with nothing but hope in their hearts.