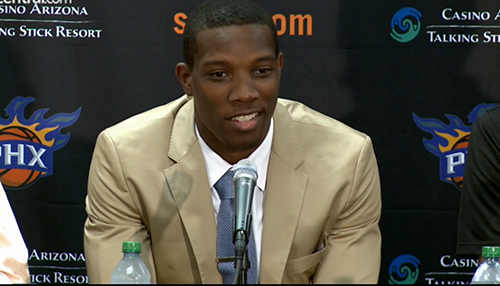 When you're given the nickname Mini Lebron by teammates in your second season, expectations tend to increase. When you're mentioned as the key piece in a potential trade for Kevin Garnett, expectations tend to mount. When you're referred to by your teammate at an introductory press conference as a player with superstar written all over him, then expectations have arrived.
For Phoenix Suns guard Eric Bledsoe, this season represents a chance to showcase, as a starter, the flashes of talent he has shown the last two seasons as a backup to Chris Paul.
Regarded as one of the top athletes in the league, Bledsoe has been a valued trade commodity for the Los Angeles Clippers since his first year in the NBA. And while his numbers have been modest, he has been part of trade rumors the last two seasons, speculatively being traded to the Boston Celtics, Orlando Magic, Milwaukee Bucks and Toronto Raptors, among others.
Bledsoe averaged just 8.5 points, 3.0 rebounds, 3.1 assists and 1.4 steals per game last season in only 20.4 minutes per game. Not exactly jaw-dropping statistics, but his per 36 minutes numbers according to basketball-reference.com of 15.4 ppg, 5.4 apg, 5.2 rpg, and 2.5 spg are what had new Suns general manager Ryan McDonough gushing about to the Arizona Republic when it came to his new acquisition:
"I hope he can be (a potential star)," McDonough said. "He's not yet. But I'd say all of us, myself included, are very excited to see what he'll become."
While Bledsoe, who is entering the last year of his contract, has drawn praise from his new general manager, he has also drawn comparisons to another former guard the Suns traded for in 1987, Kevin Johnson.
The parallels are eerie when it comes to Bledsoe and Johnson. Like Bledsoe, Johnson played 20 minutes per game for the Cavaliers and like Bledsoe, averaged three assists per game. And like Bledsoe behind Paul, Johnson was getting limited minutes backing up NBA All-Star point guard, Mark Price.
Johnson came to the Suns via trade, just like Bledsoe, and was immediately inserted into the starting lineup as the team's point guard, with incumbent point guard Jeff Hornacek sliding over to shooting guard. Now fast forward more than 25 years later, and the man Johnson replaced, Hornacek, is the new head coach of the Suns. Hornacek has slotted Bledsoe as one of his starters, however, he is unlikely to bump incumbent point guard Goran Dragic from the starting lineup.
Dragic, entering his ninth season in the NBA, averaged 14.7 points and 7.4 assists per game last season and is entering the second year of a four-year contract worth $34 million.
Because of his contract and talent, and because of the recent trade of Bledsoe, expect Hornacek to start the season with a backcourt of Bledsoe and Dragic. This essentially gives him a pair of guards capable of playing either the point or off the ball, and giving opposing defenses matchup problems in the process.
McDonough, in his first year as general manager of the Suns after coming over from the Celtics, envisions a similar backcourt as the one the Celtics had entering last season with Avery Bradley and Rajon Rondo:
"I see (Bledsoe) as a basketball player, I try not to differentiate (positions). That's one of the things we had success with in Boston on a limited basis with Rajon Rondo and Avery Bradley. I'm hoping to see some of the same stuff with Goran Dragic and Eric Bledsoe. If guys are both tough and aggressive and can pass and shoot well, that leads to a lot of good things."
While the NBA Playoffs this season remain a long-shot, a starting backcourt of Dragic and Bledsoe offers the Suns' fanbase hope that better days may be ahead in the future.