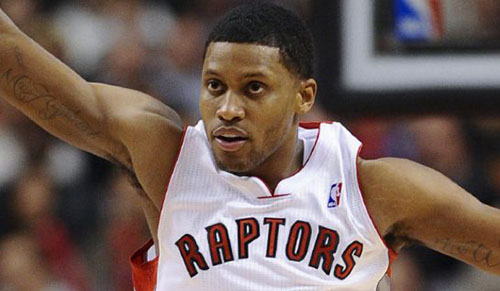 When Rudy Gay was drafted in 2006 by the Houston Rockets, the Memphis Grizzlies made a trade to acquire him. If you look at the amount of money that Rudy has on his contract, it's easy to tell that Grizzlies general manager Jerry West made that trade assuming Gay would be with the team long-term and be the cornerstone of the franchise. When the Grizzlies acquired Zach Randolph and traded Pau Gasol to the Lakers in a deal that sent his brother Marc over to Memphis, you could see a shift in the way the Grizzlies wanted to play, following the resignation of West after the 2006-07 season. Soon the big man tandem of Randolph and Gasol became the focal point and Rudy was left to try and be the scorer of the team. After a couple of failed playoff runs, one with Rudy and one without, Grizzlies general manager Chris Wallace made Rudy Gay available for a trade. He was shipped off to Toronto and all of a sudden he had the love of an entire city, along with the pressure that comes with being "the man."
When the trade between the Toronto Raptors and the Memphis Grizzlies went down earlier this year, it was clear who the best player involved was. Rudy Gay went to Toronto while Jose Calderon went to Detroit and Tayshaun Prince, Ed Davis and Austin Daye (who recently signed in Toronto this offseason) ended up in Memphis. That trade was executed on January 30th, 2013 which only gave Raptor fans and the Raptors organization a few months to see how well their new acquisition played. Going into the 2013-14 NBA season, the question on every Raptor fans mind is will Rudy Gay play like the player he's supposed to be or will he stay in his borderline All-Star ways?
For a player who is going to make almost $18 million this upcoming season with a player option for the next season valued at over $19 million, Rudy Gay should be an NBA All-Star at the very least. You can't make nearly as much money as LeBron James and Dwyane Wade and average just less than 20 points in thirty-three games on a team where you're the number one scoring option. I don't expect Rudy to all of a sudden become an elite player and lead the Raptors to the NBA Finals but for him to earn his contract, he needs to be an All-Star this year; no excuses. He even had a procedure to correct his eyesight this offseason, which will hopefully increase his shooting percentage by at least a few percentage points.
Rudy proved last season that he can be a clutch player, just like he was in Memphis. He made big shots down the stretch against the Indiana Pacers and the Denver Nuggets. Being "the man" on a team means that you have the ball in your hands at the end of the game; winning and losing is all on you. Being clutch is a trait that most, if not all franchise players have and it's very encouraging to see that Rudy has the clutch gene.
Being the franchise player comes with a lot of pressure, more so than any other player on the team. The franchise player has to be good night-in and night-out and can never have an excuse as to why they didn't play well. The media and fans will tear you apart if you don't play up to their standards, which is unfair, but something they have to deal with.
Rudy Gay is currently the best player on the Toronto Raptors, making him the franchise player. More than likely Rudy will pick up his player option for the 2014-2015 season, making him a Raptor for two and a half seasons. The man looking to take his place as "the guy" is 21-year-old sophomore Jonas Valanciunas. If Rudy wants to remain the franchise player in Toronto and be the number one option, he has to work and play harder than he ever has before. The thought of losing his spot will put more pressure on Gay to perform well every night, something that will hopefully push him to the limit and allow him to perform at an All-Star level consistently this season.
Rudy Gay has always had potential, as well as freak athleticism. He has no more excuses. He's "it" in Toronto, no question. Handling the pressure and becoming a first time NBA All-Star this year is all on him. I guess all we can do now is wait and see how he handles it.