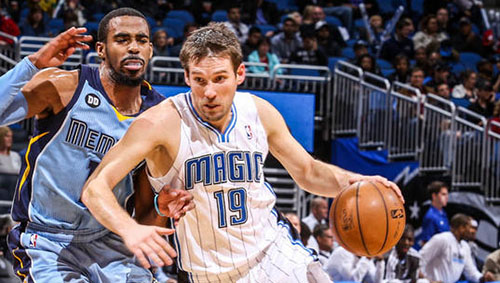 This past week the New York Knicks confirmed themselves for negotiating one of the most underrated deals of the summer by signing Slovenian point guard Beno Udrih to a one-year deal. The nine-year NBA veteran is a solid addition to the Knicks backcourt, and brings championship experience to the team (Udrih won NBA titles with the Spurs in 2005 and 2007). The Udrih signing is not one of the flashiest, but could prove to become one of the most important.
Let us examine his game to find out why.
Beno Udrih is a former first-round pick of the San Antonio Spurs in 2004, and prior to his NBA debut he was a member of the Slovenian national team. In his rookie year in the NBA he primarily served as Tony Parker's backup, but did win a Rookie of the Month award allowing him to be selected to the Rookie Challenge during NBA All-Star Weekend. His rookie season Udrih played 80 games, averaged 5.9 points, 1.9 assists and shot 40.8 percent from three-point range, showing that he is a pretty solid and healthy player.
Following two NBA titles with the Spurs, he was signed by the Sacramento Kings in 2007 as a fill-in for point guard Mike Bibby, who was injured. He stepped up in his starting role and scored a career high 27 points against his former team. That year with the Kings, Beno averaged 12.8 points, 4.3 assists and 3.3 rebounds. He would soon sign a new deal with the Kings and made his mark as a crafty left-handed player.
Following a couple of similar seasons with the Kings in stats (13.7 PPG, 4.9 APG and 3.4 RPG), he was traded to the Milwaukee Bucks as part of a three-team deal. Udrih saw his minutes and productivity decrease, averaging only 5.9 points, 3.8 assists and 1.7 rebounds, similar stats to his rookie season. Not happy on the Bucks, he was traded to the Orlando Magic last season at the trade deadline and immediately saw his numbers increase to 10.2 PPG, 6.1 APG and shooting a 46.2 percent from the field. This was due in large part because the starting point guard for the Magic, Jameer Nelson was injured.
Fast forward to today and what do we have…
Beno Udrih is a solid player that when given the opportunity to run the show puts up pretty good numbers. He is a lefty with a lethal pull-up jumper from mid-range, and plays the pick and roll well, which is New York's most effective attack. He is a solid passer and crafty off the dribble, so he should have no problem setting up his own shots and finding Carmelo Anthony, J.R. Smith, Andrea Bargnani and Amar'e Stoudemire.
He isn't the quickest of guards, which hurts on defense, and could be a potential downside to New York running the dual point-guard system. However, Udrih will give New York the ability to score, play both guard positions and can catch and shoot from three.
Beno Udrih might have only signed a one-year deal, but he will get playing time, and when he plays it will be just what the doctor ordered for the playoff-bound Knicks.