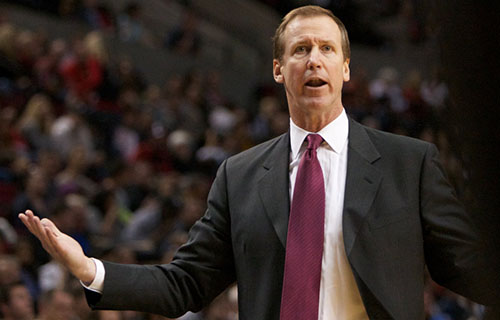 Portlanders feel silly giving ultimatums; the minute we grumble "or else," we laugh at ourselves for imposing arbitrary deadlines on other people's lives. We are known for our politeness and our patience. In what other city can I expect to cross a busy street on my bike in less than ten seconds? Instead of the "me against the world" attitude that most city dwellers eventually adopt, here in Portland, it's "we against the world." While that disposition makes the city a wonderful place to live, it also makes life difficult for demanding sports fans. Even if I make a case based on hard evidence (and I will) that Portland Trail Blazers head coach, Terry Stotts, should modify his core philosophy to maximize the output of his personnel, I will be mocked as a know-nothing defector. If I repeat the same reservations that were raised last year, I'll be labeled a copycat liar. Obviously, I'm going to do it anyway. It's August. What else am I going to write about?
While he's never had a winning season in his head coaching career, Terry Stotts is still our head coach. However, to question his qualifications as the ringleader of Rip City is either impolite or immature. After all, his defenders say, he's only been here for one season, and he wasn't exactly gifted with the most talented team last year. Nevertheless, his track record doesn't offer much hope for improvement. A quick glance at his numbers suggest that a successful 2013-14 campaign would indeed be an outlier in an otherwise uninspiring career.
A disciple of both George Karl and Rick Carlisle, we can be sure that Mr. Stotts knows his basketball. Still, head coaching is much different than assistant coaching, and barring a miraculous resurgence or drastic philosophical change, the Trail Blazers will once again shoot too many shots, forget to make an extra pass and play bad defense. Last year, Portland was 20th in the league in assists and 29th in FG%.
According to GM Neil Olshey, Mr. Stotts' style is "playing in flow, taking early shots, running random pick-and-rolls and not having to rely on structure and sets every time down the floor." This makes sense when you have Jason Terry (the Dallas Mavericks version) and Dirk Nowitzki on your team. However, if you couldn't shoot last year, and you'll have the same starting backcourt this year, maybe it's time to revise your strategy.
Unfortunately, these statistics are too familiar for teams on Mr. Stotts' head coaching resume. While he started positively in 2002 with the Atlanta Hawks (they were 8th in FG% and 15th in assists), his Hawks were 17th in FG% and 20th in assists the following year. In his most recent stint before arriving in town, the 2005-06 Milwaukee Bucks were 24th in FG% and 25th in assists. The year after that, they were 29th and 30th. Though I'm no TI-86, it seems that Mr. Stotts has been making the same mistake. He clearly overestimates the talent on small-market teams and encourages individual stardom. Just as it did to Michael Redd in Milwaukee, this approach will make Damian Lillard an elite player in Portland. Additionally, when the Blazers are shooting well, the team will be more fun to watch than fainting goats. But will this brand of Blazer basketball lead to wins, or will it simply encourage chucking the ball at the rim with 20 seconds left on the shot clock?
There's a reason why the statement "defense wins championships" has become a sports cliche. A good defense can make up for a woeful field goal percentage. Although running and gunning occasionally works, it invites opponents down the floor for easy opportunities. If that team shoots better than us (keep in mind we were 29th last season), they'll win the game. Additions like Mo Williams, Earl Watson and C.J. McCollum will fundamentally improve the defense just by spelling guys and bringing energy off the bench, but none of these guys are lock-down defenders.
While I admit the roster is better and I'm pleasantly surprised by the Blazers' offseason moves, I hope Mr. Stotts will modify his style so this team can compete. I am not suggesting Mr. Stotts be fired. After all, I am a Portlander, and I think he deserves another chance to guide the team. Just the same, I do think the Blazers need to work on their sets. Young players not named Lillard or McCollum don't excel in loose sets, and players that struggle from the field should have scripted plays that generate lay-ups. It may not be as a fun, but there's a beauty in formalism. If you don't believe me, watch LaMarcus Aldridge's 18-footer. It's the one shot the Blazers consistently make. It looks the same every time: same release, same arc and same swish.