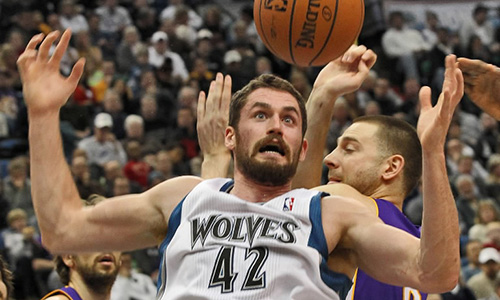 We hear it in every sport: A star player gets frustrated with his front office's inability to surround him with the right teammates to win a championship. It drove LeBron James away from the Cleveland Cavaliers and Carmelo Anthony away from the Denver Nuggets, and it's threatening to do the same to Kevin Love and the Minnesota Timberwolves.
Love has been outspoken over the last year about his frustrations with Wolves management. The frustrations began after the 2012 Summer Olympics, where the 24-year-old was the only player on Team USA that hadn't been to the NBA Playoffs. This was embarrassing and frustrating for him, and he made it known through the media.
Owner Glen Taylor and former president of basketball operations David Kahn have reason to be held accountable. Wesley Johnson, the fourth overall selection in the 2010 NBA Draft, was traded to Phoenix after two disappointing seasons. Jonny Flynn's dropped off the face of the earth and out of the league. The team has traded picks on draft day that turned into Mario Chalmers and Ty Lawson. And last season they featured a lopsided, four-point-guard rotation consisting of Ricky Rubio, J.J. Barea, Luke Ridnour and Alexey Shved.
Love's frustrations also come from the max contract he expected but didn't receive. Instead, he signed a four-year, $62 million extension in 2012, which he can surprisingly opt out of after the third year. As the Wolves' All-Star player, he was insulted not to be offered the max deal, which might be reserved instead for Rubio in the near future. Throw in the rumors that management wasn't sure that Love was being truthful about how he broke his thumb, and we have a huge mess.
However, the Wolves have also started to fall out of love with Love. After his surprisingly quick return from a broken thumb, he struggled shooting the ball last season, shooting 35 percent from the field in his 18 games. He looked nowhere near the All-Star player that was the talk of the town and league two seasons ago. The team can't be happy with how outspoken Love has been about this whole situation, either.
Ultimately, Love is still with the team and the Wolves replaced Kahn with former coach Flip Saunders. Saunders was the last coach to bring the Wolves to the playoffs. This change in management, along with the key additions of Kevin Martin, Chase Budinger, ex-Wolf Corey Brewer and the drafting of UCLA standout Shabazz Muhammad, may convince Love that his team is heading in the right direction. They have until the 2015-16 season to make Love stay.