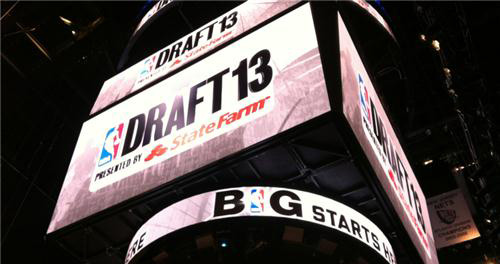 The sixty players that make up the 2013 NBA Draft Class come into their rookie seasons with different goals and outlooks. Some of these rookies anticipate getting major minutes and having big roles on their new teams. Other rookies may be looking to fill small roles for teams that made the playoffs last season. If you're a rookie not in the above two situations, then you're one of the many rookies fighting for the few available NBA roster spots.
So what should we expect from the 2013-14 rookie class? Well, I foresee a group that will collectively struggle to make a big impact on the NBA during their rookie campaigns. However, I also see a few players who will stand out and make names for themselves across the league. With that being said, here are some of my early predictions for the for the incoming NBA draft class.
1. Which player will lead the rookies in scoring?
There are a few standout scorers from this year's class. Ben McLemore, Kentavious Caldwell-Pope and Otto Porter Jr. all were big-time scorers at their respective universities last season. However, I believe the top scorer from this draft will be Victor Oladipo. The second-overall pick from Indiana brings size and energy to the Orlando Magic backcourt. Though he isn't as skilled a shooter as McLemore, Oladipo is better at getting to the bucket for easy points. His tenacious defense will force turnovers and help get him points in transition as well. Considering Orlando will struggle to find points throughout this season, Oladipo should find many chances to prove himself as a top scorer.
2. What rookie will have the most assists this season?
Trey Burke of the Utah Jazz will be the top assist man among all rookies. He showed at Michigan he could facilitate the pick-and-roll (the most commonly run play in the NBA) and led the Big 10 in assists last year. Though he is bit undersized, Burke will hold his own against the premier point guards in this league based on his heart, determination and basketball IQ. He can adapt to the game and I predict Burke will average at least seven assists per game.
3. What rookie will stand out as a premier defender this season?
The easy answer here would be the Philadelphia 76ers' Nerlens Noel, considering he led college basketball in blocks per game last season. Noel has an under-developed NBA body though, and showed a tendency in college to leave his feet far too often. His rookie campaign will likely see him with considerable time on the bench due to foul trouble. With that being said, I expect Victor Oladipo to standout as the best rookie defensive player this season. As noted earlier, he has exceptional speed and quickness, which allows him to stay in front of players at either guard position. In addition, his talent for anticipating plays on defense will lead to easy fast breaks and lay-ups for both him and his teammates.
4. Who will lead the league in rebounding from this draft class?
The leading rebounder among all rookies will be Cody Zeller or Anthony Bennett. Oh, I guess I'm supposed to choose only one person. Well, let's give the rookie rebounding title to Cody Zeller. He will most likely be the starting power forward for the Charlotte Bobcats this season and should get a lot of minutes on a Bobcats team that doesn't have much up front, outside of he and Al Jefferson. Bennett is joining a Cleveland Cavaliers team that will have Tristan Thompson, Andrew Bynum and Anderson Varejao playing significant minutes up front. The bottom line is Zeller will have more opportunities for rebounds, thus he will likely lead all rookies by the end of the year.
5. What rookie has the most upside?
The answer to this question may blow your mind. I believe Alex Len of the Phoenix Suns has the highest upside of anybody in this draft. For being 7'1," Len has an exceptional ability to shoot the mid-range jumper. He can get up and down the court in the transition game, and does a really good job of blocking shots. His biggest issue in the NBA will be keeping his weight up, especially considering he came to the University of Maryland weighing only 215 pounds. If Len can put on about thirty pounds of muscle, and develop some post moves, I believe his game can strongly resemble that of Brook Lopez.
6. What rookie will have the biggest impact on an eventual playoff team?
Otto Porter Jr. will be the most influential rookie on a playoff team this coming season. The 6'8" Porter gives the Washington Wizards a welcome versatility from the small forward position. The third overall draft pick can shoot from the perimeter, or penetrate off the dribble for easy buckets in the paint. The Wizards had an up-and-down season last year, playing their nearly .500 basketball following the return of John Wall from injury. If Wall plays an entire season, and Porter transitions well into an NBA starter, the Wizards should be a playoff participant for the first time in six seasons.
7. What player outside the 1st round will have the biggest impact on the NBA this season?
Jamaal Franklin from San Diego State will surprise many people this NBA season. The 6'5" shooting guard led his college team in points, rebounding, assists and steals last year. He plays very good defense and is excellent at creating his own shot. The only knock on Franklin is that he is a below-average shooter. Nonetheless, the fact he plays hard-nosed defense and can get to the basket will offer him numerous opportunities to play on a Memphis Grizzlies team that is known for their D.
8. What top ten pick will be the biggest disappointment this season?
Anthony Bennett will disappoint his first season with the Cleveland Cavaliers. The first overall pick will struggle to find his role coming off the bench, and will spend his first year trying too hard to live up to the expectations of being the top selection in the draft. In addition, The undersized Bennett won't be able to score in the paint, which will cause him to spend time on the perimeter. Though he is a good shooter, I don't think he will find it easy to get the perimeter shots he did in college. Bennett will be a good NBA player, but it will take a few years for him to get there.
9. What foreign player will have the best rookie season?
Dennis Schroeder will be the best international player. The 6'2" Schroeder, drafted by the Atlanta Hawks, will eventually take the starting point guard position from Jeff Teague. Though he is slender at 170 pounds, Schroeder has the ability to fight hard through screens on the defensive end and get his hands in passing lanes. In addition, he is a very good athlete that can push the ball up the court and create for others in the transition game. His maturity for a rookie will also become very evident as the year goes on. Keep an eye on this kid, as he will make a name for himself in the long-term.
10. Who will be the 2013-14 NBA Rookie of the Year award?
Victor Oladipo will log significant minutes on a very bad Orlando Magic team. The mere fact they need his scoring and defense will allow Oladipo to showcase his many skills for the Magic. He is a great athlete and has a strong understanding for how the game should be played. If he gets hurt for any long stretch of time, look for Trey Burke to make a hard push for the award.
These are my predictions, but what are yours? Put them in the comments below!