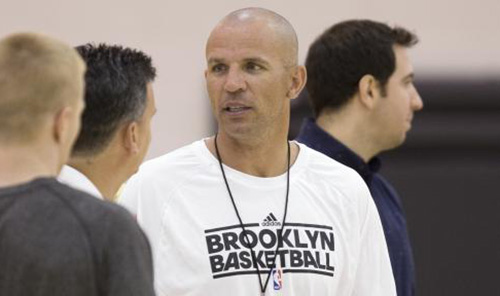 As summer winds down, the NBA will just have begun heating up again and the forecast for the upcoming season will have some coaches sweating more than others.
Some teams will always be under widespread scrutiny while others are just next in line to fall under the microscope of judgment.
Here are several NBA coaches that will be looking for the nearest thermostat this season:
Jason Kidd, Brooklyn Nets
Kidd made plenty of headlines this offseason when he was named head coach of the Brooklyn Nets shortly after retiring as a player, a transition that rivaled the best fastbreaks he ran during his younger days. The unprecedented quick shift from the court to the sideline would be reason enough for Kidd to draw attention, but pressure to perform well will be compounded for a number of reasons. He's chosen a tough place to start his coaching career – in New York, the media capital of the world and a place not exactly known for pulling punches on public figures.
Kidd takes over the Nets in their second year in Brooklyn, so it's safe to assume that the honeymoon is over. The team with the second-highest payroll in the league last year was taken out in the first round of the playoffs in embarrassing fashion, losing to a Bulls team that was decimated by injuries and led by Nate Robinson. To make up for recent shortcomings, Nets management decided throwing around money would be the best solution. Now, Brooklyn sports the highest payroll in the NBA with an astounding $101 million committed to its roster this season. One of the reasons the salaries have ballooned to about $20 million more than last season is because of the biggest trade of the summer, which saw Paul Pierce and Kevin Garnett make the move to Brooklyn. The man behind all of this activity is none other than the Nets' ultra-competitive and wealthy owner Mikhail Prokrohov. His money has funded the moves that launched Brooklyn into contender status and Kidd will surely have more than the media to answer to if the star-studded roster doesn't live up to high expectations.
Mike D'Antoni, Los Angeles Lakers
Jim Buss went all Fredo Corleone on us in November when he went against the Laker family and hired D'Antoni before even getting a response from Phil Jackson. The decision turned out about as good as it did for the mustachioed mobster; Jim has been running the show just long enough to see the West Coast empire nearly collapse and for rumors of him being usurped by his sister Jeanie to swirl.
D'Antoni tried to impose a system that didn't fit the roster and failed to exploit the massive mismatch that simultaneously playing Pau Gasol and Dwight Howard presented opponents. (Seriously, how do you figure out around game 77 that one of the game's best-skilled big men actually does play well with one of its most dominant low-post centers?) In the midst of a race for the playoffs, fans in Los Angeles serenaded Jackson with chants of "we want Phil" during a halftime ceremony honoring the legendary coach. Not long afterward, D'Antoni ran the face of the franchise into the ground by playing Kobe Bryant an exuberant amount of minutes in a late season push … for the eight seed. The insane workload resulted in a torn Achilles for Bryant and a humiliating first round playoff exit via a sweep by the Spurs. With Howard gone, Steve Nash a year older, Bryant's health questionable and a bench that is every bit as bad as last season, D'Antoni's job will be even harder. Nonetheless, the expectations will always be high in LaLa Land.
Brian Shaw, Denver Nuggets
Fans of downtrodden franchises – veterans of the coaching carousel – know better than most that the potential of the unknown is almost always more intriguing than a recycled commodity, and Shaw has been especially alluring for years now. Perhaps more than anyone in the league, Shaw has benefited from the attractive mystery of a young, untested assistant coach. He famously served as an assistant underneath Jackson in Los Angeles and was widely expected to succeed the Zen Master before being passed over instead for Mike Brown. Since then he's been linked to just about every coaching vacancy that pops up in the league. But despite constantly being a fixture of the rumor mill for the longest time, Shaw was never able to actually land a head coaching gig. Shaw finally got his shot this offseason when he was hired by the Nuggets.
Denver had a breakout run last season, stringing together a win streak only overshadowed by Miami's historical stretch and earning a three-seed in a stacked Western Conference. As a cherry on top, George Karl was awarded NBA Coach of the Year. Then Josh Kroenke took crazy pills. The Nuggets president let walk the NBA Executive of the Year, Masai Ujiri, and then fired Karl. Shaw will have the unenviable task of following up a season in which Denver exceeded all expectations. How will Shaw's triangle offense fit a roster built to get out and run in Karl's fast-paced offense? Not only will Shaw have his work cut out for him in getting the Nuggets to repeat the hype they generated last season, but he'll be trying to live up to hype of his own.
Rick Adelman, Minnesota Timberwolves
The Timberwolves have struggled in the first two years of Adleman's tenure, though it might not be entirely his fault. Two years ago Kevin Love tweeted that he was "just thinking about pick and rolls" [sic] in reference to the news that Ricky Rubio would soon be joining him in Minnesota, but the two have rarely been on the court at the same time. Rubio's rookie season was cut short by an ACL tear and Love only played 18 games last season. This season, both are expected to be fully healthy and the new front office in Minnesota has made numerous attempts to surround them with some talent. The Timberwolves added plenty of perimeter scoring and bolstered their depth across the board this offseason. Minnesota's winning percentage under Adelman thus far has been a measly .385, but with a healthy squad and new acquisitions there will be pressure to make the playoffs this season.
Dwane Casey, Toronto Raptors
Toronto swung for the fences in a blockbuster trade that landed Rudy Gay in maple leaf country and the jury's still out on whether or not it was a truly fruitful move. Meanwhile, Jonas Valanciunas and Terrence Ross may be primed for big leaps in progress this year. Casey hasn't had much success in his two years in Toronto, but the Raptors went .500 in 36 games following the Gay trade last season and the Eastern Conference is top heavy, making a playoff berth a possibility this season. Well, a playoff appearance might be an optimistic outcome for the Raptors, but if Casey can't at least steer his young team in the right direction he could very well be gone. Toronto's biggest splash this offseason was hiring Ujiri, who may want to hire his own guy at head coach if Casey doesn't impress.