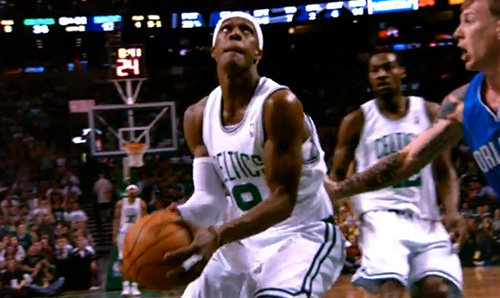 Last year, many considered Rajon Rondo to be one of the top point guards in the NBA as he averaged 11.1 assists per game before succumbing to injury. When it came to play-style, Rondo was as true a point guard as ever, with court vision and passing so precise he could hit teammates consistently without even looking. It seemed as if Rondo just knew when and where the ball was supposed to be, and he was always at the right place at the right time.
Many argue that Rondo's scoring average of 13.7 points is too low for him to be considered an elite point guard, but he makes up for his lack of scoring ability with stellar all-around play. Rondo has 18 triple doubles in his young career, as he has been a playmaker for the Boston Celtics night-in and night-out. He averaged a double-double last season and his passing display was phenomenal. What Rondo brings to the table is an ability to drop dimes, which keeps defenses on their toes as his behind-the-back and no-look dishes are virtually untouchable and leaves the opponent wondering how in the world he delivers the ball with such ease.
Rajon Rondo is capable of breaking down any defense that's foolish enough to try to contain him. He is also a strong contributor on the boards as he averaged 5.6 rebounds, which is excellent for a point guard. Rondo should come back strong from his injury and pick up some of the scoring slack out of necessity as Boston's talent will be lower than it has been in years. With an improved scoring attack, Rondo will be the most complete point guard in the NBA.
Here are Rondo's top ten plays of his career. Ten plays that show why Rajon's passing ability, floor vision and all-around hustle could make him the best point guard in the NBA this coming season.