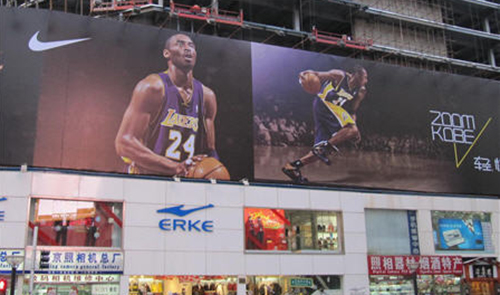 By David Stern's decree, the Los Angeles Lakers spent the back half of their pre-season in China, competing against the Golden State Warriors in a pair of exhibition games and traveling the country in an international publicity campaign. Though coach Mike D'Antoni and many rational minds have reservations over sending an aged squad across an ocean, forcing them to combat jet lag and general travel fatigue while they race Father Time and recover from debilitating injury, as the Commissioner commands, the league must follow. Ever the optimists, the Lakers made lemonade with Stern's ever sour offering, turning a would be morale wrecking ball into an honest to goodness bonding experience.
The fun started with an excursion to the Great Wall, an obligatory stop-over for any visiting dignitaries, basketball based or otherwise. Instead of merely stepping over stone and admiring centuries of historical dominance, the Lakers took the opportunity to get some thrills with a toboggan ride, cruising down a stretch of the wall in near infantile glee. Jordan Farmar, ever the canny documentarian, posted a series of Instagram videos of Nick Young's descent: in the first, he blurs through forest and repeats, "We going down a slide," until his attention to the camera forces him to miss a turn, prompting a crash and an "Oh shit"; in the second, he rights course, continues downhill and repeats, "I crashed," in increasingly higher pitch. I pray Young's on court antics are half as entertaining.
Unfortunately, it wasn't all fun and games at the Great Wall. During Chris Kaman's descent, he was forced to brake when faced with an oncoming bystander, placing him directly in the path of Shawne Williams' trailing bullet train. Williams didn't take the cue and brake accordingly, instead slamming into Kaman's toboggan and wedging the center's finger between the two sleds. Though throbbing and temporarily numb, Kaman's finger didn't keep him out of the first exhibition match and hopefully won't claim any further impact.
While his teammates engaged in all sorts of escapades, Kobe Bryant, the democratically elected Hoops Emperor of China, fortified his already sterling reputation with an interview on local television. Through an interpreting earpiece, Kobe fielded a series of questions about his injury and legacy between an impromptu shooting stroke lesson and a beatboxing session underneath the rhymes of the Mandarin spitting host. The most important question came directly after the "rap," with mood changing music and a subtle transition: "Seriously speaking, how many championships do you really want?"
Kobe came back with classic Mamba. "When I first started playing, my goal was to always win seven. For whatever reason, I felt like that was something I wanted to go after, and that's still the case." Full of unchecked arrogance, the audacity that he could achieve something so grand, while downplaying his demons and the historical markers he strives to vanquish (cough, Michael Jordan, cough), his hopeful reply indicates both a disconnect from roster reality and an insatiable thirst for glory, for pure, unadulterated victory. Not many men would claim they'll win two more rings at age 35 with Chris Kaman as the fourth on court option; Kobe Bryant is no mere man.
After the serious talk, Kobe played along with a Black Mamba trivia game, a test of attributes and tendencies of his spirit animal, before bowing out gracefully. His next appearance was a video interview conducted by American media, their more specific and realistic questions skewing the affair less joyfully absurd, but a bit more enlightening. When asked why China has taken such a strong liking to him, Kobe opined that his tireless work ethic and endless endurance "strikes a chord" with local fans, stirring up a frenzy on every street he visits. Rather than bemoan his heightened status and the fact that it's "harder for [him] to walk around [in China] than in the States," he professed admiration for their consuming passion, especially compared to Americans "desensitized by celebrities." Taking the analysis even further, he compared the Chinese fervor for basketball to "music in the States," as far as its ability to establish an intimate emotional connection with and provide personal inspiration for fans.
Content with his explanation for Chinese fascination, the reporters moved to queries on his rehabilitation. Regarding his conditioning, for this injury and every significant setback prior, Kobe maintained that the first week running again is "misery," but that once he overcomes that initial shock, momentum carries him back to prime shape. As of now, he's cleared for all on court activities and he's hit the treadmill- an exercise he loathes- to jump start the process. As for his Achilles, that terrible, looming specter, he claims there's no pain or soreness, only flexibility issues; according to Kobe, all that remains in his recovery is regaining his full range of motion. For further evidence of his improved condition, he asserted that, "If today was a playoff or an NBA Finals [game]…I could get out there and do something."
For the Lakers, for this season, I pray that is true, that Kobe really is that close to a full and proper recovery. Even if it's a an exaggeration, a twisting of reality to fit a distorted worldview, the progress he's made in a mere six months is mind boggling. Most athletes would have retired after an Achilles tear 18 years into their career; yet again, Kobe has distinguished himself from the field through sheer will, through an indomitable need to win, to reign- victorious. No matter what he achieves next, if anything at all, we will remember him, first and foremost, as one of the most competitive and resilient individuals to ever play the game, any game for that matter. Sure, I'd like to see more rings on Kobe's fingers, but I'll take consolation in his unparalleled dedication to hoops.
You're still here, waiting for a description of the exhibition games? They lost while D'Antoni experimented with the roster and Kobe watched. That's about it.
Photo courtesy of IvanWalsh.com/Flickr