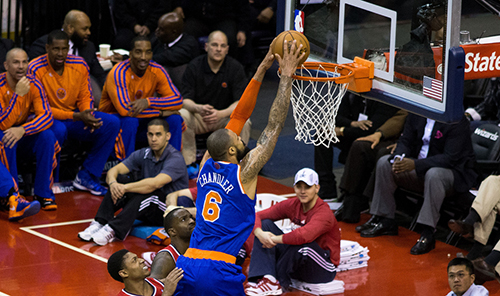 He's an NBA Champion, NBA All-Star, NBA Defensive Player of the Year, Olympic gold medalist and my apparent doppelganger. These are the accolades of New York Knicks center Tyson Chandler, so not only is he a handsome guy but he's also accomplished more in his career than most of the players who have ever stepped on the professional hardwood. Still, as is a constant in life, there is room for improvement.
Throughout his career, Tyson Chandler has been a defensive stalwart and anchor. He was a vocal leader, and defensive giant that helped propel the Dallas Mavericks to the surprising upset of the Miami Heat and the NBA Championship. Tyson Chandler has proven himself, he is in the "in" crowd. But for all that he has done on the defensive end, his offensive game has left room for wanting. Aside from the alley-oops, dunks, and layups, Tyson Chandler has shown less offensive game than my grand-dad (I love you Grandpa Golden). I'm not saying that he isn't capable, but I am saying that he hasn't shown it, yet.
Tyson is a true center, a true seven-footer. He's quick, he's athletic, and he has a rather nice stroke from the free throw line. In theory he should have the dexterity and wherewithal to be able to give a shimmy here, or a jump hook there. Instead, in the past, he immediately looked to get the ball out of his hands, like it was a steaming hot slice of pizza from Ben's Pizzeria in the West Village (McDougal and West 3rd, bomb Grandma slice!). At one point his nickname could have been Tyson "Tap Out" because of his tendency to tap every offensive rebound back to his teammates. Now an extra possession is an extra possession, and many times those tap outs led to open looks for the deadly New York Knick shooters. Sometimes, though, the tap-out could backfire. It could be tapped right to a streaking defender, sparking an easy fast-break for any lurking cherry picker. I'm sure also, that on a number of those occasions, coach Mike Woodson, and the rest of the team, would have liked to see Tyson actually grab one of those rebounds, power dribble, one step then BAM! right on the head of the defense. The point is that if there is a chance to secure a rebound and go right back up, it's TC's job to do that. It's his job to be that offensive weapon that is going to make the defending big man have to work for his paycheck that night.
He knows this. He knows he needs to be more aggressive and assertive on the offensive end, and that, to me, is the sign of a great player. He has obviously found his niche in the league – defense – and he does it well, but still he knows where he can improve and he's striving to do so. He said recently that he spent this summer focusing heavily on his offensive moves, like the jump hook, but most notably his elbow/foul line jumper. Defenses lag off of TC when he gets the ball outside of four inches from the hoop, so with a 15 foot jump shot he will make defenses pay, and open up plenty more opportunities for the offense. In the few preseason games that he's played this year, I've seen him take, and make that shot. To tell the truth, it's looking good. He looks relaxed, and confident when he takes it, and that is a very good sign. As he shoots and makes more, it's going to get that much better, opening up drives to the hole, kick outs to team mates, and a lot more flow and continuity. No, he's not the next Patrick Ewing, but adding an elbow jumper to his game will make him dangerous for sure.
The Knicks have a lot of different offensive weapons, and arguably the number one offensive weapon in Carmelo Anthony, but up to this point no real inside presence. Amaré Stoudamire is definitely a presence when he's healthy, but lately his knees have had other plans ("Nah son, we chillin" – Amaré's knees). Melo gets down there and bangs with the big boys, but it takes too much of a toll on his body, which shows up around playoff time (the WRONG time). The one man whose time it is to step up is Tyson, and no time is better than the present. He's lulled every other NBA defense into thinking that he will always be a no-offense player, and that they'll never have to play him close up. He's going to be open all season, so if he can make that jumper, and corral those rebounds, and show some initiative in the post, the Knicks will go a long way. I believe in you, cousin. LET'S GO KNICKS!!!
What are your thoughts? Leave your comments below.
Photo courtesy of Keith Allison/Flickr